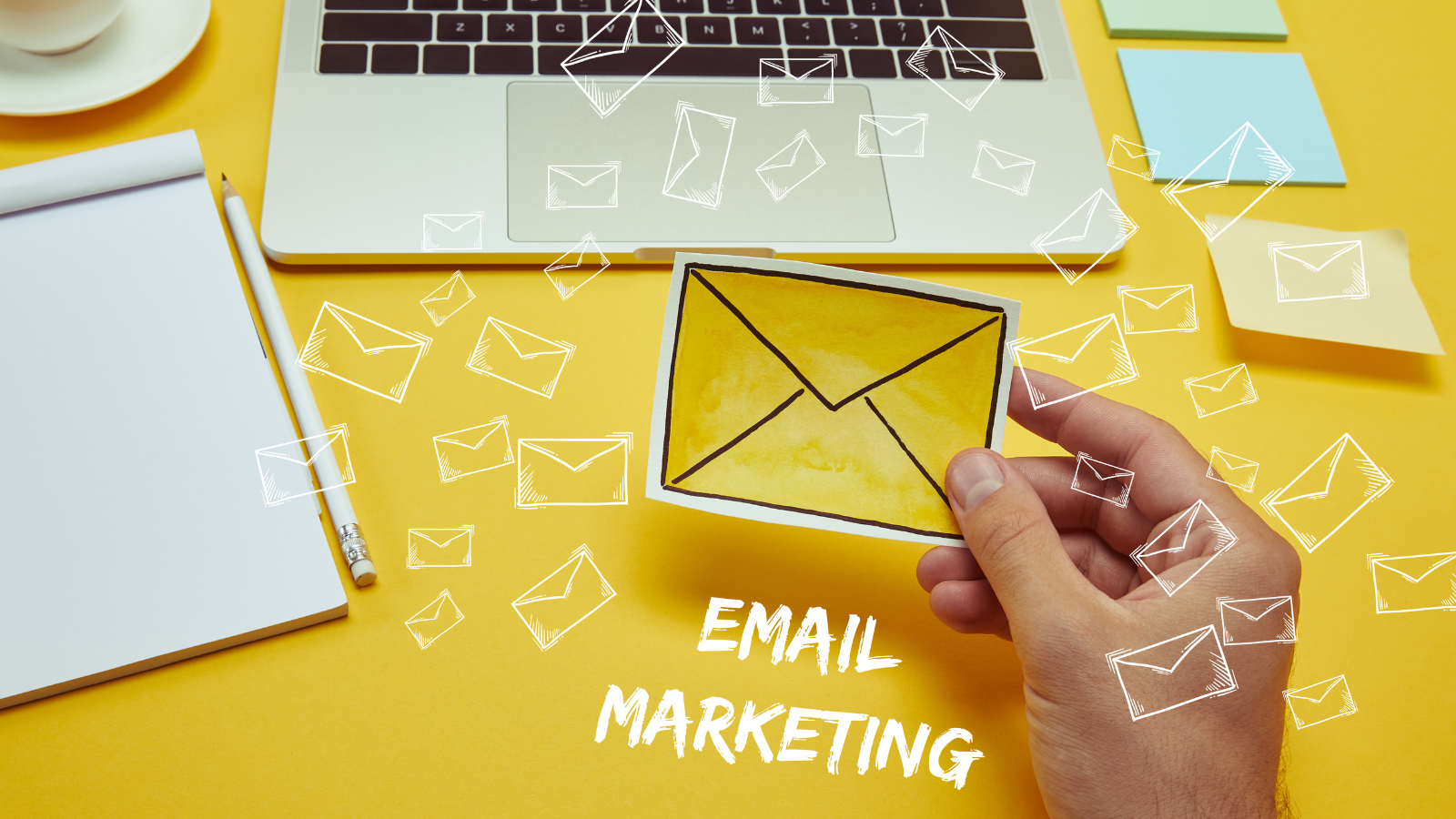 Despite the rise (and occasional fall) of numerous other marketing platforms in the past few decades, email marketing is a steadfast staple that remains valuable for practically every marketing strategy. Even when some experts thought it was dead in the water, it stuck around and provided value in every industry.
While numbers are always changing and can vary by industry, these insights will be an excellent baseline for email marketers of all experience levels and cover most of the common scenarios we've seen in our years of experience using them in our own marketing strategy.
What is Email Marketing?
Email marketing, or mass emailing, is the practice of sending promotional emails inviting people to engage with your company, brand, or event. Like other tools in your marketing arsenal, email marketing is versatile and can be used to
The biggest difference between marketing emails and the messages your account managers might send to prospects is the scale of the message being sent. Sales emails are designed to be sent from one individual to another, whereas marketing emails are sent from one individual to many different people. The tone may be less personal, but it still has the mission of driving the recipient to take action.
Email marketing can be used to engage with everyone from your newest prospects to your oldest customers in unique ways, nurturing them on their path to purchase and becoming your greatest promoters.
How Email Marketing and Inbound Marketing Work Together
Email marketing pairs beautifully with inbound marketing because it allows you to reach your contacts and customers at every stage of their buyer's journey, even after your sales team has closed the deal.
Some examples of how this works in action with the inbound marketing flywheel might include:
Attract: At this stage; your contact is still a website visitor or a total stranger. However, if they visit your organization's website and find your content compelling enough, they'll sign up to subscribe to your blog or email newsletter.

Engage: Once your contacts sign up for your emails, you can send them targeted content related to the form they filled out, pages they visited, or questions they may have asked.

Delight: After your customers have been with you, they can still receive rewards and promotions for being loyal customers on their anniversary of becoming a blog subscriber and other exclusives that show you appreciate their business.
What makes email such a critical part of your inbound marketing strategy, however, is its ability to sync with other parts of your marketing stack and show engagement data. For example, if you use a tool like HubSpot and its CRM, you can send marketing emails to hundreds or thousands of people and deliver them at the same time of day across time zones based on their contact information in your database. You can also have emails trigger automatically based on their behavior or activities.
Furthermore, if your sales team also uses HubSpot as their CRM, they can see when your contacts and prospects have opened, clicked on, or replied to one of your marketing emails and tailor their approach accordingly. Inbound and email marketing work together seamlessly and make your experience more holistic for both your contacts and your marketing and sales teams.
Building an Email Marketing Database
When done right, developing your list of email marketing contacts takes serious effort. However, it's worth the work because it leads to a more seamless customer journey. Building an email marketing database from scratch is one of the best ways to garner a strong email-sending reputation.
Email sending reputation is an algorithmically generated score email service providers assign to your organization. This score is based on how recipient email addresses interact with your emails. Ultimately, it also determines whether or not your emails will even be delivered to your contacts when you send your marketing message out to the world—so it pays to have a high score.
Building Your Email Marketing Database Organically
More than one way exists to build up your email marketing database, so it accelerates your overall strategy and develops a strong base for your sending reputation. Here are just a few options that have worked for us, our clients, and our colleagues:
Including forms in your website's header or footer

Adding a pop-up form to a few of your website pages

Collect emails at trade shows or other in-person events

Invite people to subscribe to your social media pages with regular posts

Build targeted landing pages for the different types of customers you have

Include a newsletter signup option when the person becomes a customer
These methods are seldom viewed as intrusive and allow website visitors to control when they move to the next stage of their journey.
Important: Don't Lean on a Purchased List
Trust us; that black hat doesn't look good on anybody.
We strongly advise against starting out your email marketing strategy with a purchased list. Not only will fewer people be likely to open or engage with emails from a source they didn't sign up for previously, but email service providers will note how many people are unsubscribing, marking spam, or hard bouncing.
That will lower your email-sending reputation score and keep your emails from reaching those inboxes in the future, meaning you'll see lower ROI and ultimately waste money on a marketing strategy that nobody will see.
Effective Email Marketing Strategies (with Examples)
With regards to getting the most ROI out of your email marketing strategy, one outside-the-box strategy might work beautifully for one business and get them amazing ROI, but that same tactic might not work for another business, even if they're in the same industry.
On the other hand, there are a few effective email marketing strategies we've seen work across multiple industries. These are meant as a baseline and should only be a starting point for building your broader email marketing strategies.
Strategy No. 1: Use Double Opt-ins
In the age of GDPR and increased awareness around data protection and privacy, a double opt-in allows your subscribers to provide clear, enthusiastic consent about receiving your marketing emails.
Implementing a double opt-in means sending an automatic confirmation email to your newest subscriber, ensuring they really want to subscribe to your newsletter or marketing emails. To do this, you just need to include a link for them to click so they can confirm they want to subscribe, or you can have them reply directly to the email sharing something they're excited to see from you. Not only does this affirm their consent to market to them, it also benefits your engagement rates for that email and your long-term sending reputation.
Strategy No. 2: Find an Effective Frequency
There isn't a one-size-fits-all approach for determining how often to send marketing emails to your contact lists. You might send one email to your target persona per week and find it's just the right amount to keep them engaged, or you might find that they respond better with a biweekly or even monthly cadence.
The key here is trial and error—watch your engagement rates to determine how often your audience wants you to send them marketing information.
Strategy No. 3: Maintain and Segment Your Mailing List
Before we even get into using targeted marketing for your mailing lists, one of the smartest small steps you can take for improving your email-sending reputation is segmenting your list based on their location and time zone.
This is an especially valuable strategy if you have a large emailing list covering multiple continents, countries, or even states or cities.
You may also want to split your largest recipient lists into smaller sub-lists to break up your largest email deployments into smaller lists. This, more than anything, is an insurance policy. If something ends up going wrong for the first of the email deployments, you can adjust for the remainder without it spelling disaster for your sending reputation with a single bad email.
Common Email Marketing Mistakes and How to Fix Them
Even the professionals who have had email marketing included in their strategy for decades can slip up now and then. Here are some common mistakes we've seen with email marketing and how you can course-correct to get your strategy back on track.
Not Segmenting Your Sending List
Marketers refer to this method as "spraying and praying," and it's about as effective as it sounds for getting a good ROI on your email marketing campaigns. Sending the wrong message to the wrong contacts can lead to them unsubscribing. Worse still, the time and money spent on your campaign will have been wasted because your recipients didn't act on your emails.
The simplest solution is to break up your sending list into different subgroups. These could be based on anything from your target personas, contacts within a certain industry, job titles, regions, and thousands of other variables, including in combination.
Burying Your CTA
Very few people actually read marketing emails all the way to the bottom. Ergo, if you're only placing one button CTA promoting your new webinar at the very bottom of your newsletter, don't be surprised if it doesn't get many clicks.
Instead, place your CTA near the top of your email, or "above the fold." You can also add it further down, but having an indicator of the action you want them to take will help guide your recipients where you want them to go.
Having Too Many CTAs
Having more than one or two CTAs at the very most can make your email feel less like a clear message you're promoting and more like an old phone book from the 1960s. Don't be an old phone book from the 1960s.
Keep your CTAs minimal, clear, and simple to understand—that will make it easier for your contacts to take the action you're calling them to.
Not Proofreading
Theirs noting mroe impotent then typos in you're massages.
If that sentence made you cringe, you understand the importance of proofreading your marketing emails before they deploy. The worst part is, we can edit this page and take out that sentence if we want to—but once your email is out there, you can't edit it.
For good measure, send a test email to someone else in your organization and have them be an extra set of eyes before you send out the first email of your new rebranding campaign to thousands of people.
Not Analyzing Your Results
How will you know your emails are actually working unless you take a look at the results after the final deployment? The best way to tell whether your email was successful is to look at the results and how your contacts engaged with the message.
You can also use tracking analytics to see directly whether your contacts who become customers interacted with your emails, which is a much clearer option for determining if your messaging works and proving ROI to your stakeholders.
Email Marketing Best Practices
Promotional trends may come and go and earn you some passing results here and there. Still, some basic email marketing best practices will build your sending reputation, open rates, and click-through rates for the long term, regardless of your industry or the size of your contact database.
Segment your Email Messaging Based on Your Target Personas
Most businesses have at least a few target personas, all of which have different preferences for their marketing emails.
Trying to send marketing emails without tailoring your message to the specific audience receiving it is like finding out your surgeon will be performing your surgery with a chainsaw instead of a scalpel. Sure, you might find reach what you were looking for and get a few conversions along the way; but you might also end up causing unnecessary damage with those tens of thousands of people you would've otherwise addressed differently.
To avoid being that surgeon who uses a chainsaw, consider changing the email layout, delivery time, and even the tone of your message to suit the preferences of your different target personas.
For example, imagine you do the marketing for a suburban florist with a wide customer base across multiple target markets. If you're running a promotional sale on floral sprays for funeral services, you may not want to also send that promotional email to every engaged couple and wedding planner within a 50-mile radius. Likewise, you wouldn't want to send an email blast promoting your high-end wedding bouquets to the high schoolers buying corsages for their prom date.
In all of the above cases, the mistargeted emails would amount to a waste of money. However, the same rules apply to every industry—targeting your emails only to the groups that find them relevant will improve your email marketing ROI by increasing your open rate, click-through rate, and conversion rate during your campaigns.
Experiment with Subject Lines
Contrary to popular misconception, using certain terms or characters in your subject line won't automatically send your email to the spam folder. Neither will emojis, brackets, tildes, or any other special characters.
Different target audiences might respond differently to the same subject line, so it pays to experiment with subject lines to see what gets the highest open rates and how that reflects the follow-through for your click rates once your recipients are in the email.
For example, you might find that adding an emoji at the beginning and end of your subject line makes a difference in getting your recipients to open. Plus, these characters can be great for imparting that your brand has a playful side and doesn't take itself too seriously.
However, if you want to impart urgency or get a contact's attention, using square brackets can be effective, especially at the beginning of the message.
Timing is Everything
Not only is sending the right message at the right time essential to your broader targeted marketing strategy, but it can also make a difference in your email marketing ROI.
There are plenty of ways to optimize the timing of your email marketing. One of our favorite ways is to deploy by time zone. Certain email marketing tools, such as MailChimp and HubSpot, allow marketers to do this as a part of their overall plan with the application subscriptions.
Using those custom tools allows you to send targeted messages to your prospects in Kyiv, Ukraine, right as they're logging in at 9 a.m. local time, without accidentally sending the same message to your leads in New York City in the middle of the night.
The best day and time to send marketing emails can vary by industry. Sometimes, it can even change from year to year. However, a few good rules of thumb to follow for B2B email marketing include:
Deploy your marketing emails at varying times during the day and week while you find your target audience's sweet spot.

Avoid scheduling your marketing emails only at the top, bottom, or quarters of the hour—not only are these popular send times, but they also tend to feel more robotic.

Don't be afraid to experiment with deploying emails on Saturdays. After all, some business owners work on weekends, too.

Generally speaking, email open rates are lowest around major holidays such as Memorial Day, Independence Day, Thanksgiving, and the week between Christmas and New Year's Day.
Keep Your Email Marketing Database Clean
Yes, this is easier said than done. No, you can't ignore this step just because it takes a lot of work and time, as easy as it is to put it on the back burner.
We've seen plenty of instances where marketing teams leave their email databases to gather dust, only for the addresses within to no longer be valid, the businesses associated with them to close, and anything of value to have gone out of date for years.
This not only hurts your marketing efforts but can also be a colossal waste of your sales team's time if they're calling on prospects that are no longer at the email address they have in their database.
Make sure your entire team is keeping their list of email contacts updated in your CRM. This might happen on a quarterly or even monthly basis in some cases. However, it should happen regularly to keep your email-sending reputation healthy and make sure your sales team is still working with contacts that are worth pursuing.
Use A/B Testing Features
A/B testing is a great way to see how your email contacts respond to different email features. In turn, it can help you improve your open rate, click-through rate, and overall email marketing ROI when done right.
At its core, A/B testing is another name for the scientific method. Both involve using a control group that will receive the basic version of your email and an experimental group that will receive the new version. Contacts are assigned to the two groups randomly to reduce the likelihood of bias, and there's typically only one notable difference that will impact the result you're trying to track. That result can include anything that involves direct participation from the email recipient, from open rate to customer conversion rate.
You can always conduct A/B tests manually by sending the same email to two different groups with a key variable as the subject of your test. However, more and more email marketing platforms include some form of A/B testing as a feature, making the process a bit less manual.
Some common variables in an A/B test include:
Including emojis in your subject line

Altering the verbiage in your preview text

Changing the CTA in your email body

Including an extra link in your email copy

Embedding video in your email

Placing more or fewer images in your email

Deploying during different times of the day or week

And many, many more!
However, a caveat: Don't conduct an A/B test with more than one set of variables in the same test. Doing so makes it harder to determine which variable made the difference for your audience and can otherwise muddy the results of your experiment.
Using Automated Workflows for Marketing Emails
If you want your marketing department to cry from the sheer amount of manual labor they'll have to put in while they warm up leads for your sales team, skip this part. If not, automation will save them time and save you money by extension.
Many different marketing platforms use some level of automation to deploy the right emails to the right people at the right time. However, HubSpot has some of the most robust capabilities in the industry.
Although the possibilities are pretty endless, these are just a few of the automated workflows we've used to engage with our contacts, customers, and prospects.
1. Welcome Workflows
Most visitors expect a confirmation or welcome email when they sign up or subscribe, and this bit of automation is a great way to start their journey with you on the right foot. This is also a great opportunity to boost your engagement and personalize their experience based on the specific form they filled out.
2. Subject-Based Workflows
Have you ever visited a page on a website only to get a few emails after the fact promoting products very similar to the one on the page you viewed? Topic workflows or subject-based workflows follow that same principle.
If your contacts view a certain product page on your website, you can use that view as the trigger to send them an email later on promoting other products that are similar, or content covering the same subject.
Tips from the Experts
Jay Schwedelson, founder of SubjectLine.com and a highly respected expert in email marketing, regularly tracks what causes emails to perform well based on data from tens of thousands of emails. He has helped organizations across multiple industries implement impactful email marketing, and he also graciously shared some of his email marketing insights with us.
Timing is Critical
As soon as you get your contact information, send an email to them as fast as possible. Ideally, within a 3-hour window. "If you go beyond 24 hours from the time that you receive a contact," Jay explains, "the value of that email address drops exponentially."
Craft Your Subject Line to be "Openable"
First impressions are as important in email as they are in real life. Your goal with the first email you send to a contact isn't just to make a sale—it's to foster a relationship with that person. According to Jay, if a recipient opens up the first email, you're far more likely to stay in that person's inbox for the entire future of your relationship with them.
"Free" is Not a Bad Word in Your Subject Line
There's a common misconception that using certain words or characters in your subject line or body copy will get your email filtered into the junk folder. Luckily for marketers, email service providers have gotten smarter since that became a common misconception.
"It comes from where, ten years ago, if you sent out an email and you put the word 'free' in the subject line with an exclamation point, you would get filtered. Because filtering used to be based on the content of your words," Jay says. "Now, you get filtered because of the technical sending reputation of your IP address and your domain and the engagement that you have with your database."
Conclusion
Email marketing is a tried-and-true channel for advertising that has been around for decades, but it also offers some of the greatest opportunities for experimentation, branding, and driving interest and growth. Using it to foster relationships with your contacts has great potential to provide value to them and turn them into returning customers, all while offering some of the most robust targeted marketing opportunities in the modern age.