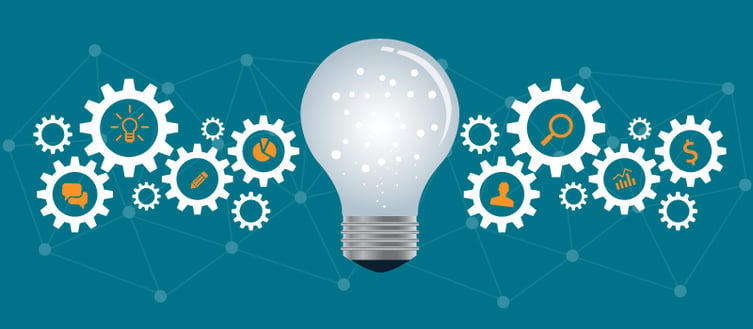 A few years ago at HubSpot's Inbound 2013, one of the keynote speakers was Arianna Huffington. The insight she shared was valuable and has stuck with me ever since. During her 47 minute keynote, she didn't directly talk about inbound marketing and lead generation. No, in order to connect and understand what she was talking about, you have to understand the greatest benefit of inbound marketing: it works while you are sleeping.

Arianna Huffington has become one of the most outspoken proponents of getting enough sleep and how leaders are more effective when they are better rested and not sleep deprived. A quick search on sleep and leadership provides us a look at how important sleep is for leaders and for salespeople and how better we function after a good night's sleep or a nap.

For most organization, salespeople are the rainmakers within an organization, and without their bringing in new clients and customers, you will soon go out of business and have to close shop. When trying to increase their sales numbers for the month or to meet quota, most salespeople tend to put most of their efforts into "working harder," "pounding the pavement," or "creating more activity."
Below is a list of reasons for using marketing automation to generate leads.
Keeps You From Sending Out Email Follow Ups Manually

Brings the "Good Leads" to the Top Through Lead Scoring

Don't Have to Manually Trigger Lead Nurturing Campaigns

Can Resend Emails With Different Subject Lines to Those Not Opening

Write Once, Share Many

Helps to Pinpoint ROI for Marketing Campaigns

Enables Salespeople to Focus on What Matters

Can Optimize Campaigns Using A/B Testing

Efficient and Easy to Leverage

It Works While You Are Sleeping
You will notice that #1 on our list for using Marketing Automation and Generating Leads is "It works while you are sleeping." If you listened to Arianna Huffington's Inbound 2013 talk, you will understand that effort doesn't equal efficiency or success. Sometimes just putting in more effort doesn't amount to much in terms of results. No, quite to the contrary. Focusing on effort, not on the outcome, keeps us tied to our desks and focusing on the wrong things. It also cuts into our time with our friends and family and leaves us feeling drained and tired rather than enthusiastic and refreshed.

Focusing on outcomes is why I am such an evangelist for inbound marketing. You can do more with less and get better results. Using marketing automation, you can spend less money as well as spend less time but achieve better results. Quite literally, "marketing automation works while you are sleeping," which is the best reason for using marketing automation for lead generation.
An Illustration
Think about this scenario for a minute: Old School Oliver and Inbound Ivan both have a tough quarter ahead of them. Their boss, Boss Hog, has given them a sales quota that is going to be tough, if not impossible, to reach. Old School Oliver and Inbound Ivan both have the same number of prospects and leads at the beginning of the month but they approach the sales process quite differently. Old School Oliver relies on "old school" tactics and picks up the phone and starts making calls from a list they bought last month and going through his contact list and sending out emails one by one through Outlook. He's working long hours and trying to fit in appointments in between sending emails and returning calls.

Inbound Ivan, on the other hand, has fully embraced inbound marketing and marketing automation and has spent a significant amount of time writing a series of lead nurturing emails and worked with marketing to develop a landing page for a whitepaper he wrote about the "Top 10 Challenges Our Industry Faces and How to Overcome Them." While Old School Oliver was making cold calls and sending manual email, Inbound Ivan was spending his time to create these marketing automation materials and getting things ready to start an automated campaign.

That next week, Old School Oliver had closed a few deals and was getting close to meeting his quota but had been spending late nights at the office and worked throughout the weekend sending manual emails to prospects. Oliver was starting to get frustrated since he didn't know much about who was opening his emails and what was happening. He was out of leads and out of time. He wouldn't make his quota for the month and was really tired. He hadn't slept more than 5 hours a night for an entire week.
Inbound Ivan finally launched his landing page with his content offer and promoted it on his LinkedIn page, Facebook, Twitter, and send an email to all of his prospects and contacts. At first, Inbound Ivan noticed he was getting a few people downloading the content and a few that were sharing it on social media. He was also noticing that people he didn't know or have connections with on LinkedIn where starting to like the post and to share it. These were new leads for him and he decided to connect with these new leads. He now had more leads than when he started. The next thing Ivan did before he left work that night was to trigger a series of 3 emails that would go out every 5 days and only on workdays, during working hours. Ivan was really excited when he started to see that several of his leads were opening these emails and clicking on additional pages of his company's website.

While all of this was going really well for Inbound Ivan, at the end of the the month he was pretty close to where Old School Oliver was in terms of their quotas. He wasn't quite there yet but he knew that there was one more lead nurturing email that had yet to go out. Since Inbound Ivan knew the email was scheduled to go out before he left work, he decided to go to an early dinner with his family so he could get to bed early so he could be back at the office in the morning for the last push towards meeting his quota.

When Inbound Ivan woke up the next morning and check his inbound marketing app, he was elated to see that four of his hot leads that had high lead scores had opened his email and clicked on the products page and filled out a contact form asking for a meeting. His day was now filled with appointments, which typically led to a sale and was pretty sure that he would end up meeting his quota.
Looking at the two scenarios represented by Old School Oliver and Inbound Ivan, you can see how Old School Oliver spent more time on trying to connect with leads and prospects while Inbound Ivan initially spent more time setting up his marketing automation but had more efficient and effective results. All of this while getting a good night's sleep and spending time with his family. Marketing automation makes a salesperson's life easier, lets them focus more on core sales activities such as meeting with prospects and closing business and less on manual activities that lead to burnout and boredom.

If I've learned anything from watching Arianna Huffington's Inbound 2013 keynote, it's that sometimes we are better off slowing down and doing things more efficiently rather than struggling or working harder. It's a well worn cliche, but don't work harder, work smarter. And marketing automation gets you there.