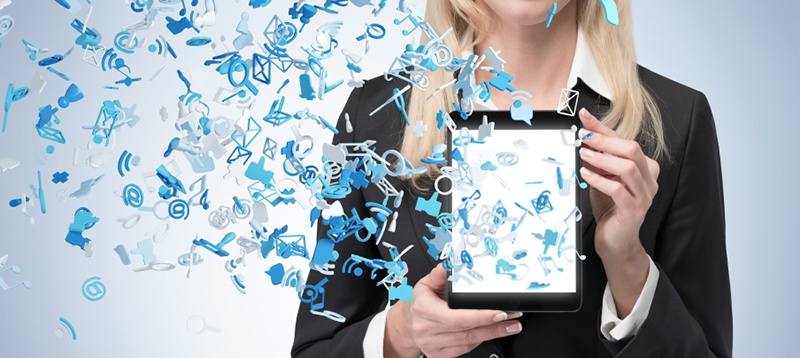 Do you really need to promote your blog? Isn't the point of a blog to promote your website?? Yes and yes. Your blog is, indeed, a big opportunity to drive traffic to your website and promote your business as well as your goods and services, but it needs help to work. Think of your blog like a garden that's meant to feed your family. The whole purpose of the garden is to create food—but you need to feed it, water it, and tend to it to get the desired results. The same is true of your blog.
Consider these numbers: currently there are about 60 trillion web pages, 100 billion searches a month, 40,000 search queries a month, and 20 million new blog posts published every day. A mediocre blog doesn't stand a chance against those odds, and even the best blogs are worthless without readers. So how do you get people to your blog? Below are 10 tips for successful blog promotion.
1. Create remarkable content.
We've heard SO many times that content is king, but the real king is GOOD content that really stands out. No amount of promotional tricks will help you if your blog is terribly written, boring, or blatantly self-serving. The first step to any successful blog promotion strategy is to create a blog that's helpful, unique, engaging, and relevant.
2. Really know your audience.
Take time to learn as much as you can about your target personas, or the ideal readers of your blog. Who are they? What do they want to know? How do they find things they want? What's important to them? etc.
3. Be easy to find.
Don't create roadblocks to your success by making your blog difficult to find. Do keyword research to determine how your customers ask questions about your business and then develop a consistent keyword strategy for your blog content. Also make sure that your blog posts are optimized for search and that your website is responsive.
4. Be visually appealing.
Humans are visual creatures, so design and aesthetic play a very important role in the success of your blog. Consider adding custom images to your blogs and make sure that your images are properly indexed for search.
5. Build relationships.
Your post promotion efforts will be a lot more effective if you take the time to cultivate a healthy network. This doesn't happen just by increasing followers and connections. It comes from real relationships which takes a little more time and effort, but offers much more pay-off.
6. Use email but not just for blasts.
Email blasts aren't inherently bad, but they can easily get lost in the abyss of all the other clutter that your prospects receive every day. Think beyond the mass email and get personal. Consider sending individual emails to subscribers who often share your content, or create workflows that will reach out to subscribers who haven't opened recent emails. Simply sending customized emails to smaller, more targeted lists can be more successful and personalized.
7. Distribute strategically.
Get wise about different ways to distribute your content. Consider leveraging influencers and current brand evangelists to expose more people to your content. You could also find local interest groups and send your content to them and encourage them to share it. Brainstorm how you can get more eyeballs on your content and I'm sure you'll think of plenty of hidden gems in your current network.
8. Use social media wisely.
Share everywhere. Don't overthink where to share each post—just get them as many places as you can and watch your trends to see which platforms get the most engagement. Retweet, share, and retweet some more. Email your posts to your whole team and ask them to read and share.
Timing and frequency are key. Research the peak hours for posting on the social media platforms you've chosen and look at your historic engagement trends. Post regularly and during peak times to increase engagement.
Recycling isn't just good for the environment! Reuse/Recycle/Repurpose old content by resharing it. There is no law that says you're only allowed to share your blog posts once.
9. Make it a team effort.
A recent Gallup study found that companies with engaged employees outperform those without by 202%! The same report showed that the when compared to average companies, those with the highest employee engagement also saw, on average, 10% higher customer satisfaction ratings, 22% higher profitability, and 21% higher productivity. All this data should tell you that the more you can get your team on board and engaged, the better. Simply being transparent and communicating the goals and guidelines will help encourage employee engagement.
10. T
rack results/adjust.
Regularly monitor and track what's working, and be prepared to make adjustments along the way. In addition to tracking visits and conversions, you should also monitor trends such as which topics, authors. and formats perform best.
Following these ten blog promotion tips will not only ensure a more popular blog, but can also increase the overall health and success of your business.
What do you think of these tips? Are there tips that you would add?