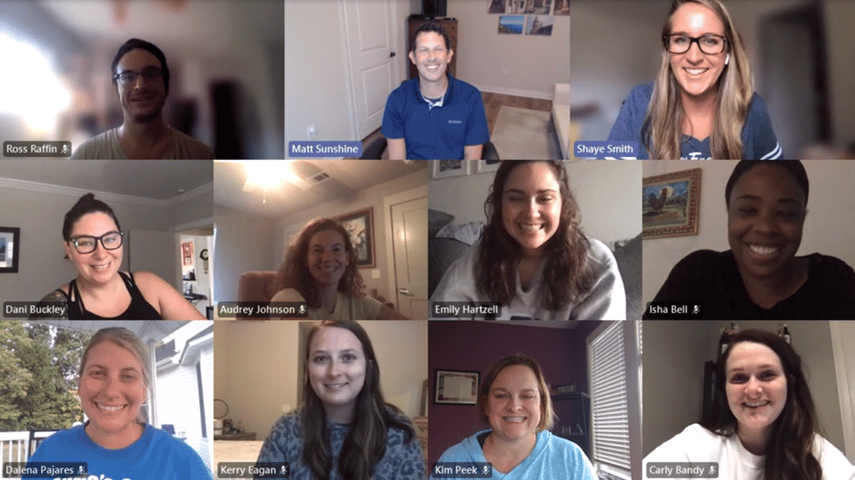 The LeadG2 team set aside a few days to learn and grow in our areas of expertise at Hubspot's INBOUND 2020 conference (virtually, of course), and here are some big takeaways our team shared on our gathering after day 2.
SESSIONS THAT STOOD OUT
DARK SOCIAL: HOW TO EXHORT & INFLUENCE IN THE NEXT WAVE OF MARKETING
PRESENTER: Jessika Phillips
OVERVIEW: Decode Dark Social to grow organic engagement and raving fans without the constant pay-to-play model.
ASK ME ANYTHING: HOW TO SLASH YOUR SALES CYCLE TIME IN HALF
PRESENTER: Eric Keiles
OVERVIEW: The 5D's methodology Eric Keiles uses to slash the time to close a deal, beat the competition, drive revenue growth, and maintain an 80% close rate.
CRITICAL EMAIL MARKETING TECHNIQUES TO CRUSH THE COMPETITION
PRESENTER: Jay Schwedelson
OVERVIEW: Data from over 40,000 email campaigns executed annually for insight that will help improve existing email strategies.
INBOUND DEBATES: INBOUND VS. OUTBOUND
PRESENTER: George B. Thomas, Doug Davidoff, Remington Begg
OVERVIEW: The ultimate battle between inbound and outbound.
USING YOUR WEBSITE TO GROW YOUR BUSINESS
PRESENTER: Luke Summerfield
OVERVIEW: In order to ensure your website reflects your customers and helps you grow your business, you need to make data-backed decisions to improve your website.
MAJOR TAKEAWAYS FROM DAY 2 sessions
Dalena Pajares, Account Executive, shared an acronym that stood out to her: EPIC1.
E - every
P - person
I - is a
C - consumer
1 - first
Dani Buckley, General Manager: "When possible, utilize the HubSpot sales extension for all clients (even those not using the HubSpot CRM or Sales tools) to better monitor contact activity and their involvement in driving prospects to the website, blog, and content."
Maryanne McWhirter, Inbound Marketing & Sales Consultant, shared a major takeaway from the session, An Anthropologist Walks into a Bank - and Other Thought Experiments for Brilliant CX, "We have to remember that in the digital world, creating experiences can be hard. How can we bring emotion into something like downloading an eBook, etc."
Isha Bell, Inbound Marketing & Sales Consultant, loved the session on ensuring your website is helping you grow your business (listed above). She reminded the team, "Your website is not a set it and forget it thing. We need to always be optimizing by doing things like 2-6 week sprints to tackle your wish list of changes," which was one part of a strategy mentioned during this session.
Audrey Johnson, Content Strategist: "I am so inspired by Janet Mock's approach to diversity and inclusion. She spoke about how important it is to know yourself and to have the courage to speak your truth. In doing so, you will find commonalities that are relevant to all humans and more readily appreciate what makes your experiences unique."
Emily Hartzell, Inbound Marketing & Sales Consultant, had a plethora of takeaways from the email marketing session (listed above) with tips on amount of sends per week, lesser-known tips about links in emails, and verbiage choice.
Kerry Eagan, Inbound Marketing Specialist, also got a handful of takeaways from the email marketing session (listed above), specifically noting words and phrases people think affect open rates, but really don't affect them like many people have thought for so long.
Carly Bandy, Content Strategist, like the two above, shared takeaways from the very impactful email marketing session. Things that stood out to her were also verbiage choices in copy and subject lines, and how these do/don't affect a readers' action with the email.
Kim Peek, Inbound Marketing & Sales Consultant, Dark Social: How to Exhort and Influence in the Next Wave of Marketing by Jessika Phillips, "Relationships will always be more important than marketing." She took this as a reminder that the goal is to connect with another person on the other side of the screen. As we use this great technology we have to drive leads, and ultimately sales, we should first remember that it's about human connection, empathy, emotion, and authenticity. If we can do that, we will have long term customers.
Shaye Smith, Marketing Manager, got a lot of nuggets from the INBOUND v. OUTBOUND debate, re-enforcing her stance that BOTH are necessary for successful revenue growth, but that many companies do one or the other great, but don't focus on a cohesive plan across both inbound and outbound methodologies.
Amanda Meade, Marketing Content Coordinator, had a quote that stood out to her from the INBOUND v. OUTBOUND debate, "Do you trust content today as much as you did 5 years ago?"
STAY TUNED
As you can see, our team took this virtual conference head-on and enjoyed coming together after each day and sharing what we learned and how we're going to use this new information to better serve our clients. Stay tuned for new content post-INBOUND as we digest these new trends, research, and best practices and share them with you here on our blog. And be sure to connect with us and join the conversation on Twitter, Facebook, and Instagram!
CHECK OUT OUR INBOUND 2020 DAY 1 RECAP HERE.
STAY TUNED FOR A POST ON HUBSPOT PRODUCT UPDATES THAT WERE SHARED DURING THE CONFERENCE.