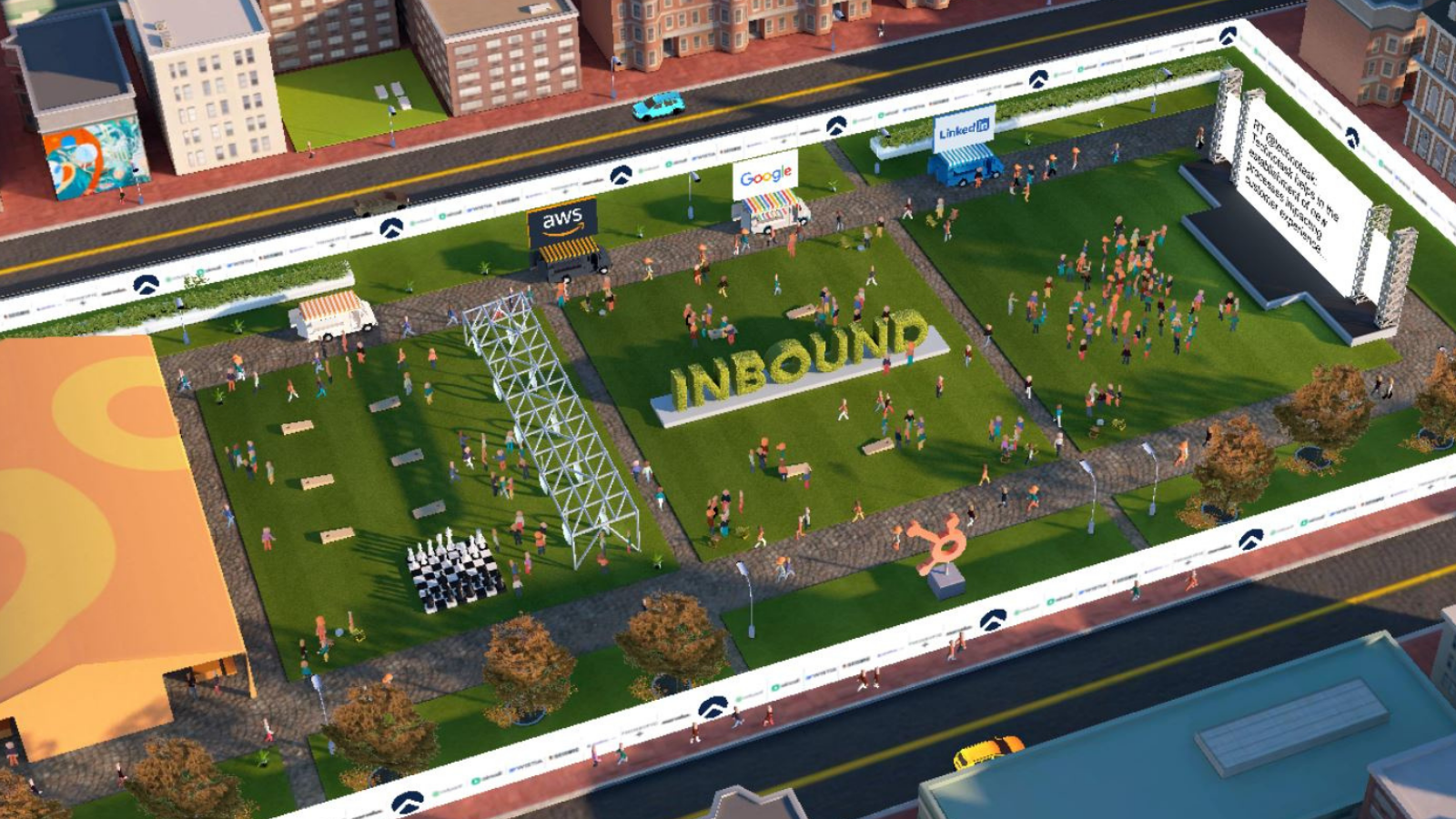 The LeadG2 team set aside a few days to learn and grow in our areas of expertise at HubSpot's INBOUND 2021 conference (virtually, of course), and here are some big takeaways our team shared after the sessions were over.
INbound SESSIONS THAT STOOD OUT
30 Virtual Selling Trends in 30 Minutes

PRESENTER: Kim Orlesky

OVERVIEW: 30 statistics and trends in video selling, social selling, and email that you can't afford to ignore.

Debate: Content Creation for SEO vs Sales First

PRESENTER: George B Thomas, Franco Valentino, and Remington Begg

OVERVIEW: The ultimate battle between what comes first and what's more important - content for SEO or sales.

Email Myths Busted! What's REALLY Working Now

PRESENTER: Jay Swchwedelson

OVERVIEW: Discover how to capture extra attention with real, actionable data.

Keep Inbound Leads Engaged with a Continuous Cycle of Lead Nurturing
PRESENTER: Mike Tatum

OVERVIEW: Mike shows how he creates an ecosystem of lead nurturing workflows that automatically keep leads engaged.

Using Your Website To Grow Your Business
PRESENTER: Luke Summerfield
OVERVIEW: In order to ensure your website reflects your customers and helps you grow your business, you need to make data-backed decisions to improve your website.
How to Scale Thought Leadership
PRESENTER: Ashley Faus

OVERVIEW: What makes a thought leader? Ashley tells you how to accelerate the increase in influence and turn it into a repeatable process.

MAJOR TAKEAWAYS FROM DAY 2 sessions
Maryanne McWhirter, Senior Inbound Marketing & Sales Consultant, said her favorite session was "Email Myths Busted! Whats REALLY Working Now!" with Jay Swchwedelson. One of many takeaways was that the trend of sending many emails is not going away. Sending more emails helps to generate engagement and clicks, and when you do that you more likely to be kept out of junk mail.
Emily Hartzell, Senior Inbound Marketing & Sales Consultant said her biggest takeaway from INBOUND 2021 was the importance of unbiased content and how big of an impact it can have on a brand as a whole – especially when it comes to gaining the trust of clients/client's customers.
"People want to hear the real and truth. They want to know how we measure up to our competitors, how our industry compares to alternative solutions, and why some businesses are maybe not the best fit for working with our business. Creating honest and truthful content that does not feel sales-y is what wins people over and allows them to know they can trust you."
Audrey Johnson, Content Strategist, really enjoyed the session on Designing Inclusive Digital Content.
"Not only is it the right thing to do, but it also creates the opportunity to gather more and more data points about prospects to personalize their experiences, while earning their trust in the process."
Sandra Sepaniak, Inbound Marketing & Sales Consultant, admittedly said it was tricky to boil down just one primary takeaway. However, there was one that stood out from Marcus Sheridan's session on creating trusted content:
"Aside from all of the importance of SEO, marketing and data analytics, and brand storytelling, there needs to be one thing underneath everything in your strategy that tends to get overlooked because it's so obvious: Honesty. Being candid about things like your pricing, being unbiased in comparing products and services, being honest about the negatives, and being transparent in your actions rather than just your words—being candid in what your brand offers and doesn't offer goes a long way in establishing trust with consumers."
Shaye Smith, Marketing Manager, said one of her biggest takeaways came from the debate between George B. Thomas and Franco Valentino.
"While the debate was which to focus on FIRST when creating content: SEO vs. Sales, the debate led us to see the importance of both. The alignment between sales and marketing enables new leads to find you via SEO and organic search, and also allows your sales team to sell smarter and faster."
Franco Valentino shared that you should be getting 40%+ of your leads from organic traffic, and George B. Thomas reminded us that sales content DIRECTLY impacts revenue. While content that supports both SEO and leads from organic traffic AND the sales team both impact revenue, it shows us the value of the marketing team involving sales when creating this content and considering all avenues that the content should be used and at what part of the buyer's journey. Content should be created for the HUMAN (and not just the algorithm), no matter what the content is being created for!
Ross Raffin, Content Strategist, said he especially liked the session: Using Behavioral Science to Improve Customer Success.
"It showed how the unconscious biases of our mind can be nudged into decisions through small changes in how content is written."
David Robinson, Content Strategist, said he learned a lot of actionable information about SEO and content, but his biggest takeaway was seeing how these aspects exist concurrently.
"Marketing is a team effort and seeing how all our efforts interact and work together to provide a customer experience is incredibly valuable because it helps me see my responsibilities in a bigger context. Seeing experts discuss SEO, email, and lead nurturing tactics alongside case studies and in-depth interviews that show how it all works and what it leads to has immediately helped me frame my day-to-day tasks and served some inspiration."
"I liked the mix of granular information, like Tony Verre talking SEO and consumer behavior, Andrea Belk Olson talking about what drives people generally and how that works in the consumer journey, and even how to use metaphors to frame content stories, then the more overarching stories from Blueland or David Chang to see that success is a long road and all these elements work together even if you don't feel like they do."
Carly Quirk, Inbound Marketing Specialist, was super impressed by Jay Schwedelson's session - Email Myths Busted! What's Really Working Now!
"His presentation oozed energy and expertise the entire presentation and I left that session with a candy bag full of subject line ideas that I've already begun implementing!"
Kristen Zanoni, Content Strategist, said her favorite part of INBOUND was Oprah Winfrey's session. "She spoke about intention — intentions in all areas of life — professionally and personally."
"Everything we do should have an intention behind it. I think this is crucial to making a difference and standing apart from everyone else! When you work with intention behind you, everything you do will spark passion, speak directly to those who need it, and you'll have a valid reason WHY for all that you do."
Isha Bell, Inbound Marketing & Sales Consultant, said one of her favorite sessions was: Keep Inbound Leads Engaged with a Continuous Cycle of Lead Nurturing Workflows.
"It really opened my mind up to "life after a campaign workflow". The world is your oyster when creating re-engagement workflows. For example, if your campaign workflow was TOFU, then your re-engagement workflow that must follow should be a MOFU workflow. The goal is to increase engagement at every stage. So many ideas came from this session that I can't wait to implement with my clients!"
Andy Adams, Graphic Designer and Marketing Specialist, said he found tons of useful information in the session: Creativity Thrives in Constraint: How Successful Brands Create Video Content.
Carly Bandy, Inbound Marketing & Sales Consultant, loved everything around email marketing!
"It's something I'm really trying to learn more about for my clients and it was great to hear from the experts on what's working right now. Jay Swchwedelson's session and debate was awesome! I'm already implementing some of these tactics into upcoming campaigns and I can't wait to continue to do so going forward!"
As the Marketing Content Coordinator, my biggest takeaway came from the session: Purpose-Driven SEO: A Modern SEO Strategy That Any Brand Can Deploy 2022. I loved the insights related to the two types of content: keyword-focused content and authority-building content. I can't wait to see how I can apply these strategies to our content!
STAY TUNED
As you can see, our team took this virtual conference head-on and enjoyed coming together after each day and sharing what we learned and how we're going to use this new information to better serve our clients. Stay tuned for new content post-INBOUND as we digest these new trends, research, and best practices and share them with you here on our blog. And be sure to connect with us and join the conversation on Twitter, Facebook, and Instagram!
STAY TUNED FOR A POST ON HUBSPOT PRODUCT UPDATES THAT WERE SHARED DURING THE CONFERENCE.