Does blogging help with SEO?
Hubspot explains that, "Blogging helps boost SEO quality by positioning your website as a relevant answer to your customers' questions. Blog posts that specifically use a variety of on-page SEO tactics can give you more opportunities to rank in search engines and get customers to visit your site."
What are the benefits of blogging?
SEO
Thought Leadership
Education for Prospects and Customers
Attract Qualified Leads
Content for the Sales Process
Lead Nurturing
Lead Conversion
And MORE!
So, how can you utilize this tool to benefit your business? The expert team at LeadG2 has put together a list to help you optimize your blog posts for search. Use this checklist with each post you publish to help you increase your search rankings and drive quality leads to your site before your publish and distribute your posts.
Blog Post SEO Checklist
1. strong Title
Ensure you use a strong title that's short(er) and catchy to attract the eyes of your prospects, BUT make sure it explains what your blog will offer the viewer. Don't mislead people. If you're tricky with your title, then a viewer realizes it was just "click bait" to get them to open it, Google and other search engines will notice the activity and realize that your blog is not the answer to the searches leading to it, which will hurt the post's search rankings. Test your blog titles to help you determine the best title length, types of titles (lists, "how-to's," etc.).
2. META DESCRIPTION
While the meta description is not directly tied to the search results, it is viewable in the results and can encourage clicks and traffic to your post. It is important to utilize keywords and phrases that searchers are seeking because the meta description affects click-through rates, which in turn tells the search engine that you post is valuable to the searcher and indirectly leads to higher search rankings. Don't dwell on keywords and key phrases, focus on answering the questions and searches that your post might help with.

3. internal links
What are internal links? Internal links are links from one page on a domain to another on the same domain. They help visitors navigate a site, establish information hierarchy amongst the site, and help spread ranking power around sites.
The right internal linking strategy can help boost SEO for your site. Blog posts are a great place to implement this. Internal links connect your site content and give search engines a view of your site hierarchy, which gives more important pages on your site more value than other, less important pages. As a best practice, choose a strong keyword or phrase as the anchor text that's linked to the related content elsewhere on your site. (Below is an example where strong key phrases are used as the anchor text that links to other pages on our site.)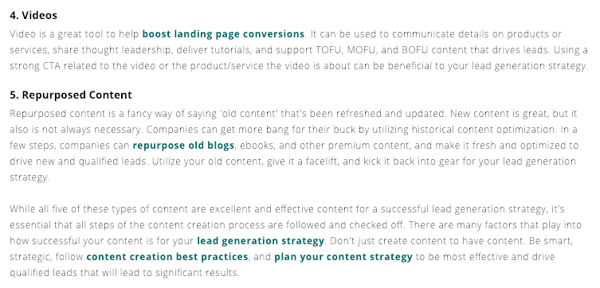 4. Headings and Subheadings
Use headings and subheadings in your content structure, so search engines see the structure and main ideas in your content. Utilize keywords and key phrases in the headings and subheadings, and think about the questions your customers would ask and use a concise and informative headline. These also help with readability, which can keep viewers on your page longer and engage more with your content, which shows search engines that your content is good and valuable for someone searching for specific content and answers.
5. WORD COUNT
How long should a blog post be? Well, that can vary depending on the content and target audience of your post, but studies show that longer-form content performs better in search because of how it thoroughly provides answers and the information needed to the search engines. According to a study from Backlinko, long-form content performs better in search engines, and many other studies over the past few years show that the best-performing blogs are 1,000+ words, and provide thorough information and quality material. Your word count length will vary by industry, target audience, focus of content, and other factors. There is no "perfect" word count, but the main focus should be on quality of content, not the quantity of short blogs you can produce just to keep content publishing.
6. KEYWORDS AND KEY PHRASES
We're probably not the first to tell you to implement a keyword strategy for your blog and your site. But, it's valuable to your blog's SEO success, so we've listed some areas to ensure you are utilizing keywords to maximize their effectiveness for search engine optimization:
Title
Headings and Subheadings
Meta Description
Anchor Text for Internal Links
Image Alt Text
Within First Paragraph of Blog
Keyword phrases (long tail keywords) within your copy
Here's an example of using a keyword in the image alt text: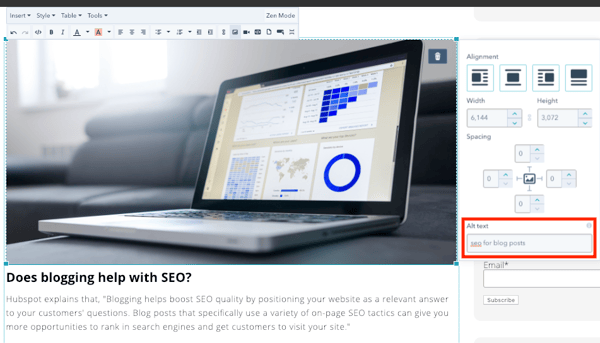 A Few Additional SEO Tips
1. Do an seo audit
A few good resources and tools for an SEO audit include SEOptimer, Neil Patel's Analysis Tool, and SEOmator.
2. avoid duplicate content
Search engines will see that you duplicate content. Be sure to create unique and relevant content.
3. ensure your blog is mobile-optimized
You can check to see if your blog is mobile-friendly by using Google's Mobile-Friendly Testing Tool.
4. stay current on google algorithms
Not sure what we're talking about? Google uses algorithms to retrieve data from its search index instantly deliver the best results from a query. Read more about Google algorithms and updates in this article.
Don't just 'blog' to blog. Ensure your content is beneficial to your marketing and sales strategy and helps drive revenue and prove ROI! Optimizing your blog posts for search engine optimization will get you closer to reaching your goals, drive more traffic and qualified leads to your site, increase conversion rates, and close more deals.