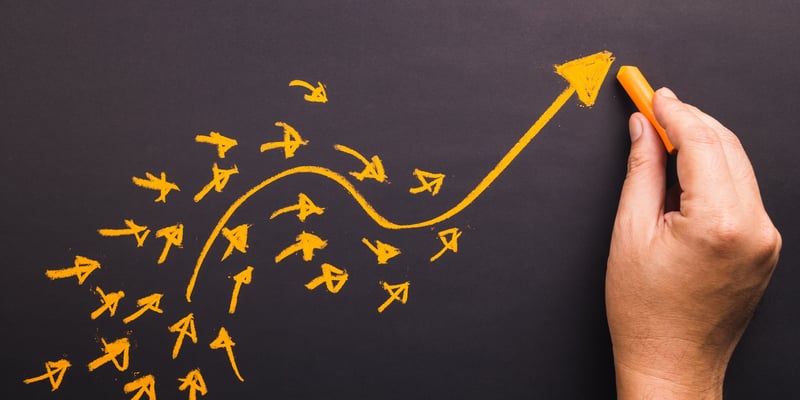 Optimizing your inbound marketing performance starts with measuring the key metrics that show you if your strategy is effective or if it's time to redirect, re-strategize, and focus on a new path for their target audience. Remember that no matter how you analyze your data, whether it be multiple marketing platforms or just one like Hubspot, the buyer's journey should be the foundation of how you define success.
What do Inbound Marketing Metrics Tell You?
Of course, it's great to track analytics, but inbound marketing metrics or key performance indicators (KPIs) should do more for your inbound marketing strategy than just suck your time. If you are strategically tracking KPIs, they will help you identify what's working, what's not working, determine areas that need improvement, and direct the execution of tactics that work to improve the success of your marketing efforts.
6 Key Inbound Marketing Metrics You Should Be Tracking
Here are some KPIs you should track to help determine the success of your inbound marketing efforts:
1. Conversion Rates
A conversion rate is one of the most important KPIs that tells you how many prospects or customers have taken a desired action. Conversion rates could be found in blog posts, landing pages, emails and paid marketing efforts. How effective are your calls-to-action (CTAs)? Are you encouraging visitors to move on your desired actions?
2. Visits
A major part of inbound marketing is getting your content in front of a prospect that might need or be searching for the services or products you offer. Getting eyes on your website is a key determiner in whether your efforts are effective. Tracking visits to your website, blog, and specific real estate within your site are all valuable KPI's to track to see how your efforts are working and also learn what your target audience wants to see and engage with.
3. Traffic Sources
There are many types of traffic to a website that are important to track: organic, social, email, campaign, direct, and referral. Monitoring website traffic will show you how visitors are finding your content and website, as well as help you better attribute conversions and ROI to specific channels.
4. Leads
When you're encouraging action within your site, don't miss out on the opportunity to collect a prospect's data who is clearly interested in the content you're distributing! If you're creating educational content related to your products or services, collecting basic contact info in exchange for these resources, basic services, or educational content, allows you to grow a database of prospects interested in their products or services allow marketers new opportunities for lead nurturing and engagement.
5. Qualified Leads
There are different levels of leads. There are the contacts that give their contact in exchange for a resource then realize what you offer is not necessarily what they need at the time, and there are the leads that move further through the sales funnel, becoming qualified leads. You can "qualify" leads based on different factors determined by your organization, and they are often organized into Marketing Qualified Leads (MQLs) and Sales Qualified Leads (SQLs). Read more on how LeadG2 defines MQLs and SQLs.
6. Customers
HELLO! Efforts aren't successful unless you're actually tracking how they're paying off! Tracking the customers derived from your inbound marketing efforts are a major indicator in whether your inbound marketing strategy is working.
Where do you start?
While many of these can be tracked manually through your website management platform, we've found that marketing platforms are key to efficiently tracking inbound marketing KPIs without spending hours upon hours finding, identifying, and comparing metrics. LeadG2 utilizes Hubspot and relies on the analytics tool to not only identify, but also easily compare change over time and track overall efforts. Google Analytics is also an invaluable tool for tracking digital data.
If you're looking for one hub to host all of your marketing and sales KPIs, check out Databox, which pulls data from numerous sources and puts it into professional and clean reports accessible from a desktop or mobile app and is easily integrated into presentations for your team, executives, or clients.
No matter where you are in your inbound marketing journey, it's never too late to start tracking key inbound marketing metrics to show your success with your strategy and help you re-align future efforts based on data.