Investing in Generating Leads and Closing Sales
In Part 1 of this series on budgeting for marketing and sales, we discussed 7 different building blocks – pieces of infrastructure if you will – that are fundamental for a growth strategy. In this post, I'll be discussing where and how to use those expenditures to achieve your growth goals.
1. Budgeting to Get More Visibility
A portion of your budget will be needed to fund the strategies and tactics you'll employ to grow your visibility and awareness. Some of the budget will be needed for creative talent like writers and artists, other budget dollars will need to go into production, and still other funding will need to go into costs for execution, like buying advertising.
There are dozens of different ways you can invest (not spend) your budget to increase your visibility. Blogging. eNewsletter. Paid advertising. Video. Trade associations and trade shows. Social media. And so on.
While selecting the mix of tactics for your investment in increasing visibility is challenging, what's even more challenging is determining what percentage of your total budget and investment needs to go into realizing your visibility objectives, as there are a lot of other objectives competing for funding that we'll discuss below.
The bottom line is that the firm that gets the most eyeballs is the firm that will win the most new business.
2. Budgeting to Generate Leads
When we think about turning a marketing department into a revenue center, we'll focus on what budget dollars are available for funding lead generation tactics, and at an even deeper level, the funding that will be allocated to top-, middle-, and bottom-of-the-funnel leads. These tactics can include items like a comprehensive lead generation campaign for a seminar or webinar, a lead generation campaign built around a whitepaper or some other form of thought leadership, or even a campaign that has a survey at its center.
With infrastructure of lead acquisition and capture in place, budget dollars now get allocated to creative and production costs for creating, producing and publishing a lead generation event or tactic, and then for promoting that tactic to specific, targeted markets.
3. Budgeting to Nurture Prospects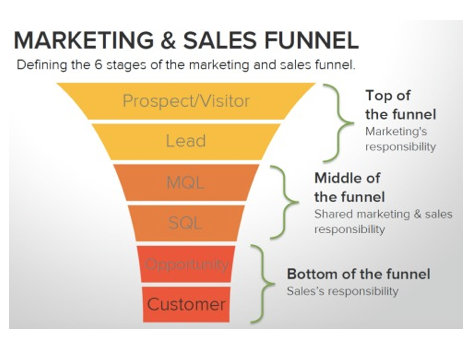 Part of your budget will need to be invested in lead nurturing, which in turn, will be built upon the money you spent to install marketing automation technology. Because the key to marketing automation is to deliver the right type of content to the right prospect at the right time in their buyer's journey, you may already have content assets available that just need to be stitched together in the right way to assist the movement of your prospects through the funnel.
You may need to allocate budget to strategists and writers who can build a marketing automation campaign for you. Another investment may be required to facilitate an agreement between marketing and sales on lead definitions as well as lead handoff milestones and processes.
The bottom line: a poor quality lead pursued or a high quality lead dropped is a waste of budget and other resource.
4. Budgeting to Close More Sales, Faster
In Part 1, we discussed budgeting for infrastructure to pay for sales enablement tools and technologies – things like lead tracking, email scheduling and notifications, meeting schedulers, and other capabilities.
Investing budget in sales and sakes enablement starts with the need to hire a writer to help craft drip emails and other templates that a sales team can use in developing their relationship with prospects – particularly at the bottom of the sales funnel. However, most companies should consider investing in sales training as well – not only for purposes of how to use CRM and sales enablement technologies, but also, to learn sales and closing techniques.
5. Budgeting to Retain and Delight Clients, Influencers and Referral Sources
Finally, a portion of your budget needs to be invested in building and strengthening your relations with clients, influencers, and referral sources. A portion of the spend in infrastructure for things like newsletters, alerts, seminars, webinars should be used (and tracked) to this end. We also recommend that any thought leadership based content like whitepapers be sent on an ungated (no form required) basis to these stakeholders. Consideration should also be given to client/influencer/referral-only events that will put a special sheen on showcasing your interest, concern and desire to delight them
For your client and referral relationships, it's not so much a matter of huge budget dollars that must be invested as it is in critical tactical thinking that results in processes and tracking mechanisms that can help to reveal the strength and depth of your relationships.