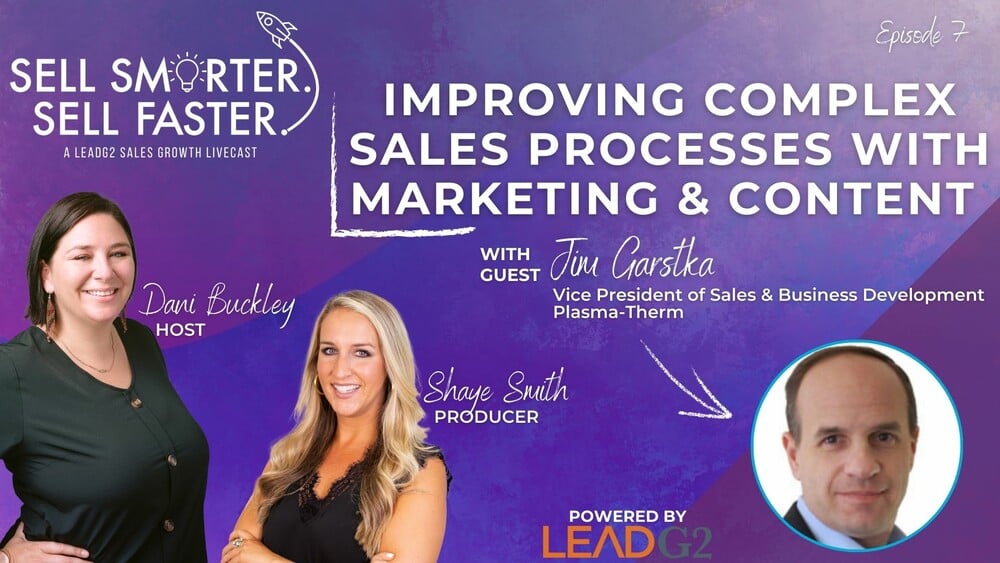 Content marketing is defined as a type of marketing that involves the creation and sharing of online material — such as blogs, videos, and social media posts — that doesn't explicitly promote a brand but rather educates and stimulates interest in solutions the brand can provide.
What role does content play in your sales process?
Jim Garstka, Vice President of Sales & Business Development at Plasma-Therm, joins host Dani Buckley to discuss how marketing and strategic content has helped improve a complex sales process.
Tune in now or keep reading for a brief overview.
Setting the Scene for Using Content in the Sales Process
At LeadG2, we work with a lot of different industries, and the most common objectives we have are to help businesses:
Generate more sales qualified leads for their salespeople.

Help salespeople spend more time on the best opportunities.

Improve conversion rates across the sales pipeline.

Help them more effectively educate prospects earlier in the buyer's journey.

Improve retention rates.

Help salespeople sell smarter and faster.
These are typically things that most sales organizations need, of all sizes and industries, but we've found that the more complex services and more complex sales processes – can truly benefit from inbound marketing and sales enablement – and specifically the creation and use of strategic, relevant content.
A complex sales process is when explanation and education are critical to the sale. It's when buyers need to be educated or need subject matter experts available to answer technical or more in-depth questions.
Media companies and advertising agencies have a complex sales process but so do many professional services and B2B sales organizations.
The guest on this show has an INCREDIBLY complex and long sales process, and he's learned a lot in the last year on how the use of marketing and content contributes to the sale.
About Jim Garstka
Jim joined Plasma-Therm in January 2020 as VP Sales & Business Development. He's a seasoned C-suite executive with over 20 years of proven experience in Sales, Marketing and Business Development and is responsible for all aspects of revenue growth at Plasma-Therm.
Prior to Plasma-Therm, Jim has held various executive positions at several semiconductor-related original equipment manufacturers (OEMs). He holds a Bachelor of Science in Industrial Engineering and Operations Research from the University of Massachusetts.
About Plasma-Therm
Plasma-Therm is a global manufacturer of plasma etch, deposition, and advanced packaging equipment for the specialty semiconductor and nanotechnology markets.
"What we do at Plasma-Therm is enhance the human experience by providing advanced technology so our customers can provide new applications and devices to the marketplace," Jim explains. "We're designed to manufacture advanced equipment, so we use plasma to either etch, deposit, or do a modification to the surface of the water, and that's how you make semiconductor chips which go into your smartphone, smart automobiles, virtual reality, health care equipment. Those are a few major markets that our global customers play, and we have the equipment that processes their devices, which drives this digitization of our lives."
Due to the nature of the business, the sales process can be complex and lengthy. Jim mentions how the sales process for Plasma-Therm is generally six to nine months. "Customers have a very rigid idea of what they want – a particular layer of their device. That means there are a lot of back-and-forth meetings, more than one decision-maker, and multi-facilities often in different continents," he explains.
Why Inbound Marketing?
In early 2020, Plasma-Therm embarked on an inbound and content marketing initiative. Dani asks Jim to tell listeners a little more about what their objectives were and what prompted this new strategic approach to marketing and sales.
"The overall objective was to align the sales cycle and process of how buyers are buying today," states Jim. "We're a high tech but industry but so resistant to change. We take conservative approaches like traditional trade shows and PowerPoints."
"I started to see B2C experiences in everyday life bleed over in the B2B space – even in our space," he continues. "Customers were doing more research online. They were looking at website and content, and we were qualified or disqualified before sales even got involved."
During the interview, Jim talks about how the sales team was losing connections. "We wanted to find a way to provide solutions and answers, and have our audience engage with us at an appropriate time."
Results From Inbound Marketing
Digging deeper into the topic, Dani asks Jim what kind of benefits he has seen from inbound marketing and what's been working well for Plasma- Therm.
"We started in 2018 with one of our brands – a company based in France," Jim explains. "We focused more on low volume and pure research from universities and national labs. We used that as test vehicle on how inbound would work for our market. As soon as we launched, we saw amazing results – people were downloading premium content, interacting with our blog, and engaging on LinkedIn."
Based on those results, Jim says the company decided to take another initiative this year with all Plasma-Therm brands. "Amazing results," he states. "Every month, we track KPIs, and they keep getting better. I look at weekly numbers, and there's an increase every week. People are responding to the educational content we produce."
Having a complex product and industry, creating content can be challenging whether it's done internally or outsourced. With this in mind, Jim offers some tips for consistently creating strategic, relevant content that actually answers the questions prospects have.
Create the right content

Be helpful

Offer solutions to problems

Have a flexible content marketing plan
"Align your selling process to how the buyers are buying," Jim advises. "LeadG2 took our traditional marketing material and edited it so that it was readable and socially geared for online marketing. This educational content received – and still receives – a lot of interaction."
As Dani mentions in the interview, content marketing is also a lot of trial and error, and that's why analytics are so important. "You never know what your audience wants until you try," she states.
Content Marketing's Role
Content has served two significant roles (among others) for Plasma-Therm.
One of those roles is attracting new prospects and leads to their business. "What have you seen work well? What is it about having the right content to pull people in that works for your business," asks Dani.
"We expected business to come from current customers," Jim states. "But surprisingly, we've added a lot of new business in 2020 and 2021, and I attribute that to the pivot we made with inbound marketing."
The second role that content has served is helping salespeople sell smarter and faster by having the right content to share at the right time with the right people. "Can you share some insights on how that has worked well for your team," asks Dani.
"Customers are more educated than ever before," Jim explains. "They come prepared and more knowledge, with more specific questions. Having different content to address those needs at the right time is key. It helps our sales process because our salespeople are armed differently."
Jim also explains how they use blog material internally for salespeople. Tune in now to listen!
Don't miss another episode of the Sell Smarter. Sell Faster. where Dani Buckley, VP/GM of LeadG2 speaks with experts and thought leaders across a variety of industries and learn how they implementer of some of the most proven sales enablement and inbound marketing tactics and strategies. Visit SellSmarterSellFaster.com to learn more.
Subscribe to our YouTube channel and have your notifications on so you're notified of our next episode!