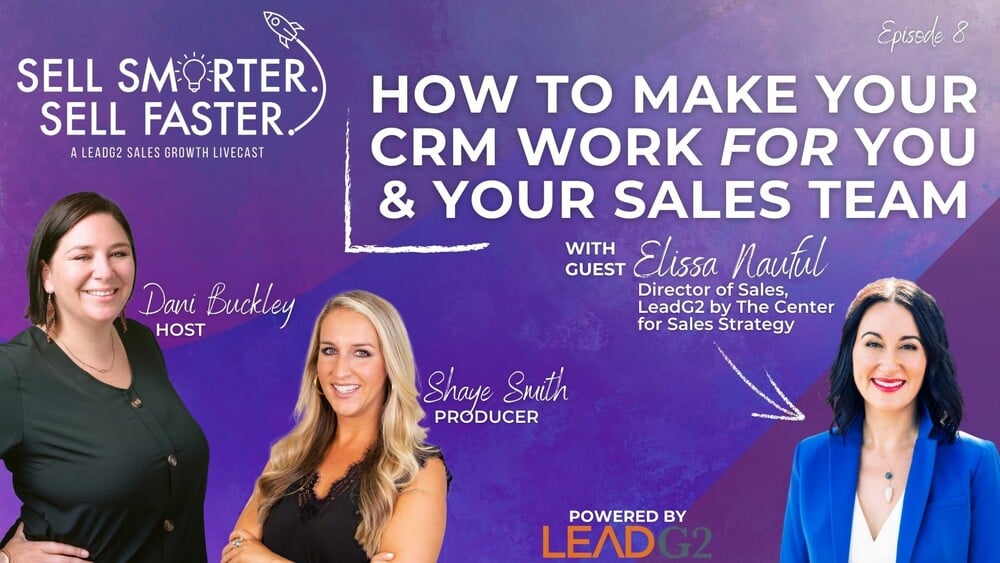 In the last episode of season one, host Dani Buckley was joined by Elissa Nauful, Director of Sales at LeadG2 by The Center for Sales Strategy, where they discussed using a CRM with the sales team, and how it can serve not only as a tool that works FOR you and your team, but also as a powerful sales enablement tool.
Tune in now or keep reading for a brief overview.
Questions About CRMs
This is a big topic at both LeadG2 and the Center for Sales Strategy. We hear questions and concerns around CRMs daily from salespeople and sales leaders. Some of the things we hear are:
"We've had bad experiences with CRMs in the past."

"We know we need one, but we aren't sure what we need, and it's a big commitment."

"We have one, but we're not really using it," or other versions of that are "Our salespeople don't use it the way we should" or "It's not up to date.

"We hate our CRM – we've had it forever, and nobody uses it right."

"We love our CRM – but our salespeople hate it, and we're always nagging them to update it."
How do You know you need a CRM?
You need to have accurate and up to date data for forecasting, planning, and budgeting.

You need to have transparency and ownership over their prospect and customer database – for when employees come and go, etc.

You need to have an up-to-date database for communication.

You need to have some visibility into the pipeline and their salespeople's activity.

You need information that will help them better coach and mentor and support their salespeople.
Why Do Salespeople Hate CRMs?
It's a time suck.

It's not actually helping them sell smarter or faster.

It's cumbersome or technologically difficult to learn and navigate.

They feel like they're being micromanaged.
The key is finding and using a CRM that sets your leaders up to fulfill their long list of needs while also ensuring it's easily adaptable and actually helpful to salespeople. And that's what this episode covers.
Remember, you must think with a sales enablement mindset vs. a monitoring mindset. Your CRM is a sales enablement tool. It should be, and if it's not enabling your salespeople, then you're doing it wrong.
About Elissa Nauful
Elissa Nauful is the Director of Sales at LeadG2, The Center for Sales Strategy, and Up Your Culture. She started her career in broadcast television and has worked in linear, digital, and social media. Her true passion is delivering valuable solutions to clients, and she is passionate about working with leaders seeking answers to the biggest problems in business today – how to drive revenue and awareness.
She's a solutions-based creative thinker and sales is in her DNA. Her favorite conversations center around "what' and 'why' and she loves to challenge herself to grow her mind and experiences.
Elissa is an avid fly fisher and loves every form of art, food from around the world, and wine. She enjoys spending her free time experiencing live music, laughter, and wonderful people.
Using a CRM in Sales and as a Sales Leader
Elissa starts the conversation by explaining her experience using a CRM, both in sales roles and as a sales leader.
"It started early in my career where a CRM was a stack of call sheets," she explains. "Over years, it's gotten more digital. I've used SOHO, Salesforce, HubSpot, and several Microsoft products. I've seen tremendous adoption and resistance in both sales manager and salespeople."
She also notes that this is a great topic to talk about because, "In this day and age, technology is the defining factor between success and not success in the sales world."
Having so much experience with CRMs in sales, Dani asks Elissa what some of the biggest issues around CRMs she has seen.
"Sales managers weaponize the CRM. They're using it as a management tool to micromanage their salespeople as opposed to using it as a resource to forecast accurately and to address the situation that salespeople aren't performing at the level they think they should," states Elissa.
How managers use CRMs is important. However, when it comes to the sales side, "Salespeople who want to be successful today have to have an organized, discipline system to sell — and CRMs are the starting point," Elissa explains. "This ensures post conversations you've had with clients and provides a tremendous amount of insight into what that customer is doing when you communicate with them."
The pandemic has changed the way salespeople do business. "To have insight and intelligence into that digital communication on what people are doing at a 10-foot level versus a 30,000-foot level is incredible. If salespeople understood how much it could help them in the sales process, there wouldn't be that resistance."
Top Mistakes When Choosing a CRM
During the livecast, Elissa says that first mistake is that the IT team deploys the CRM, and there's not always clear communication about what you want it to do, how you want it to work, and how it scales with your current organization.
"They also don't take into consideration how tech-savvy the people are that are using it on a daily basis," states Elissa. "So, a lot of organizations say they need a CRM and jump headfirst into it. They're not taking a step back to strategically ask how they want to use it in their organization and how can it make the organization better."
Lack of planning and strategy are the biggest mistakes business leaders make when choosing a CRM. "They talk about the what and not the why – that's a big adoption challenge in the organization," Elissa states.
When it comes to actually rolling it out and utilizing a CRM with a sales team, strategy and planning first are critical. It's important to know how to make the transition from point A to point B so that everyone is less resistant.
key tools Of A CRM
Contact management

Automation

Customizable to your sales process

Ease of use

Reporting
For details on each of these key features of a CRM, tune into the livecast!
Best Practices for CRMs
Elissa stresses that managers have to focus on why the CRM benefits the organization. "Salespeople want a tool that helps them close a deal quicker, get more insight, and not waste time. Managers must hole their people accountable and set clear expectations."
Another piece of advice given to help a sales organization get the most out of their CRM is to know that a CRM will not fix a broken sales process.
Don't miss another episode of the Sell Smarter. Sell Faster. where Dani Buckley, VP/GM of LeadG2 speaks with experts and thought leaders across a variety of industries and learn how they implementer of some of the most proven sales enablement and inbound marketing tactics and strategies. Visit SellSmarterSellFaster.com to learn more.
Subscribe to our YouTube channel and have your notifications on so you're notified of our next episode!