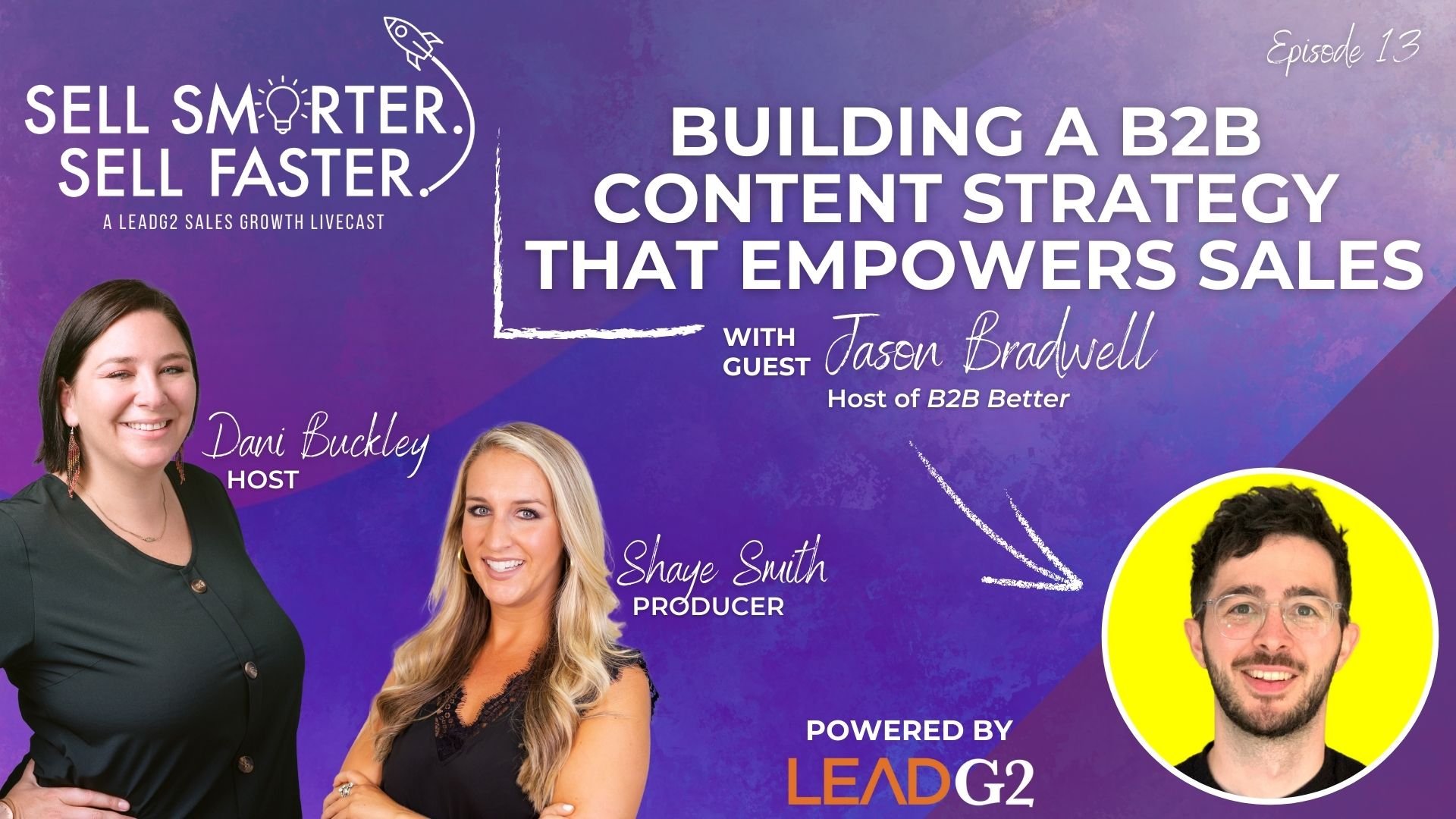 Why is content so important in the B2B space?
Jason Bradwell, host of the B2B Better podcast, discusses building a B2B content strategy that empowers sales, and specifically:
Best approaches to content strategy and how to get started

Funnels you should optimize for

Targets and metrics of success

Maximizing your results and minimizing your efforts

Content creation in collaboration with sales
Tune in now or keep reading for a brief overview!
About Jason Bradwell
Jason Bradwell is a Marketing Director for a global enterprise technology brand. He is on a mission to prove B2B doesn't have to be boring and helps early-stage marketing teams build strategies that scale with their business.
Jason hosts a weekly podcast called B2B Better and publishes a newsletter every Monday called the B2B Bite.
Why is Content Important for Driving Revenue?
Most people that watch the Sell Smarter. Sell Faster livecast know that having a content strategy is important for every type of business.
"In B2B, it's rare to see content marketing directly translate into revenue," Jason states. "It's never immediate. What it does is allow organizations to stay front of the line, nurture relationships, and build credibility over time."
As Jason mentions, sales cycles are long – ranging from three months to three years – and windows of opportunity are small. "If you missed the mark of getting in front of a prospect or client, then you may have missed it for half a decade," he explains. "Look at content as you do investing. It compounds overtime - the more you put into it, the more you get out in the long run."
Content also lowers the barrier for younger B2B brands to compete against the long-serving competitors. "10 to 15 years ago, the only way to get in front of client were trade events or press releases, both which cost a fortune. With content, if you have something to say, you can immediately get it out there."
Content marketing as a strategy is not new. If you don't have a big budget, it's the way to go and compete with the companies that do have a larger budget. "Younger companies, born in the digital age with content marketing ingrained – they're innovating and moving quickly, whereas well-established competitors are tied up with big booth trade events and press releases."
Why is Content important in the B2B space?
When it comes to B2B versus B2C content, B2C content is typically more interesting and engaging. As Jason points out, this is often due to the vast amount of competition and fighting through the noise.
B2B content has always been perceived as boring, and this is one reason Jason says he is so passionate about helping businesses do better. What does good B2B content look like? "Throw some personality to very conventional types of content like explainer videos," he advises. "You don't have to be crazy or push extreme creativity for B2B content to be engaging."
As host, Dani Buckley adds, "There's a lot of fear having a personality or being slightly different, but B2B is still selling to humans."
Key Components of a solid content strategy
Jason says there are five things you want to include in your content strategy:
1. A clear understanding of what it is that you're trying to achieve
2. Have something to say
3. Know who you want to say it to
4. Understanding where users are spending time consuming content
5. Have the means to create content and create it well
And throughout all of these five components, Jason says it's vital to "be specific."
He also provides steps on how to get started right now. "Whether it's a content or communication strategy, I always start by sitting down with a blank sheet of paper and filling out our A to E framework."
A – Audience

B- Belief

C –Creative

D- Distribution

E- End result
For an in-depth explanation of each component, tune in now or visit jasonrbradwell.com.
Best Practices when building a content strategy
Wrapping up the livecast, Jason provides two tips for building and executing a content strategy:
Understand where you can prioritize employee distributed content versus brand distributed content.

Don' worry about quantity.
People buy from people. "A collective network of employee base across social channels is 10xs the amount of people following brand accounts," he explains. He also provides a personal experiment that his team did where they pulled the brand content and put it on personal social accounts. "Engagement was 200% more than brand channels! They have a smaller audience but a bigger result."
When it comes to quality, he also advises not to worry about things like followers. "Figure out your North Star metric is and focus on it."
Don't miss another episode of the Sell Smarter. Sell Faster. where Dani Buckley, VP/GM of LeadG2 speaks with experts and thought leaders across a variety of industries and learn how they implementer of some of the most proven sales enablement and inbound marketing tactics and strategies. Visit SellSmarterSellFaster.com to learn more.
Subscribe to our YouTube channel and have your notifications on so you're notified of our next episode!