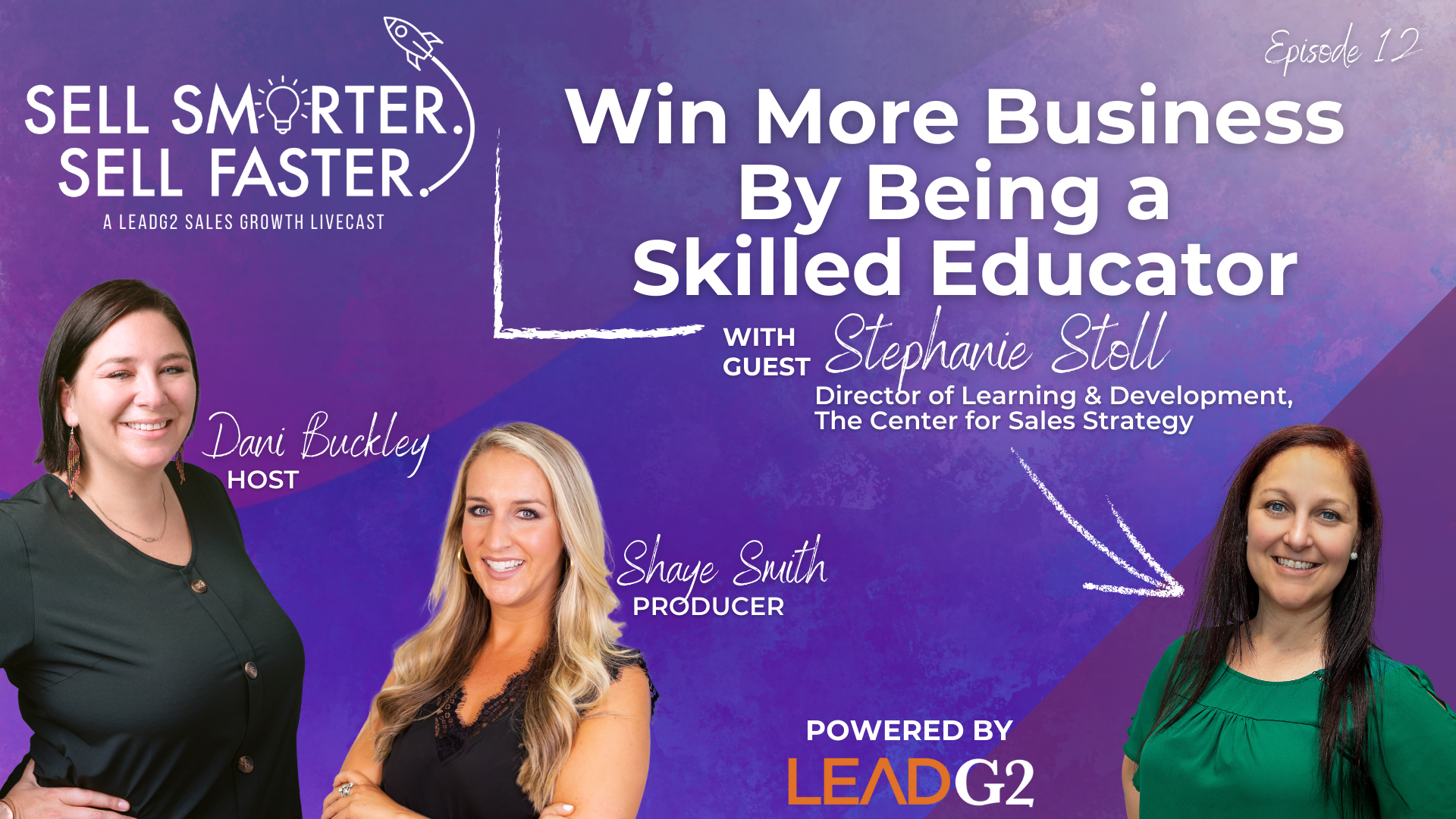 Why is educating prospects in the sales process important? And how do you do it effectively?
The discussion today marries the inbound marketing methodology and marketing. Stephanie Stoll, Director of Learning & Development at The Center for Sales Strategy, discusses how to effectively educate prospects in the sales process to help sales teams sell smarter and faster to win more business and close more deals.
Tune in now or keep reading for a brief overview.
About Stephanie Stoll
Stephanie is the Director of Learning & Development at The Center for Sales Strategy and works with subject matter experts and Client Experience team to design and deliver educational content and services to clients.
Her background in sales and training combined with her formal education in Adult Learning drives her to create and deliver impactful user experiences. Motivated by the opportunity to make a positive impact on people's lives, she strives to build solutions that help others succeed and achieve their goals.
Benefits of being a good educator in the sales process
As the discussion begins, Stephanie tells the audience to think of education outside of the narrow definition of learning.
"Education isn't just learning. It's there to help modify a behavior or attitude," she explains. "So, when we're selling, we're really seeking to change something the prospect is currently doing – it's not a lecture."
The goal is for sellers to help prospects understand a new way of looking at something, so it's vital to present proposals and ideas in a manner that you stand out in a sea of salespeople that are just talking their message at people without any real end goal in sight.
"When we are thinking of education, we're looking at what do we want them to do in the end - opposed to what do we want out of it in the end," Stephanie states.
Best practices for a salesperson to effectively education prospects
Stephanie gives salespeople two best practices when trying to educate prospects effectively:
1. Know your prospect
What problems or industry trends affect their business?

What keeps them up at night, and how can you help?

Never walk in cold – know about the industry and them
2. Consider what you're saying in terms of the prospect
What are you saying?

Why should they care?

How will they receive it?
Good quality education lets you know where you're headed – like formal education, you have an outline or syllabus. This is where we're starting, this is where we're going, and this is where we'll end up.
To elaborate more on the best practices, Dani asks, "What are some key things we need to keep in mind when thinking about our prospects in this way? "
Stephanie explains, "Everyone's experience as an adult, shapes the way they see and process new information. Know your prospect and know if they've had bad experiences. Form your presentation with this in mind and show empathy."
Stephanie also elaborates on how prospects what information that offers immediate relevancy and impact. "Present as a problem-center approach – how you solve a problem with specific features. And be specific in how you can help. Don't share services and offerings before you know their problem."
Don't wait until you hear the objection directly – pick up on it earlier to educate them throughout the sales process.
How Being a Good Educator Helps in different stages of the sales process
Simply said, every stage is an opportunity to educate. However, as Stephanie points out, there are a few stages where being an effective educator can really up a salesperson's game.
Connect – "When you're developing a valid business reason, put some thought into what you're going to say to the prospect. Remember, they're going to process this information from their lens. Think of how the information will be received and know the problems they're facing, as well as the industry struggles."

Discover – "Really listen to what the prospect wants to change or improve. What do you want the end stages to look like? This is where you can write a roadmap out for the entire sales process."

Advise – "You're the educator that is offering tailored solutions. Make sure you're offering solutions at the right experience and comfort level for them. You don't want to overwhelm them."
There is never a one-size-fits-all. You must ask the right questions, then present solutions that show immediate impact.
Dani also adds that you can be an educator in between touch points. For example, after a discovery call, you can send videos, articles, eBook, or webinars. "Continue to have different touch points that speak to the clues you're finding along the way," she states.
For immediate action steps to take now and advise on tools to use for staying on track, tune in now!
Don't miss another episode of the Sell Smarter. Sell Faster. where Dani Buckley, VP/GM of LeadG2 speaks with experts and thought leaders across a variety of industries and learn how they implementer of some of the most proven sales enablement and inbound marketing tactics and strategies. Visit SellSmarterSellFaster.com to learn more.
Subscribe to our YouTube channel and have your notifications on so you're notified of our next episode!