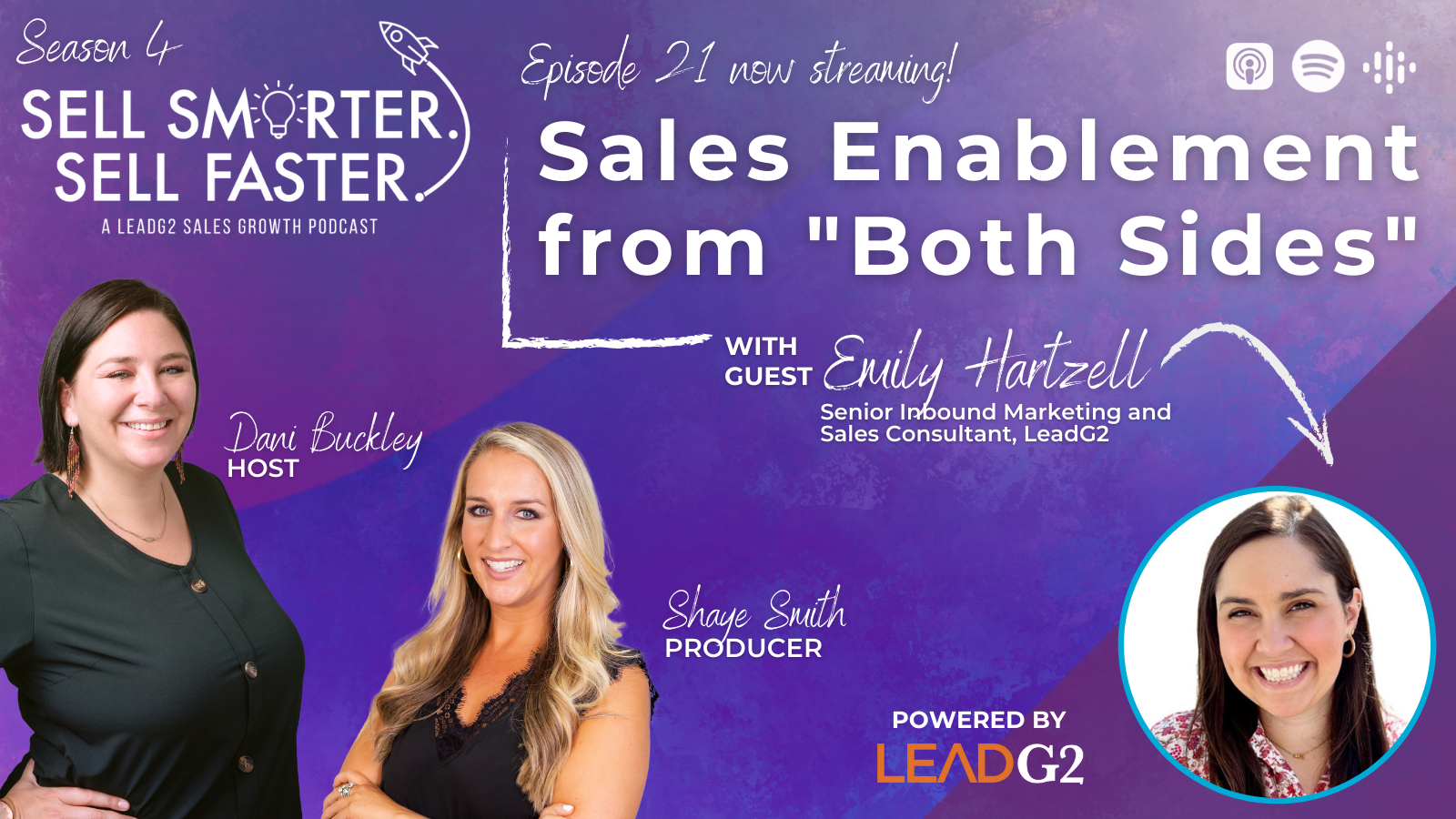 We all know that providing salespeople with the right resources to use at the right times can transform an average sales organization into a stellar one. However, there are too many sales teams that are grinding away without a solid sales enablement strategy.
In this episode of the Sell Smarter. Sell Faster. Podcast, we cover sales enablement from "both sides."
Dani is joined by Emily Hartzell. Over the course of her career, Emily has experienced sales enablement (and a lack thereof) from "both sides," as a salesperson and as a Senior Inbound Marketing and Sales Consultant at LeadG2.
A Personal Experience with Sales Enablement
Emily started her career working in radio sales as a LeadG2 client, which eventually led her to work at LeadG2. Emily's background in B2B sales provides her with a unique perspective for her clients that encompasses both marketing and sales.
As a salesperson, sales enablement and inbound marketing played a huge role in Emily's success, and it's her goal to bring that experience to her clients to help them drive inbound sales results.
During her time working for Zimmer Communications, a client of LeadG2, Emily remembered the very day that her then-company adopted HubSpot.
She found the new collection of tools within the CRM to be as exciting as they were overwhelming.
It wasn't long before she folded many of the resources HubSpot had to offer into her sales process. She found herself looking for all kinds of resources to use for sales enablement, from blogs to eBooks to one-sheets, etc.
After being exposed to this new world of sales enablement tools, Emily couldn't help but think about her time selling at CINTAS. There were so many instances when working at CINTAS where she wanted to provide more information or helpful content to a prospect, only to have nothing to send them.
With the many tools that HubSpot provides now at her fingertips, she really took to hear the ability to be educational. "I would run into objections and questions constantly," she says. "And to have a resource to send them for such instances was an invaluable tool."
Lessons Learned From Selling With And Without Sales Enablement
Emily has seen firsthand the true effect sales enablement can have for an organization.
"It's so easy for marketing and sales to go in their own directions," Emily says. "The biggest thing is finding easy ways for salespeople to use this stuff."
"It's tempting to think about all of this from a marketing perspective, but it's interesting to think about, 'what would be the most beneficial for the sales team?'"
What are Some Specific Things She Wished She Had Access to in the Past?
Sales Playbooks: "As a CINTAS rep, I wished that I had more standardized templates, a playbook of what should happen and at what time...That ability to know what to send and when to send it would have been great."

Automation: The ability to automate every step of a sales enablement strategy truly was one of the biggest game-changers. "People don't even have to lift a finger."

Thought Leadership: "As a salesperson, I wish I would have done a better job of building my social media credibility." HubSpot enabled her to more easily develop her presence as a thought leader
Final Thoughts
"I know that sales is so laser-focused on selling that it's hard to expect a salesperson to do anything outside of that without some sort of accountability," Emily says. "None of these [sales enablement tools] work for you if [they] just sit there."
She emphasizes the importance of holding sellers accountable when it comes to utilizing the many sales enablement tools that are made available to them. "From the top down, make sure this is all really important to everyone involved."
"Hold your people accountable, find your system...It only helps people be that much more effective."