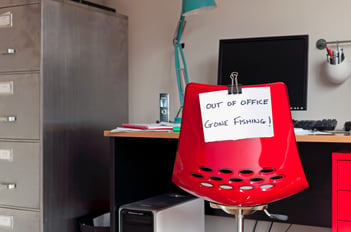 Did you know that 75% of American workers don't take all of their paid vacation days each year? It's true. Only 25% of workers took all of their paid days off in 2014. We don't want that to be your experience in 2015. To help ensure you can take your full vacation without worrying about how your campaigns are performing, we put together 6 ingredients needed to put your summer marketing on autopilot.
Get on these tasks a few months before you intend to put up your "gone fishing" sign—and then leave your computer behind:
1. Defined Campaigns
Plan your campaigns in advance. Who are you targeting? What are your strategies and tactics for each summer campaign? Get these decisions locked down soon, so you can organize all the content needed to make a success of each summer campaign. Each will need its own landing page, accompanying blog posts, a promotional strategy, and a strategy for following up on leads.
2. An Offer
If you expect the leads to keep flowing while you're off fishing, each campaign or landing page needs a specific offer to convert the visitor into a lead. It doesn't matter if it's a new white paper or a contact form, but you have to be capturing at least an email address to trigger automated responses, nurturing campaigns, or transmission to your sales staff. And without automation, there's no vacation for you!
3. Scheduled Blog Posts
After you have come up with the campaign(s) for your summer marketing and determined the offer(s) you will be promoting, you'll need to write several blog posts designed to drive traffic to the new landing page. Scheduling these new posts in between your regularly scheduled posts will help to space them out so they last at least as long as your vacation. This way, everyone will see you writing blog posts while you have one hand on your fishing pole and the other on a cold iced tea.
4. Automated Social Media Posts
Since you already know what the campaign is, you can schedule additional social media posts in addition to sharing each blog post on each of your main social networks. Using images that relate to your offer or blog posts are a great way to capitalize on work you have already done.
5. Lead Nurturing
For each campaign you have set up you will need to put a lead nurturing process in place before you turn on your out-of-office notification. This lead nurturing campaign should consist of one or two emails and additional information that helps to move these new leads down the sales funnel.
6. Lead Scoring
When you get back to the office, you need to have an easy way to sort through the leads that came in. Lead scoring is a great way to do that. Program your inbound software to assign point values to specific actions or properties that will help you differentiate the hot leads from the lesser leads; you'll be able to determine who needs to be nurtured more and who should be contacted promptly.
There's one thing that a human really needs to do while you're away. Not you—you're fishing and out of signal range—but someone you delegate this to. That person needs to check the leads that come in each day while you're gone and determine if any are sales qualified leads (SQLs); if so, they need to be passed along to Sales right away.
With careful planning, content preparation, and software programming, your summer vacation (or staycation) can be carefree. Take every day your boss allows and know that your marketing machine is continuing to pump out leads!