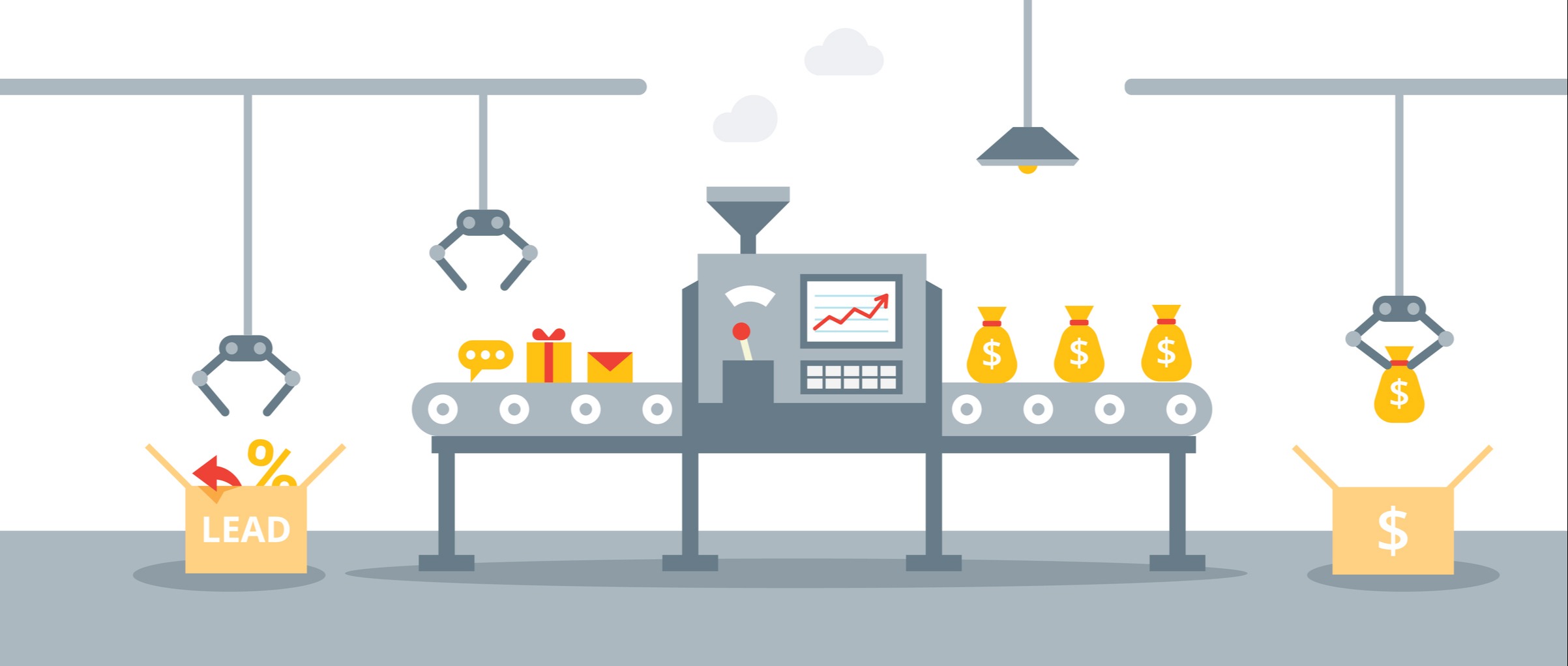 Marketing automation has quickly risen in importance for businesses across all sectors. Surveys indicate that nearly half of all companies have adopted the technology, and that number runs even higher for B2B businesses. 91% of marketers also agree that marketing automation is "very important" for their success across different marketing channels.
While the usefulness of this technology has become relatively well-established for those on the marketing side, many neglect the potential it also holds for sales. Automation and other sales enablement tools can help your sales team find new business, communicate quicker and smarter with prospects, and increase their conversion rates throughout the sales process. This use of automation and technology is a critical part of any sales enablement initiative. Plus, when your marketing automation platform works alongside your CRM and sales enablement tools, or they can all be integrated, the potential increases drastically.
Here are just five ways you can use automation to drive your sales process.
1. Save Your Sales Team Time and Eliminate Data Entry
The National Association of Sales Professionals reports that data entry is one of the top time wasters for those in sales. Automation allows you to eliminate this huge roadblock to productivity.
Automation can help members of the sales team update different fields in the contact records within the CRM as a prospect moves through the sales cycle. For example, the automation could kick a lead back to the "Lead" classification after a "Closed Lost" or "Closed No Decision" occurrence. Automation could even note if there was a reason given for closing the account.
When a prospect engages with your marketing material, the CRM can also automatically update their contact record. For example, automation technology could note if the prospect opened a particular email, engaged with a social media post, or visited a specific website page. This will give the sales team unique "intelligence" that allows them to better prepare their outreach and messaging so that it's more customized to this prospect's interests and questions.
2. Increase Sales Velocity and Improve the Overall Sales Process
With automation, email triggers can send personalized messages to prospects at precise moments in their buying cycle. For example, if a deal has stalled in the "In Decision" stage for 30 days, an email can be triggered from the salesperson asking the prospect about their thoughts. They can then use this information to plot their next course of action more efficiently.
Similarly, email templates can be created and used by salespeople to ensure everyone follows best practices based on their organization's sales plays. When a new deal is created, for example, an email can be crafted to match the prospect's pain points and align with the content they have already consumed. This opens the lines of communication.
Emails can also be sent to the sales team themselves. Most CRM processes have multiple steps, which means that reminders to sales reps to complete certain fields for tracking purposes can keep the process moving forward efficiently. Emails can be sent to sales team members reminding them about accounts that have stalled or that have not been followed up with for a certain amount of time. We have worked with companies who want to make sure that their salespeople log activity or create deals within 24 hours. If this doesn't happen, a triggered email can be sent to keep them moving forward.
3. Improve the Sales Team's Lead Intelligence
In sales, timing is everything. Reaching that right prospect at exactly the right time can mean the difference between a conversion and a dismissal. A successful sales team that knows whenever someone opens or shares an email, or views a presentation or proposal, is going to have much better intel to respond accordingly (and timely) than a salesperson who is left guessing.
Here's another example... if someone views your pricing or services page, your sales team can receive emails about this activity, and it can be automatically added to their contact's records. The salesperson will then be able to contact the prospect when the opportunity is hot, and they are actively engaging with your business.
4. Increase Renewals
Automation can also help sales teams better track when contracts end and proactively work to engage clients in a renewal. Emails can go to the clients to remind them of the success they have seen with the company and the opportunities that lie ahead. At the same time, emails can automatically populate the inbox for the sales team and remind them of the upcoming dates and the renewal workflow.
Convenient information populated within the client's page within the CRM will help the sales team remember how the client has engaged with the company and the success they have seen.
5. Increase Referrals and Customer Satisfaction
Referrals from friends, family, and colleagues remain the most trusted form of advertising. Convincing customers to recommend your brand will supply your business with highly effective leads that drive conversions and brand reputation.
To secure these types of referrals, however, organizations need to provide customers and prospective customers with outstanding experiences. These people need to interact with an organization that understands their unique needs and does everything possible to keep the customer happy.
Automation makes this easy. Emails can be triggered based on customers' viewing patterns, ensuring that they receive communication relevant to their needs. Populating the customer's CRM page ensures that the salesperson always has up-to-date information about what the customer wants to read or learn more about, which makes it easier for them to prepare for sales conversations effectively. Considering that 74 percent of consumers say they will choose the first salesperson who adds genuine value to the conversation, knowing what each customer wants to see makes it easier for the brand representative to meet the needs of customers.
Automation continues to transform the business industry, impacting how marketers and sales professionals reach prospective customers in an efficient and effective way. They understand consumers' needs better and can deliver conversations that reflect the prospect's pain points, thus seeing higher engagement and conversion rates while saving themselves time. Do not overlook the potential for automation in sales and see the impact it can have on your organization.