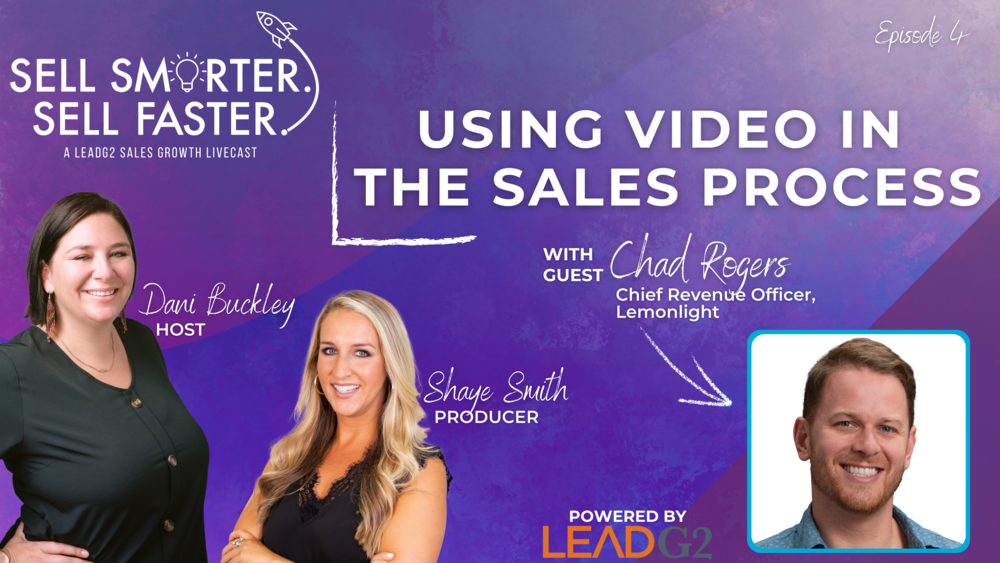 What are some examples of using video in the sales process? How can you leverage video throughout the buyer's journey?
These are just two common questions our team is often asked and in this episode of Sell Smarter. Sell Faster. Chad Rogers, Chief Revenue Officer at Lemonlight, joins Dani Buckley to answer these questions and dive into the details of using video in the sales process.
Tune in now or keep reading for a brief overview.
Video Statistics 2021
Many business leaders wonder how they can help salespeople use video effectively. Here are some updated video statistics for 2021, as well as real-life examples:
74% of people would rather watch a video than reading text.

Video has the potential to increase conversion rates and brand awareness.

Video is easier to consume and becoming more popular among sales teams.

Video creates trust faster and speeds up the sales cycle.

82% of companies believe video is an effective part of their sales process.

79% of people consuming it find video more enjoyable than reading long-form content.

Video has been shown to TRIPLE response rates and increase the number of meetings booked by 500% (Vidyard)

90% of sales reps report that video is important to qualify leads, engage prospects, and influence deals (Business Wire).

Vidyard reports that those who use video in prospecting, relationship-building, and sales emails see 5xs higher open rates and 8x higher open-to-reply rates.

SalesLoft reports that there's a 26% increase in replies from prospects when video is used.

25% of businesses are seeing success using video and sales conversations (Vidyard).
Real-Life Video Success
At LeadG2, our salespeople use video throughout the entire sales process and buyer's journey. When trying to get initial appointment, we've seen both dramatic and subtle differences when using video versus written form. Using video, our salespeople have reported:
Increased engagement.

Increased open rates.

Helping conversation move along.
Additionally, using video in the sales process aligns with our culture. Our goal is to educate businesses and help them make better business decisions. Our goal is not just how to increase email open rates — we want better conversations.
About Chad Rogers and Lemonlight
Chad Rogers is Lemonlight's Co-Founder and Chief Revenue Officer. He currently manages a portfolio of over 3,000 clients worldwide, ranging from local businesses to Fortune 500 companies. Under Chad's tenure, Lemonlight has been honored with a place on the Inc. 5000 list of the most successful companies in the country, as well as Entrepreneur's list of the 360 most successful entrepreneurial companies four years running.
Lemonlight has specialized in affordable video production since its inception in 2014 and has offices in over 30 cities nationwide. Their expertise in pre-production, production, and post-production has led them to work with companies of every size and in every industry, with a customized approach to fit each client's unique business needs. Whether clients need an internal corporate video, an animated how-to video, or a marketing video for websites or social platforms, Lemonlight helps to get it done quickly and at an affordable price.
Definition of Sales Video and Examples of Popular Types
During the livecast, Dani asked Chad to give his definition of a sales video and what it means to use it in the sales process.
"It starts with the SDR team, so when our sales development reps and our sales teams are doing outbound prospecting, we instruct them to use video in those emails for those very reasons that we mentioned earlier," states Chad.
He goes on to explain how the Lemonlight team uses video during the top-of-the-funnel prospecting. "Once you get that first meeting, utilize video your presentation and showcase our work," he explains. "The follow-up with customer testimonials. You can also use mixed media, such as GIFs and boomerangs, for a video-like feel. It's not just about the camera anymore — it's about the motion and light."
Why Video is Better Than Written Communication
Video gives you the ability to say exactly what you want to say in a short timeframe.
"Video is better than a pitch," states Chad. "It gives you the ability to be scripted and not come off scripted. You're limited to what you want to say, which helps cut down on rambling or missing important details."
He continues with, "If a picture tells a thousand words, then a video tells a million. It's proven that motion and light keep us captivated and keeps our attention."
Leveraging Video Content Throughout the Buyers Journey
Chad explains that leveraging video content through the buyer's journey is what separates Lemonlight from its competition. "We're not a marketing agency — we don't run ads, don't manage social, don't build websites — we just do content. But we do things like a marketing agency. We have everyone on our team, from a marketing department to editors, who understand what we call performance creative. This means we need to understand what the goal of the client is before we even get started —we need the why."
Throughout the livecast, Chad explains why their team always starts with "the why" before jumping into the "dos and don'ts" for each video.
"It's honing-in on why before we even get started on the what and how," he states.
He also explains why every company needs a brand explainer, and if you don't have one, that should be your first video. "A brand explainer video can help with recruitment, sales, and marketing," he states. "But that does only go so far. After an explainer video, you need to create a recruiting video; then a product focused video, and case studies."
Tips for Creating Your First Video
1. Ask Your Team
Chad says not to assume what type of video you need. Ask your salespeople that are on the ground because they can tell you better than anyone.
2. Determine the Types of Video
"Always lead with utilizing in cold outreach," states Chad. "Once you get a response, it will probably be focused on pricing or what your company does. This is where you can reply with a brand explainer video."
A salesperson needs to be able to send a deck – a one-minute video that explains what the company does followed by case studies.
3. Don't Forget About Your Customers
Once you sell them, continue to provide valuable content. "Keep customers close with FAQ videos or industry trends," Chad advises.
4. Be Timely
Chad uses South Park as an example of timeliness. "South Park makes their shows a week or two before going live. This ensures timely material, and that's what salespeople should be doing – providing timely, relevant information."
More Tips for Creating Videos
Several business leaders and salespeople often ask how to create small, one-off videos that look professional. And even more so, what are some tips for salespeople who don't like being on camera.
"If you're shooting a video professionally, have a good editor," Chad advises. "Don't worry about it because a good director and editor will make you feel comfortable, and they'll choose the sound bites that make you look professional."
An additional tip from Chad is to always create a video in DOC style. "Have interview-style questions and props with bullets about what you want to say."
Dani also advises salespeople who want to make one-off videos on their own not to overthink it! "Have notes, think it through, then shoot the video without reading from the screen."
Whether you want to boost the use of video in the sales process or you're using video for the first time, both Dani and Chad advise you to not wait! "There are so many tools that make using video easy and cost-efficient," states Chad. "If you want to do it yourself, invest in a ring light, USB mic – remember it's not about the camera anymore, it's about the light and sound."
For the optimal length of a video, tune in now!
Don't miss another episode of the Sell Smarter. Sell Faster. where Dani Buckley, VP/GM of LeadG2 speaks with experts and thought leaders across a variety of industries and learn how they implementer of some of the most proven sales enablement and inbound marketing tactics and strategies. Visit SellSmarterSellFaster.com to learn more.
Subscribe to our YouTube channel and have your notifications on so you're notified of our next episode!