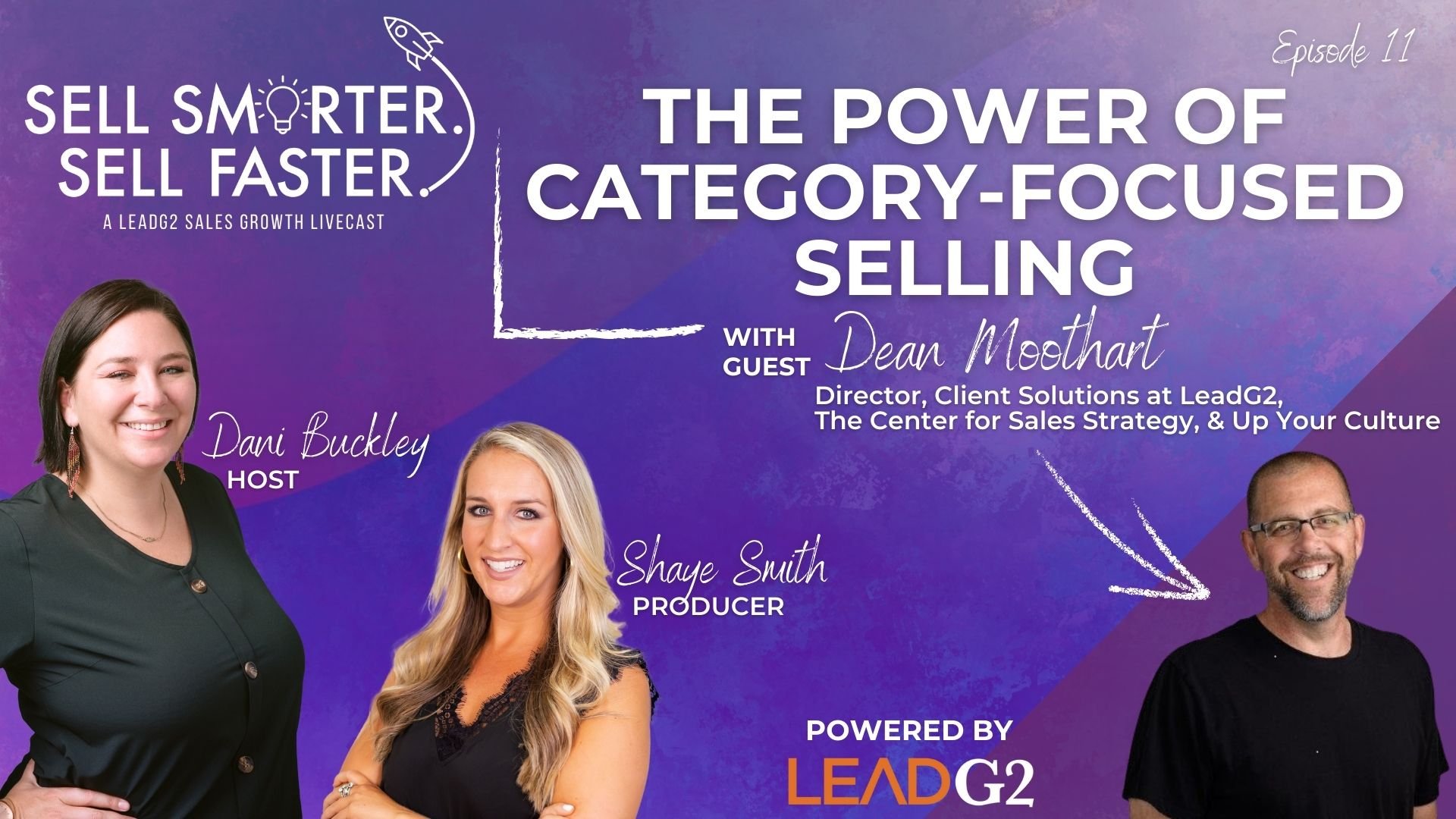 How do you avoid trying to boil the ocean?
Dean Moothart, Director of Client Solutions at LeadG2, The Center for Sales Strategy, and Up Your Culture, talks about the power of category-focused selling, and how strategic initiatives targeting specific industries helps organizations to sell smarter and faster and grow their revenue.
Tune in now or keep reading for a brief overview.
About Dean Moothart
For over 25 years, Dean Moothart has been helping his clients deploy people, processes, and technology to generate, nurture, and close new business. He's an expert in inbound marketing, designing and managing complex B2B sales processes, and leveraging technology to improve sales team productivity.
Dean has been with LeadG2 and The Center for Sales Strategy for over six years.
What is Category-Focused Selling?
Category-focused selling is also referred to as vertical marketing. Both terms mean being focused in on specific vertical markets that you want to target.
"Many people are doing general marketing to a large, diverse universe but if you have a product or service that's pretty diverse in the number and prospects that could leverage it or find relevance in it, you might find yourself in a position where you're trying to boil the ocean," Dean explains. "You're trying to communicate with this huge, broad market that you could never cover, so a lot of answers to that was to do something called account based selling – where you're really focusing in on these specific companies that you want to target, you develop very specific messages for those companies."
As Dean further explains in the interview, category-focused selling is an in-between model – it's not a general marketing message to a broad audience, and it's not so narrow-focused for a specific company.
"It's taking a step back and asking how can I develop some messaging, tactics, and campaigns to engage a specific audience in a specific vertical market or category."
Steps to Follow a Category-Focused Campaign

Throughout the interview, Dean explains a few ways to get started with this type of selling. The first step is to find who you want to target.
"Where I started was a category that I've had success in," states Dean. "I chose a category that I could point to results, stories, case studies about specific industries."

He also advises looking at your existing client base to see where you and the company have had success.

If you don't have that rhyme or reason to client list, he says the next step is to go to your marketing database. "Segment the lists and look for patterns in your target audience." For specific examples, tune in now!

If you don't have an existing client base or target data, Dean says to pick an industry that makes sense. "Where will your message resonate," he asks. "And start building a list. Who are you excited about? What's happening in the news?" Don't feel limited to a client list or database – just start wherever you are and build from there.
Important Tools to Use in this Approach
While every salesperson uses different tools and technology for category-focused selling, Dean deep dives into how he uses this approach and the tools that make him successful.
"It's critical in this approach to have a good CRM tool. This will help keep your data segmented, content segments, and keep track of all activity," he explains. "I use HubSpot CRM because it's user-friendly and easy to use, learn, and apply to business."
He also says that having marketing automation and other sales enablement tools are vital to success in this approach. "I use the sales enablement pro tool from HubSpot to take my one-on-one communication with prospects to the next level. It expands my reach, makes me more productive, creates more personal interactions, and it provides tons of insights so that I can track what's working and what is not."
What Role Does Marketing Play in Category-Focused Selling?
One of the things that makes marketing more successful is when you can be more customized in messaging.
"You want more personalized emails and voicemails," states Dean. "You can create content that resonated with that segment you're trying to engage. You want to have blog articles, whitepapers, eBooks, and case studies that are going to speak to the pain points that prospects are facing every day as it relates to the solutions that you can bring to the table."
Dean also discusses how marketing and sales can't be operating in a silo; they must align business objectives. To do this, he suggests:
Talking through content that will resonate with the audience.

Find and discuss the business challenges prospects are facing.

Interview existing clients.

Research on google – find out what's happening in that industry

Look at earning reports and analyst reports
For more tips, tune in now!
How Do You Measure Success?
Obviously, revenue is the ultimate measure.
However, as Dean mentions, it can take 6 to 12 months to see the fruits of your labor. Therefore, he advises salespeople and leaders to work backward through the sales funnel.
"Look at proposals. Are you having conversations with prospects? Are they opening your emails? If no one opens emails or visits the landing pages, then you're not hitting the target, and it may be time to change direction."
Dean also discusses how he uses sales enablement tools to get real-time notifications on one-to-one emails, email clicks, and website clicks. "I can see right away if an email is opened or if people are responding to my links. This gives me instant gratification."
A big takeaway for leaders is that if you don't have access to insights like these, then you're missing big opportunities.
When focusing on specific categories, Dean mentions how the use of video is one of the key things he's seen work. "Video allows you to be personable and customize your messages," he explains. "I use Vidyard and can make a quick video from anywhere at anytime. IT allows you to keep that personal touch and accelerate the relationship."
He also touches on marketing and sales working together and the "Don't Give Up" strategy. Tune in now for more!
Don't miss another episode of the Sell Smarter. Sell Faster. where Dani Buckley, VP/GM of LeadG2 speaks with experts and thought leaders across a variety of industries and learn how they implementer of some of the most proven sales enablement and inbound marketing tactics and strategies. Visit SellSmarterSellFaster.com to learn more.
Subscribe to our YouTube channel and have your notifications on so you're notified of our next episode!