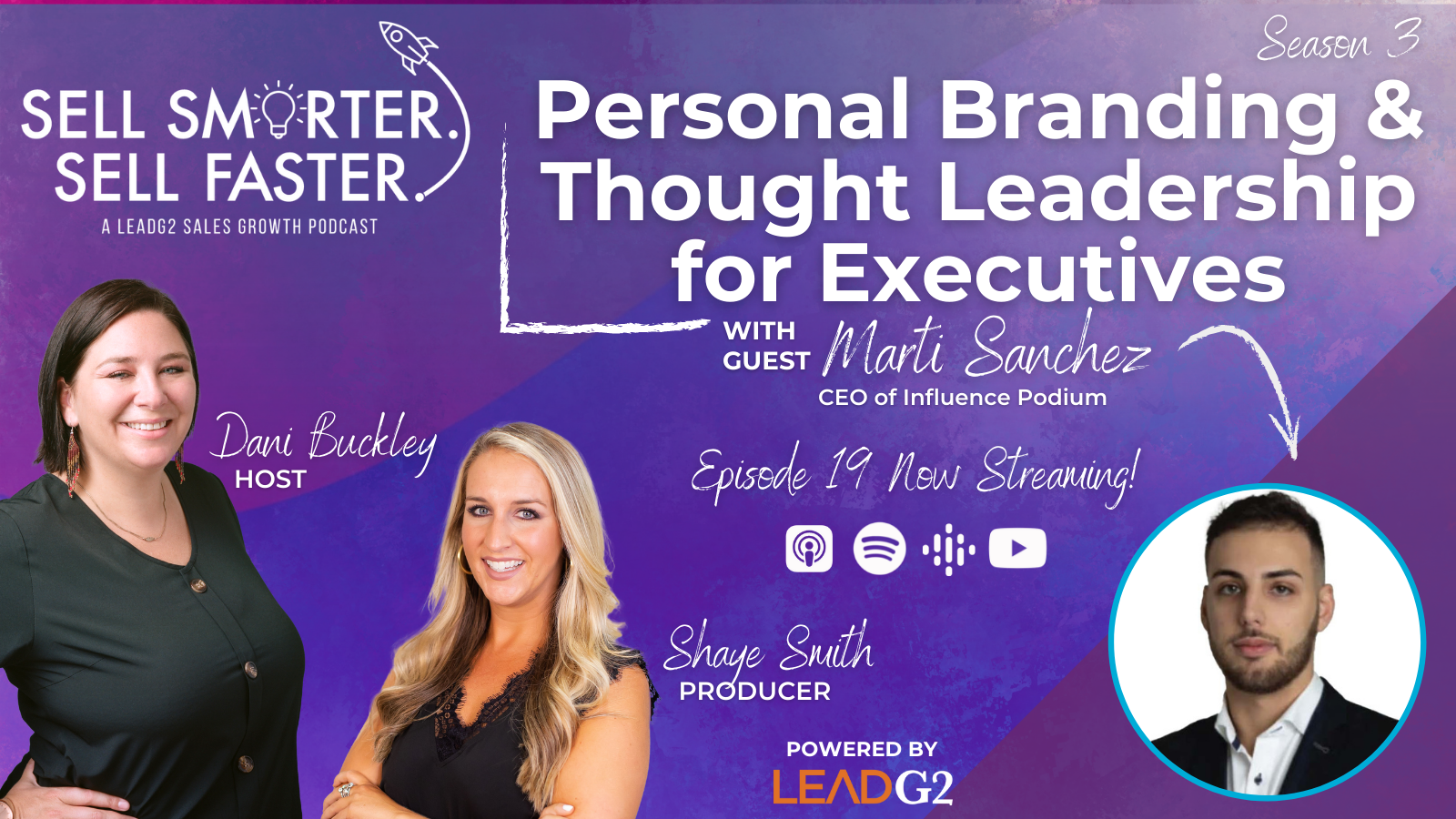 "Thought leadership" is a term that you see thrown around a lot these days. It's definitely one of the many hot marketing topics right now.
At LeadG2, we've really seen thought leadership and personal branding content work well at our company and for our clients. Contrary to a lot of thought (no pun intended) out there, the concept is not merely about being seen as a thought leader.
What it really comes down to is: Can thought leadership grow your business, drive leads, and revenue?
As you'll see, the answer is overwhelmingly, "yes!"
Marti Sanchez joined Dani Buckley on the most recent episode of the Sell Smarter. Sell Faster. podcast. He is the founder and CEO of Influence Podium, an agency that helps B2B companies build a media arm and create thought leadership content to win on brand. He is driven to help B2B companies and CEOs own their narrative and share their story.
Keep reading to see his thoughts, insight, and tips on this topic, and listen to or watch the full episode for a more in-depth explanation and conversation around this.
First and foremost: What is thought leadership?
What is thought leadership? Marti breaks it down. He describes the term as, "Your reputation at scale."
Back in the day, people's reputations as business owners tended to remain localized. Now though, with the internet democratizing information, reputations are global. What you're doing with thought leadership is being proactive about building your reputation as someone who knows what they are doing and that they can be trusted.
As Marti says, "Do they think of you as an expert in the field? Or do they not think of you at all?"
And, as mentioned above, the tangible impact that can be achieved through strong thought leadership is undeniable.
While content can be tough to measure, Marti provides a handful of trackable metrics that can be immensely helpful in gauging the effectiveness of a thought leadership strategy:
Inbound Revenue: According to Marti, inbound marketing revenue is, "the north star." It's the number one thing you should be looking at and optimizing for.

Length of Sales Cycles: If you put out effective thought leadership content, your sales cycle should be shorter.

Win Rate: You should be winning more deals. This is a result of inbound leads already trusting you as they come in.

SQL Generation: You should be generating more sales qualified leads. These are people that come to your website and say, "I want to talk to sales."
Overall, a great signal that your thought leadership content strategy is working is by how many leads you draw in that have actual buying intent. By tracking the metrics above over time, you're sure to see whether your thought leadership approach is garnering results or not.
The role of content in thought leadership
However, for those thinking, "It's not always possible to know whether one piece of content is directly converting a visitor into a lead," Marti has just the tip.
"The way we really measure things," Marti says. "On our form to book a call with our salespeople or with me, we add a field that is required that is, 'How Did You Find Out About Us?'
"That's when you can really see what is working and what is not working. When you are forcing people to tell you how they got there, on the sales call you can dig in a bit further. That is the best B2B attribution system that we've found and it's the most basic."
"Qualitative data is the most important data, in my opinion...The problem with marketers, I'm going to rant here, is we track the things that we can measure, and [those are] the things we double down on just because we can measure them. Not because they're important. I think it's necessary that we do the things that are important even if we cannot measure them as well."
When it comes to the role of content in a thought leadership strategy, the bottom line is simple: Before investing time and money in content, develop a strategic narrative that aligns with your goals. Define the message you want to transmit before building a single piece of content.
"What is the old world we used to live in? What is the new world where the market is going to go? What changed in the middle that made this new world possible? And how does your company become the vehicle that is going to change the old world to the new world?"
If you own your strategic narrative, then the content reinforces that strategic narrative on a daily basis. And in terms of how you actually want to put out content, Marti provides a few ideas to think about:
Identify where your audience is

Determine how do they want to consume content

Ask yourself, "What kind of content do they want to consume?"

What are your company's unique skills to create content that resonates with them?
In closing, for anyone who is looking to get started on their thought leadership strategy right away, Marti passed this sentiment along.
"Building a brand takes time, takes effort, takes investment, but it's transformational. And it drives business results. It's not a selfish investment for your ego...it's not for you. It's for your company...It's another content channel for your company to share their story."
Listen to the full episode and more on your preferred podcast platform