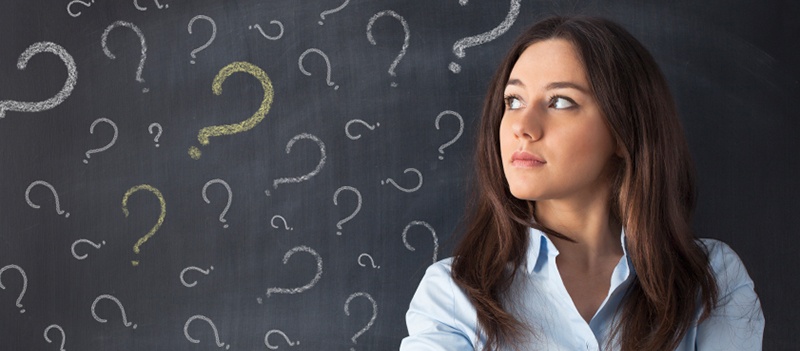 Right now, primarily due to HubSpot's growing influence, most smart marketers and sales organizations know about content marketing and online lead generation and are ready to jump in and start watching the leads flow in. Unfortunately, many companies are finding out the hard way that simply doing content marketing doesn't necessarily equate to more sales. There is a lot that goes into creating an effective content marketing strategy that will generate quality leads and sales, and there are countless articles out there about best practices and tips—we even have plenty of them. Rather than talking about all the details that go into creating and executing a lead generation strategy, I want to talk about the simple questions that you and your team need to answer for yourselves before you ever even start creating your strategy.
The six questions you need to answer before you start developing your lead generation strategy come down to the six basic questions that most of us were taught in junior high English class: WHO, WHAT, WHEN, WHERE, WHY, and HOW.
1) Who are we going to target?
You need a clearly-defined target for your campaign—in the inbound world, we call this a target persona. Having a clearly-defined target persona helps ensure that your efforts aren't wasted developing content that attracts unqualified leads or that doesn't resonate with the leads that you actually want. A good first place to start for identifying your best potential prospects is by looking at who your best current customers are.

Learn as much as you can about their lives, where they live, how many kids they have, what their roles are, how they make decisions, how they search online, what questions they ask about what you do, etc. The more you know about your target persona, the more effective your lead generation strategy will be.
2) What do our prospects want to know?
This question helps you determine what type of content to develop. The best way to get found online by your prospects is by answering the questions that they are asking about what you do. Start with all of the most common questions that you get asked by prospects and clients. Write out thoughtful answers to these questions in the form of blog posts, videos, SlideShares, reports, or even webinars. Also don't just think about your product or your company. If you sell printers, rather than blogging all about different printers, you could also generate content about sustainable workplaces, presentation tips, productivity hacks, etc. Think in terms of earning a place in your customers' minds so they begin to view your company as a common fixture and thought leader in your industry.
3) When does a lead turn into a prospect?
We call this part lead scoring—it's how you determine that a lead from your site is ready to be contacted by Sales. Each lead that you get is in a different place in the path to purchase, and all of them need to be handled in different ways. Many of them don't want to hear from a salesperson yet and wouldn't be ready to buy anything. Your sales and marketing team must get together to determine what a marketing qualified lead (MQL) looks like and what a sales qualified lead (SQL) looks like. An MQL isn't ready for Sales yet but is ideal for nurturing that relationship with marketing material. An SQL is ready for a salesperson to reach out. You will base your lead scoring off of activity and key indicators. Determine some of the common buying signals you see in your business and identify metrics and activity that will help alert you to these types of indicators.
4) Where are we going to distribute our content?
This strategy is not just for blogs on your company's blog page. Depending on the type of content and the topics, you should aim to post not only to your blog but also to social media, industry pages, via emails, etc. For anything more valuable than a blog post, you should "gate" the piece on a landing page that allows you to capture key information from your prospects in exchange for giving them access to your premium content.
5) Why does anyone want to do business with us?
This is supremely important to know and understand before you get started because your entire organization needs to be aligned when it comes to talking about the value of your products and/or services as well as what makes you different than your competition. Establish a clear "unique selling proposition" for your business and then let that permeate through everything you create for lead generation.

6) How will we track our progress?
How will you determine if it's working or not? Just tracking whether or not you got more leads isn't enough, and you likely wouldn't feel satisfied when you get to the end. Set clear, trackable goals for metrics such as visits to your site, new contacts, and (of course) closes. Using a CRM makes it a lot easier to accurately track the source and status of all your leads so you can attribute success to things that worked to drive business. HubSpot offers a pretty awesome free CRM that makes it relly simple to set goals, track success, and connect the dots between where the lead came from and when they closed.
When you have answers to all six of these questions, you will be much more equipped to make informed decisions about your lead generation strategy, and your company will have a much better chance of succeeding.
If you're like me and you are ready to dive right in and start generating more leads for your business, then I suggest partnering with an experienced inbound marketing company to remove the trial and error aspect of lead generation. LeadG2 is not only experienced with inbound marketing and lead generation but we were born from the sales strategy powerhouse that is the The Center for Sales Strategy, so we really know about creating sales results. You can connect with me on LinkedIn or email me with any questions you might have and you can get a great jumpstart to your lead generation by signing up for the Lead Generation Toolbox below.