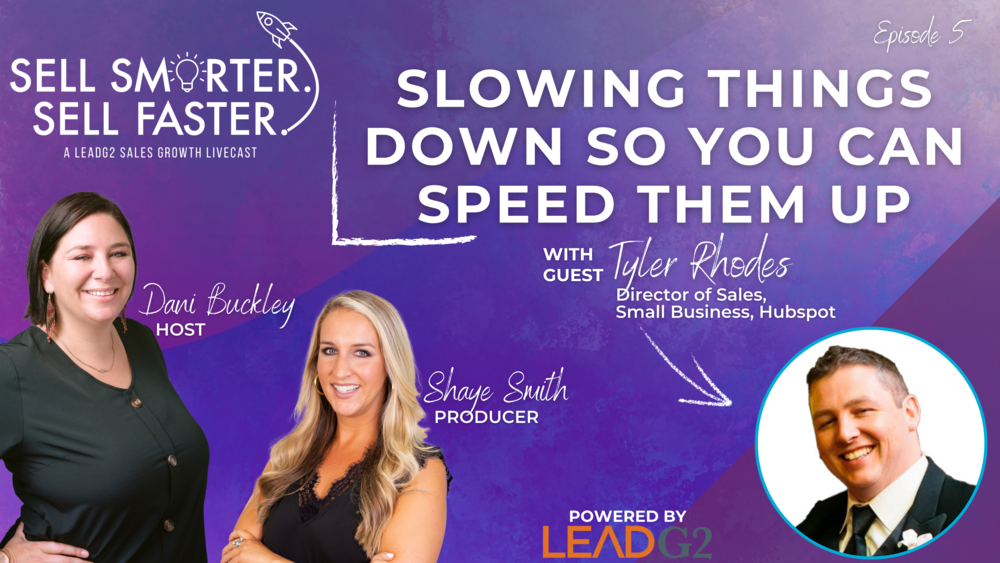 Whether it's from clients, management, or themselves, salespeople are under a lot of pressure to perform faster in their sales process.
We live and work in a fast-paced, "want it now" culture that can feel overwhelming at times. Sometimes there's only one solution to closing more deals, and that's to SLOW DOWN!
In this episode of Sell Smarter. Sell Faster., Tyler Rhodes, Director of Sales, Small Business at HubSpot, discusses how 'slowing things down' in the discovery phase of the sales process to build value and urgency will actually help to close deals faster.
Tune in now or keep reading for a brief overview.
About Tyler Rhodes
Tyler Rhodes is the Director of Sales, Small Business at HubSpot, and is a sales manager with a proven track record of consistently exceeding goals by fostering collaboration through a diverse sales team.
He excels in change management and conflict resolution while always exemplifying HEART (Humble, Empathetic, Adaptable, Remarkable, Transparent). Prior to his history at HubSpot and working his way up through roles as Channel Account Manager, Principal Inbound Marketing Specialist, and a Principal Manager, he held roles in both the non-profit and Saas industries.
His specialties include SaaS Sales, Strategic Planning, Ideation, Creativity, Solution Selling, Individualization, Adaptability, Design, and Photography.
What Does Slowing Down the Sales Process Mean?
This episode is about slowing things down so that we can speed things up in the sales process. With that in mind, host Dani Buckley asks Tyler to share what that means to him in his own words.
"This phrase has taken a lot of forms over the years," Tyler explains. "What it means to me is that buyers today have a ton of ammo and a ton of information at their fingertips. They can read about your company online, search for reviews, look at pricing, they can probably even find previous discounts that you've given before."
With this amount of information readily available salespeople, it's very common for the buyer to have a lot of control over the sales process and that initial discovery call.
"Buyers look at a sales rep as being a roadblock for them to get the information they want," states Tyler. "As a software company, we're demoing, presenting pricing, and hopefully closing. It's common for inbound leads to come in and request a demon immediately."
Tyler gives more insight into the sales process at HubSpot, "HubSpot is a platform solution, so we literally have hundreds of tools that we can show. If we're running a demo, then we're running to the finish line, and we can easily confuse the prospect."
When salespeople rush to the finish line and don't present value, it's common for the prospect to just disappear.
"When I think of slowing down to speed up – I'm thinking about challenging their initial intent of rushing to the finish line," states Tyler. "This means spending time in that discovery phase and really learning about the prospect's business and building value."
In other words, don't make assumptions based on an action they took to come to you.
Benefits of Slowing Down the Sales Process
As mentioned throughout the livecast, the clear benefit of slowing things down is that it makes the sales process better.
"Building value around your product and truly understanding a business – how they operate, how they make money, challenges they have. Then utilizing that," Tyler explains. "From a HubSpot point of view. It's taking that information and building value around our tools of how we can help them get to where they want to go or solve a specific challenge that they have in their business."
Tyler explains that sales reps at HubSpot can either present a demo, showing every single tool and hoping one of them resonates, or show four to five tools that really solve a pain point in this prospect's business. "By showing specific demos, salespeople can create so much urgency and value, that it's a slam dunk," he says.
Another benefit of slowing down the sales process is helping businesses get to where they want to go. 'Get them from point A to point B and show them that they need your product or service. This creates urgency around ROI," Tyler explains.
Lastly, Tyler says it's important for salespeople to understand if they're talking to the right person. "Just because it's an inbound lead, doesn't mean they're ready to buy or even the decision maker," Tyler says. "It's actually fairly often that they're not the decision maker; they're an influencer."
Key Tactics That Help Seller's Slow Down
Speaking from personal experience at HubSpot, Tyler discusses their process. "First thing, we use sales processes or methodologies internally – specifically GPCT – Goals, Plan, Challenges, and Timeline," he explains. "It's important to have a baseline of where people need to be and what you need to do. Then developing consistency around inspecting that process and making sure reps are doing it and digging deep."
Take the time to ask the right questions and remember different types of questions lead to different conversations. Make sure the questions you ask will help to uncover the prospect or client's desired business results.
Tyler also discusses sales enablement tools that help with this, "We use a tool, conversational intelligence, that records sales calls and puts them into a searchable method, so if you want to get right to pricing or discovery, you can do so easily and not listen to entire call."
As Dani mentions, it's important to pause and ask the right questions, but you should also be using tools and tactics that speed up other pieces like knowing when someone is reading an email, looking at document, or engaging with something you sent.
Having all of this information at hand, spending time in discovery, and learning about the business and challenging them, salespeople can easily become a trusted advisor and differentiate themselves from the competition.
Red Flags for Slowing Down TOO Much
"Time kills all deals," Tyler states.
When you allow time between calls, who knows what's happening. A competitor could step in or something may happen with the business. "Depending on the industry, having calls every week or two weeks apart is dangerous."
Additionally, sales reps must have the ability to understand why they're asking questions and have an end goal in mind. "Don't ask questions just to ask questions," Tyler advises. "Use what you learn to shape and change something. Don't challenge a business stagey just to challenge them — you have to know they why."
Action Steps to Help Salespeople Slow Down
"There are a million different sales processes out there," states Tyler. "It doesn't matter which one you use; it matters that you have something. You need something that you build a process around, that you can inspect and develop, and that why for sales to really get behind — that's where you win."
Tyler also notes that if someone were to ask him what the most important part of the sales process is at HubSpot; he would undoubtedly say discovery calls. "Constantly inspect and listen to calls – challenge people. It's vital to have some strategy around the discovery."
Don't miss another episode of the Sell Smarter. Sell Faster. where Dani Buckley, VP/GM of LeadG2 speaks with experts and thought leaders across a variety of industries and learn how they implementer of some of the most proven sales enablement and inbound marketing tactics and strategies. Visit SellSmarterSellFaster.com to learn more.
Subscribe to our YouTube channel and have your notifications on so you're notified of our next episode!