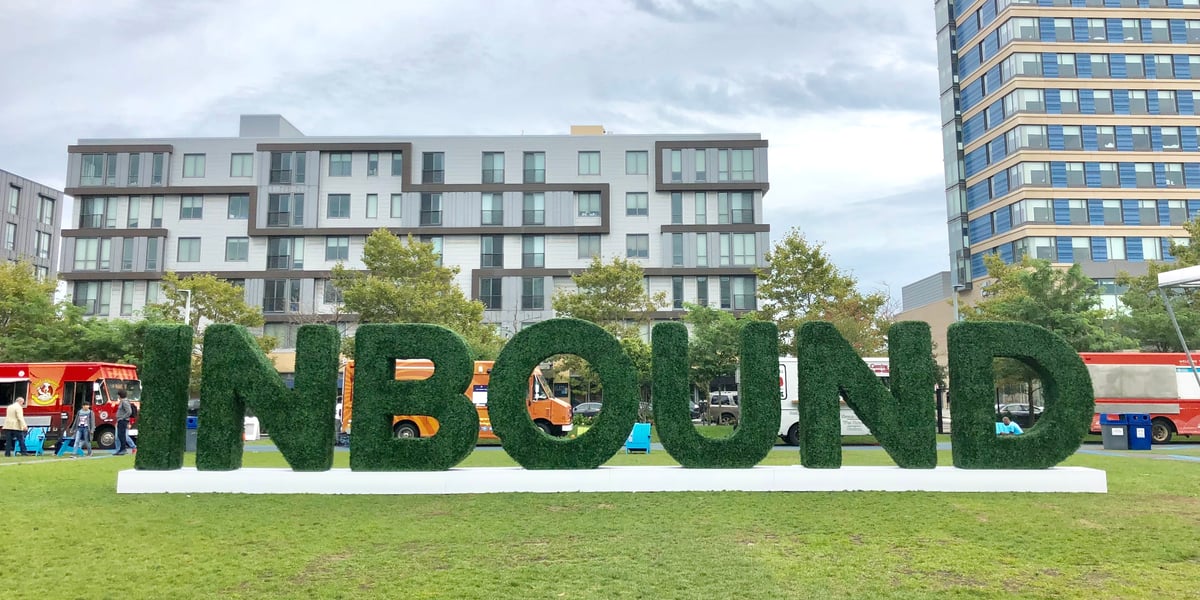 Next week, over 24,000 marketing and sales professionals are gathering in Boston for HubSpot's annual INBOUND conference, are you ready?
In our digital world, having the opportunity to network and connect face-to-face with like-minded people is rare – and an adventure our team doesn't take lightly! Think about it; most business deals aren't made in an office setting. When you're shaking a hand to make a deal, it's typically over dinner, a drink, at an event, or on the golf course. In-person interactions are sacred, and conferences can be the very key you need to help create, build, and nurture lasting relationships.

Marketing Automa
tion, Sales
,
Customer Service Support Sessions
, and MORE!
From making connections and generating new business to staying current with the latest and greatest trends, INBOUND is a beneficial step in an individual's or company's growth strategy. There are many inbound marketing sessions offered during the three-day conference, but because HubSpot's tool now reaches beyond marketing automation, sales and customer service support sessions are also quickly filling up. If you're wondering why you should attend #INBOUND2019, we have more than a few reasons, but instead, ask yourself these questions:
Can your team build a strategic sales play?

Do you understand the difference between each platforms' use of video?

Are you effectively using personalization and emotion in your sales process?
How Could Sales Plays Impact Your Revenue?
At LeadG2, we put a huge focus on continued education and always staying up to date on the latest news, trends, and best practices that will help us service our clients. That's why we're speaking up at INBOUND (again) this year!
On Wednesday, September 4, at 12 p.m., LeadG2 General Manager, Dani Buckley will present How to Build a Sales Play in 30 Minutes or Less. Whether you're a solo salesperson or have a team of 100 salespeople, if you want to ensure that the time, energy, and budget spent on inbound marketing is actually making an impact and bringing in new revenue, this is your must-see session.
Key Takeaways:
Learn the key components that make up a sales play and why they're important

Best practices to consider when building a sales play so you can ensure

it's

strategic,

useful, and effective

Step-by-step walk through on how to build a sales play, and you'll leave with a reusable framework to replicate this process over and over

.
Video Marketing Strategies
Customers, clients, employees – modern-day individuals want to see products and services in action. If you're an agency owner, marketing manager, or have your hands in any social media strategies, you'll want to attend How to Craft a Winning Social Video Strategy with Chad Rogers, Owner of Lemonlight. This session will cover the top five platforms you need in 2019, plus some of their best kept secrets in building a social video strategy for clients.
Key Takeaways:
Understanding the differences between each platforms' use of video

Learning how to create perfect creative for each social platform

Locking down your strategy for social video production
Also presenting 14 Personalized Sales & Marketing Video Tips & Tricks That Drive Relationships, Results, & Revenue is George Thomas with Impulse Creative. This action-packed session is for any company with sales professionals looking to drive more revenue towards the bottom line while building relationships along the way.
Key Takeaways:
Understand the use of personalization and emotion in your sales process.

Learn what tools to use to save time and money.

Enable education and assignment selling with ease.
Marketing Conferences Help Set Goals
Have you updated your professional goals lately? Professional conferences are an opportunity to meet industry leaders, meet prospects and pick up on new skills. It's the ultimate opportunity to crush existing goals and create new ones.
With over 250 lively, influential, and future-shaping speakers at INBOUND 2019, it's impossible to highlight every beneficial session offered. How can you possibly choose? Think about what you need to accomplish in order to succeed. Are you utilizing the latest marketing trends for your sales strategy? Make a list of goals, grab your notebook and some pens, because you're not going to want to miss these sessions.
Sales and Market
ing
Sessions to Explore:
How to Grow (Your Organic Traffic) Better with Victor Pan and Braden Becker (both SEO specialists at HubSpot)

AI & Sales: What Will and Never Can Be Replaced by Bots

with Kim

Orlesky

Making It Last: How to Future-Proof Your Content

with Elizabeth Giorgi

How to Operationalize Trust in the Sales Process

with Michelle Benfer (VP of Sales, Small Business at HubSpot)




A Marketing Firm Focused on Driving Sales (How to Sell What Your Clients Really Want)

with Brian Williams

6 Amazing HubSpot Conversational Marketing & Sales Strategies That Drive Revenue

with Remington

Begg

How We Grew HubSpot's Monthly Organic Blog Traffic by 3.2 Million in 1 Year with Aja Frost (Senior SEO Strategist at HubSpot)
What Else Does INBOUND 2019 Have to Offer?
These sessions mentioned are only a fraction of what INBOUND has to offer. There will also be discussions led by respected and influential speakers that will brilliantly show you how macro trends are changing the future of marketing, sales, and customer service. This year, we will hear from icons such as Katie Couric, Chip and Joanna Gaines, Jason Blum, Rachel Botsman, Jennifer Garner and John Foraker, Jada Pinkett Smith, and Sallie Krawcheck, just to name a few.
Of course, it wouldn't be INBOUND if we didn't hear from the OG's themselves, the Hubspot Co-Founders, Brian Halligan and Dharmesh Shah, who always put on a show and provide us with a wealth of knowledge and exiting product updates!
Want to See Recaps from INBOUND 2018?
If you're attending the conference, we'd love to hear from you! Feel free to tweet us at @leadg2 or drop a comment below.