Applying Insights from the 2016-17 Marketing & Sales Survey of Recruiting & Staffing Firms
Knowing what clients are looking for from a staffing or recruiting firm, and having insights from the USSA/LeadG2 Marketing and Sales Survey on best practices is almost a perfect storm of opportunity for more visibility, leads and new business from employers for your staffing or recruiting firm.
I came across an article by John Rossheim ("What Clients Look for When Hiring a Staffing Agency") that provides great guidance to staffing and recruiting firms on the client's perspective for hiring a staffing or recruiting firm.
Here's a summary of his key points on what employers look for:
Show prospects your depth.
Make transparent how you earn every penny of your fee.
Talk to prospective clients about how you'll surface candidates that the client could not have reached on their own.
Take job orders meticulously.
Show the difference you can make with candidates.
Supply workers ready to do the work.
Have a deep understanding of every industry you serve.
Look out for the client's long-term interests. That applies even when supplying short-term temps.
If you can address these points in your firm's marketing and sales program, then you will be that much closer to landing (or keeping) a new client.
Turning Survey Data into Action
The 2016/17 Survey gives us clues on the best practices for how, where and when to capitalize upon Rossheim' s observations… clues that go far beyond merely parroting platitudes like, "we make a difference with our candidates."
If you use something like this on your website or sales materials, frankly, that's just "white noise" and every one of your competitors can make the same claim. So, how can you use and combine Rossheim observations with survey insights?
Here are our team's top 3 recommendations, based on results from the survey that can help your firm differentiate from competitors, be more responsive to employers' pain points, and ultimately generate more new business.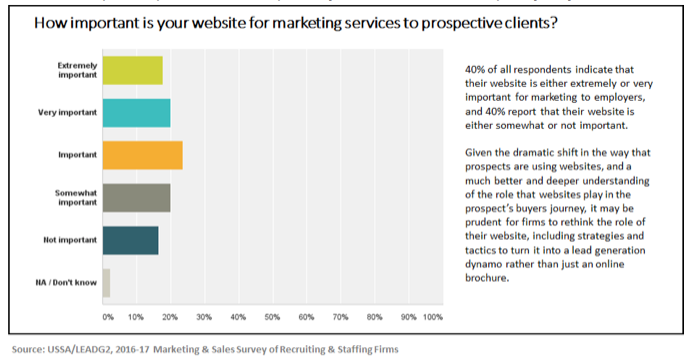 1. Develop a key word strategy and optimize your website.
It's likely that employers are searching for staffing or recruiting assistance by doing an Internet search, and you want to be first-page ranked. The survey showed that firms aren't doing a very good or effective job at using their websites, and this insight represents a terrific opportunity to separate from the pack.
One way to do this is to devote web pages, articles and blogs to these pain points, using best SEO practices to make sure they have maximum optimization. For example, to promote the depth of your services or the quality of your candidates or your job fulfillment processes, do you have an optimized page on your site showcasing success stories about candidates you've brought to the table?
Here's a question that may make you cringe: if you aren't doing this, are your competitors?
2. Have your staffing agency marketing team prepare sales collateral, case studies, testimonials and other marketing tools to give your sales team an inventory of materials they can use to close sales faster.
The survey showed that effective sales collateral is one the highest used and most effective tactics being employed by staffing and recruiting firms.
Most of the pain points employers say they have can be addressed by your firm with what's known as "bottom of the sales funnel" materials that once produced, will most likely be evergreen.
3. Write helpful content.
A number of these pain points can be addressed with helpful articles or blogs that are non-advertorial in nature. The survey shows us that articles and blogging are highly used and considered to be highly effective, but there are a few rules of the road that you'll want to know about.
For example, an article or post called "How to Prepare the Most Meticulous Job Orders Ever" or "5 Keys to Writing Meticulous Job Orders" is going to be a lot more helpful than a post titled "How Our Firm Writes Meticulous Job Orders." By the way, that last one is a great title, but should probably be put into your bottom of the funnel inventory rather than a top of the funnel piece.