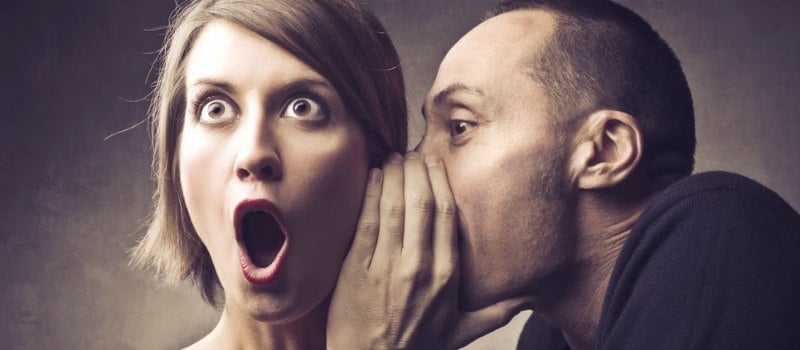 When Emily presented her research findings, I asked her what surprised her most about the results.
She's our company's intern this summer—a marketing major that's entering a world that's ever changing and evolving—not like the old days where one of the most pressing challenges faced by marketers was what chachkie to buy from the chachkie lady for the giveaway at the trade show booth.
I put her on a mission to discover the deepest, darkest and most hidden secrets of how the top 20 executive recruiting firms and top 20 staffing firms were using their websites for branding and lead generation purposes, and where they stood relative to best-in-class strategies, tactics, tools, and technologies in the digital marketing sandbox.
She did a very deep dive on their websites to answer a couple of fundamental questions. How do these competitors compare with one another relative to various benchmark grading tools (i.e. HubSpot's Website Grader)? How are they converting site visitors to leads? Do they have a blog and are they doing content marketing? What's their social media footprint?
What Emily Found
Here's a summary of what Emily found about the staffing agency marketing prowess of these top 40 firms:
It's a mixed bag. Compared to best-in-class practices of B2B firms in general, some firms are doing what I will kindly describe as a monumentally poor job. That's one of the things that surprised Emily, as like all young professionals, she's culturally disposed to seeing the world through a digital lens. In fact, she questioned whether the poor digital footprints she saw with most firms was a harbinger of how effective the firm would be if she was a client or a candidate.
Hmmmm. There's a message there for those firms whose website grade scores are under 60.
But there's more:
7 out of ten of the top firms aren't blogging, yet study after study (like a recent one from HubSpot) shows that blogging has a huge impact on increasing site traffic and converting sire visitors to leads and customers.
Staffing agencies are doing a very poor job when it comes to content marketing, yet according to Curata, 74.2% of companies indicate that content marketing is increasing their marketing teams' lead quality and quantity.
LeadG2's Research Findings on Recruiter and Staffing Firm Websites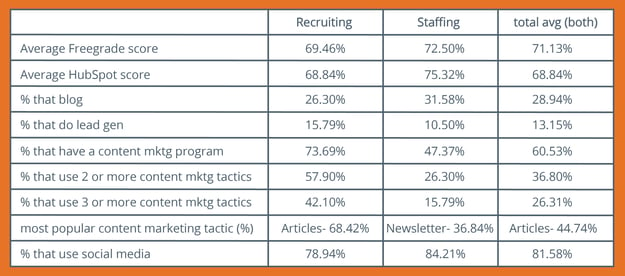 Want to know which firms hit it out of the park, or how you benchmark? Click here and put "Website Research" in the comments box, and we'll show you the really, hidden, deep dark secrets of these top 40 firms … including their names!
What Surprised Emily the Most
Emily saw that firms using forms (other than "contact us") on their website for lead generation to secure new employer accounts was virtually non-existent. Today, best-in-class practices call for B2B firms to "gate" (i.e. require a form) select thought leadership pieces, like white papers or articles, prior to a download. Each completed form is considered to be a lead.
Yet, only 10 to 15% of firms are doing so.
Consider this: according to Marketing Sherpa, 68% of B2B businesses use landing pages to garner a new sales lead for future conversion.
Emily and I talked about the disconnect between 3 out of 4 top executive recruiters investing in content, but not using some portion of that content for lead gen purposes, and she questioned why they didn't want to get leads from the hefty investments they made.
Good question Emily. There's a future for you in inbound marketing … stay curious!
Great News for Recruiters and Staffing Agencies that Want to be Great Competitors
This research is great news if you're a firm that subscribes to the Wee Willie Keeler "Hit 'Em Where They Ain't" school of marketing.
Here's the fundamental lesson of this school: You'll get significant competitive advantages and see more site traffic, get more visibility, covert more site visitors to leads, and bring in more new employer accounts, faster by executing a marketing program with strategies and tactics and your competitors are ignoring.
In the face of overwhelming research on best-in-class strategies, tactics, tools, and marketing technologies, all it takes is a modicum of marketing agility to take advantage of competitors that are asleep at the wheel.
This is especially true if your recruiting firm or staffing agency is not in the Top 20. You must be smarter, faster, more agile, and more in tune with these best-in-class practices because you can't coast into new business on your brand identity alone.
So here's my counsel: Perhaps it's time to do some fresh thinking about your marketing program thanks to what Emily found. You'll probably get a lot more mileage from insights you can glean from her findings than you can from giving away logo imprinted pens that write upside down and underwater.
Sorry Emily, while mileage gained is really important, a visit from the chachkie lady is still going to be a whole lot more fun than looking at marketing statistics!
---

Lead G2's Professional Services Team specializes online marketing for CPA, consulting, recruiting firms, staffing agencies and other professional services firms. Contact us here or call Dean Moothart at (407) 913-7091 to talk about how you can get more visibility, leads and new business for your firm or niche practice.