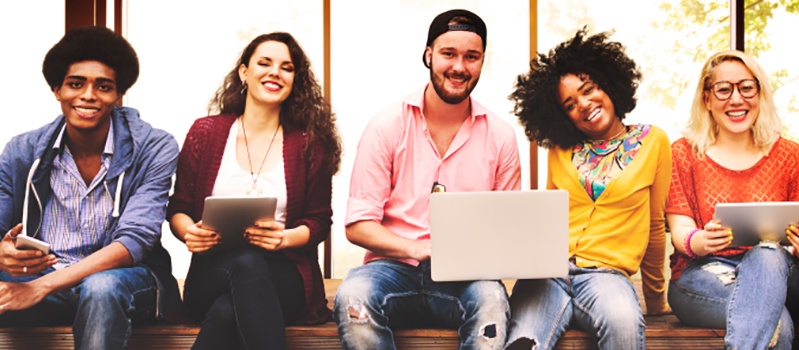 Millennials are rapidly becoming the most self-starting and dynamic demographic in the business world. Generation Y are attracting so much attention that corporate giants such as Forbes, Deloitte, and Goldman Sachs have published studies to analyze their success. Let's turn the tables and take a look at what we can learn from these youths to develop our own business acumen.
Flexible Work Schedules: Increasing Creativity
Despite the majority of millennials graduating and entering the world of work with large sums of student debt looming over them, they have become the most entrepreneurial demographic that we have ever seen.
Take Mark Zuckerberg as an example: he designed an embryonic version of the social media site from the ground up while studying at Harvard, and his net worth is now an estimated $53.6 billion. Zuckerberg is now the voice of a generation who refuse to be put in the corner.
But millennials do not live to work—they work to live instead. Generation Y differs from its predecessors as, on the whole, they find more time for play. Flextime is increasingly offered in the workplace so employees can find the time for fun and family.
A survey by Deloitte has unearthed that 67% of millennials feel that work-life flexibility improves their productivity in the workplace. On top of this, 66% of the millennials surveyed think flexibility improves their health and happiness.
Freelancing has also become extremely popular among the younger generations, as it offers their lives the flexibility they so badly crave and the ability to work from home. Could freelance workers or flextime be beneficial to your marketing team?
Generation Digital: Using Technology for Productivity
Generation Y have asserted themselves as the driving force of the business world today. Forbes reports that millennials are getting ahead of the pack and launching businesses earlier than ever before, at an average age of 27, compared to 35 for baby boomers. So, what has enabled this generation to get their big breaks at a younger age? Part of the answer is that they did so with the development of digital technologies.
By integrating the latest digital technologies and trends, ranging from ecommerce platforms like Shopify to time management apps such as OmniFocus, the new generation of entrepreneurs have made their mark on the business landscape. They have realized that life-hacking technologies are key to getting ahead of the game.
Time-saving apps and web-based project management tools can really make a difference to the day-to-day life of any business in need of organization. They can record time spent on tasks to improve efficiency and also help you keep a track of upcoming deadlines. It is with the added help of digital tech that Generation Y has the balance right to achieve success at a younger age.
A Sense of Social Responsibility
On the whole, Generation Y are a bunch of charitable individuals. Their pious nature has been analyzed by Deloitte, who reported that millennials see business as the force for positive societal change.
It is claimed that roughly 6 in 10 millennials consider business leaders to have a responsibility to improve society. Just last year, Mark Zuckerberg and his wife Priscilla pledged to donate 99% of their Facebook shares across their lifetimes in an open letter to their daughter upon her birth. The young parents wrote of their aspirations to advance "human potential" and "promote equality" with their work. With the charitable focus of household names such as Zuckerberg, it is no surprise that a sense of social responsibility has arisen within the business world.
Could your marketing strategy be more socially responsible? For inspiration, consider making charity a priority of your team and use your business' social media feed to broadcast your charity work and advertise good causes.
What Will You Learn from Generation Y?
It's clear that millennials are not afraid to make themselves heard. They have changed the business landscape for good. From using digital technologies to increase your efficiency and run your business with ease, to a new sense of social responsibility, Generation Y can teach you a thing or two.
---
Patrick Foster is a social media and ecommerce enthusiast with a penchant for writing about startups, tech and all things business. You can find Patrick on his blog at Ecommerce Tips, where he shares engaging ecommerce content for entrepreneurs and business owners.