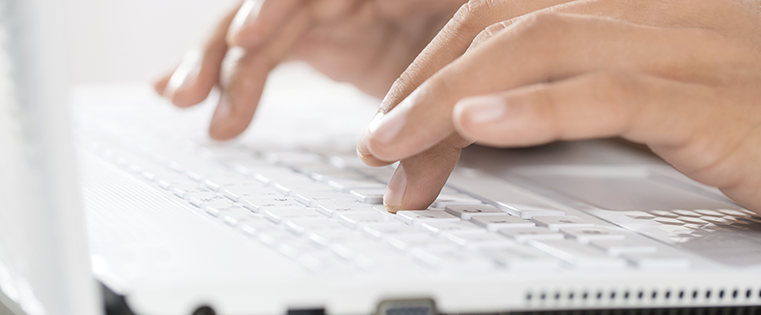 As content marketers, one of the primary tools that we use to reach our audience is blog post content and long form content that provide our visitors with educational and informative information. Because the success of content marketing programs rely on the consistent publishing of content, many programs fail due to the lack of participation by internal teams and lack of content creation.
One reason that internal teams lack content is that employees believe their writing skills are not good enough or that they are not writers. This may be true for a few members of your team (Yes, I have seen some blog posts that look like they were written by 3rd graders. . . ) but generally, as long as you have someone who can edit the content, any of your employees can create valuable blog posts.
You Don't Have to Be a Writer to Write
One thing that we have learned by working with dozens of writers within our clients' companies is that the best blog posts typically come from employees. They have the knowledge and experience to know what they're writing about. However, not all employees have an interest in writing. Some are much better speakers, and would happily talk to you for 30 minutes on a given subject—but the thought of writing a 500-word blog post is torture.

Just as there are different learning styles (some people learn better with visual cues and other auditory), there are also different ways to write a blog. For some, it's sitting down with a pad and paper. For others, it's pecking away furiously on the keyboard. But for those that are more comfortable speaking than writing, the best option is would be to speak their blog posts. Senior executives, particularly, often have extensive speaking backgrounds but have little time to sit down and write a blog post. And these often make the best blog post writers because they are able to offer insight that no ghost blogger ever could.
Google Typing
Allows Speakers to Write Blog Posts
One tool that we have been using more extensively at LeadG2 to capture blog posts is Google Voice typing that is embedded in Google Docs.
A chief benefits of using Google Voice typing is that it's a free service and does an excellent job transcribing the spoken word. This entire blog post was spoken into Google Voice typing and transcribed into this blog post. Of course, you do have to make edits and corrections just as you would any written blog post, but the ability to speak is typically much faster than the ability to type (at least in my case).

Type with Your Voice
For an easy way to put words on a page, you can type with your voice in a document. At the moment, this feature is only available in Chrome browsers.
Before you get started, make sure that you have a working microphone either built in to your device or connected externally.

In a Chrome browser, open a document.

Click the Tools menu > Voice typing.

A pop-up microphone box will appear. When you are ready to speak your text, click the microphone or press Ctrl + Shift + S (Cmd + Shift + S on a Mac) on your keyboard.

Speak your text clearly, at a normal volume and pace. See below for more information on using punctuation.

When you're finished, click the microphone again.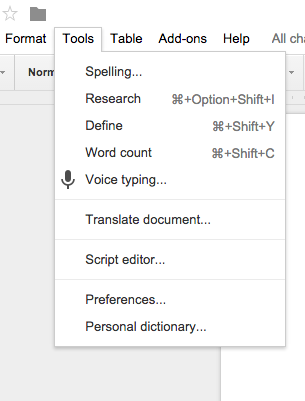 Then when you are ready to speak and start transcribing your blog post all you need to do is click on the microphone button that now appears on your screen.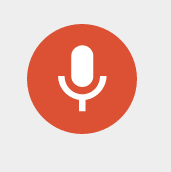 While there are several other services that allow for voice to text translation and transcription, this is one of the easiest. Take advantage of the tools out there, and you may find that even your most reluctant writers are willing to share their expertise in a blog post.