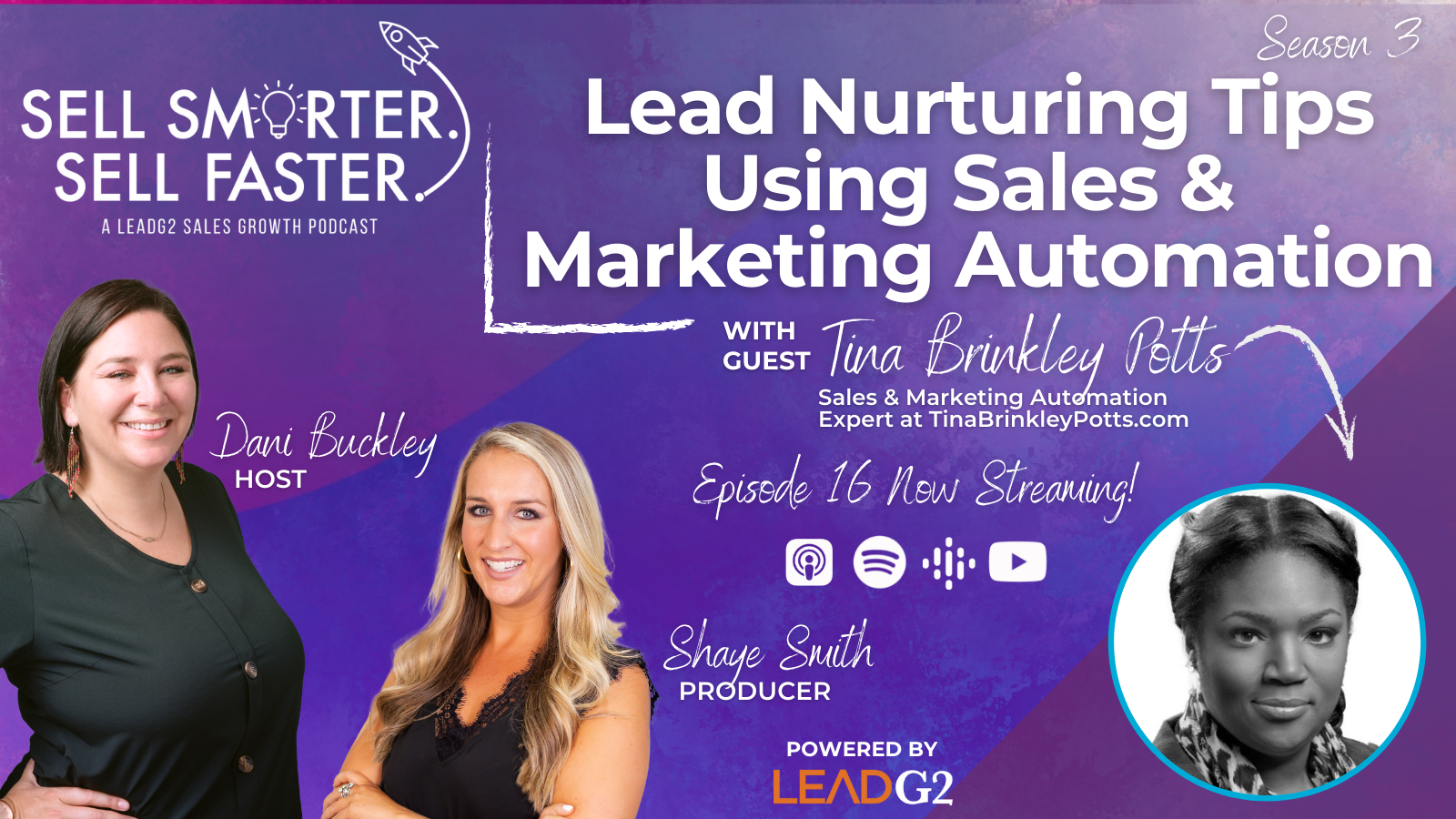 When it comes to inbound marketing and lead generation, one of the most important questions you can answer is "We have leads, now what?"
Too often organizations are investing heavily in lead generation but aren't using automation to properly ensure leads are being followed up with, nurtured, and converted by marketing or sales. We have so many tools available to us but oftentimes we're either not using them correctly or overusing them.
In this episode, Dani is joined by Tina Brinkley Potts. Tina is an award-winning metaphysician, best-selling author, business strategist, and online marketing trainer with over 1 million video views and 10 million hits on her web properties. She is the #1 black woman in sales and marketing automation.
Keep reading to see her thoughts, insight, and tips on this topic, and listen to or watch the full episode for a more in-depth explanation and conversation around this.
How Marketing Automation Is Successful Within A Larger Sales Process
First and foremost, it's obvious that Tina is passionate about automation. When asked what fuels her energy behind this topic, her response is inspiring.
She says, "Most small business owners, the reason that they're struggling, they're focused on the money that is happening now and they don't concentrate on building 'long money,' as I like to call it...if something happens in life when you can't be focused in that way, your money will stop short."
"If you learn automation, not only will it help you thrive, but it will help you if something happens in your life. It will make it much easier to keep your sales going."
Tina also has specific examples of how automation can be successful within a larger sales process.
"One of my favorite ways of using automation in the sales process," she says. "Right after the sale happens, make sure you automate a nurture sequence for that buyer. Like if somebody purchased something from me...they'll immediately get an email that says, 'this is what you can expect,' 'it normally takes six weeks to get this part done,' etc."
"And I also make sure that I'm giving them a homework assignment. Because of what I've learned with sales psychology, there's always this bounce happening. I bounce the ball to you; you bounce the ball back to me. When you buy from me, you've bounced the ball back to me."
"If you don't have something in between the time they make that purchase, to the time that you're actually going to deliver that service...this is where most people change their mind. By doing that, we've reduced second thoughts by 67% among our clients."
Text messages are also an essential tool in the automation process. "Guess what? We hold these [phones]... These things are never far away. If you look at the statistics, something like 90% of text messages are answered within the first ten minutes."
"Can you imagine, if you have a sales team, how that's going to help people show up to sales calls? By just adding text message reminders into your sales process?"
And while there are various tangible benefits that can result from implementing automation in your sales process, the most prominent of these is quite simple: Relationships.
"If I'm nurturing relationships in the sales and marketing process, people are always ready to buy. 'No, not right now,' doesn't become so detrimental to your soul. You're okay because you know that you have a 90-day process where you follow up with people."
"To me, relationships are the key to selling more...If you're not following up, you're missing the mark."
Marketing Automation And Lead Generation
Automation can also play a helpful role when it comes to lead generation. When used well, it can effectively nurture leads that may be 'warm,' but not quite 'hot.'
Tina breaks it down like this, "One of the things I teach my clients is, 'you should personalize an email in three places, and, if you haven't, you're not doing your job."
"People want to feel seen, and they want to feel heard. So, if your message that's going out to them is not personalized, they feel like they're just another number for you and it's just going to take longer for them to convert."
As far as any current automation trends go that are worth keeping an eye on, don't overlook email even if it's one of the oldest tools in the toolkit.
"Really concentrate on your email marketing," Tina explains. "Because you do not control your social media, whether you want to believe it or not. Your [email] list is yours. You own it... [I'm] not saying to ignore social, but...you don't control who's going to actually see your content."
"You can be connected to 10,000 people but maybe 500 are actually seeing what you're posting day to day. If that! So, the [email] list is really important to growing the business."
Wrapping up the conversation, Tina highlights the importance of knowing your customer lifecycle.
"If you don't know what the buying process is? Learn it and master it. I believe that your customer lifecycle, 80% of it should be automated with personalization...If you're not at 80%, you're missing the mark and you're probably missing sales."
"I would stand on that. I would stand on that statement."
Listen to the full episode and more on your preferred podcast platform.