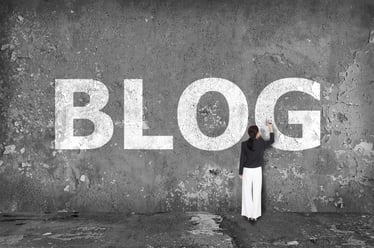 It's a familiar refrain. "Bring more visitors to your website. Establish (and re-establish) yourself as an authority in your field. Get found by people searching online. Start a blog for your company!"
But does this rule apply to all companies? I don't think it necessarily does. Now, don't get me wrong, I think inbound marketing works for almost all companies. Having a robust web presence helps search engines take notice, and when the search engines see that you're the kind of company that keeps pumping out fresh, relevant content, they'll be more inclined to show your posts to your prospects, and it'll all be right there on the first page.
Now, being on the first page of Google search results is valuable. Most people don't go past the first page, so if you want to be found, the first page is where you want to be. An inbound marketing program can help get you there.
But maybe your company won't benefit from a blog. In my opinion, the following types of businesses may want to focus on other ways to bring in business:
Small Grocery Stores
There are other ways to bring in shoppers. In fact, I can't imagine checking the blogs of my local grocery stores to see where I should shop. In fact, grocery stores can reach their customers in a variety of fun and interesting ways, but setting up their own blog doesn't seem like one of them. If you're a grocery store (or chain), you could partner with local bloggers who can write about you, and then reach your customers and prospects through location-based advertising, social media, and email newsletters.
Consumer Goods
Let me tell you, if there's one blog I wouldn't follow, it's one that talks about laundry detergent. In fact, I would say, as a general rule, if you have the budget for national television advertising, you probably don't need an outward-facing blog. Instead, keep advertising on television to get brand recognition out there, so your products will be top-of-mind for people when they get to the store.
Companies That Are Seeing a High ROI on Other Methods
Is your paid ad campaign giving you a super high ROI? Fantastic! In fact, can you shoot me an email and let me know your secrets to successful PPC campaigns? If you're in this category, and the return is as high as you could ever want, keep doing what you're doing. But if you're looking for organic traffic—the kind you don't have to pay for—then you should probably be blogging.
What Kind of Companies Should be Blogging?
The answer here is simple: the kinds of companies that should be blogging are the ones where customers are doing any amount of research before purchase. Chewing gum and laundry detergent get a pass, as do the stores that sell those things.
But if you have a company that sells something other than impulse purchases, it is in your best interest to start an inbound marketing program now.
Starting an inbound marketing program is both easier and more challenging than you think. Easier because you don't need to hire a programmer to get started. More challenging because there's a lot more to it than slapping up a blog on your company's website.
That's why Matt Sunshine wrote LeadG2: Getting Companies to Raise Their Hands. He wanted to explain exactly why you'd want to start an inbound marketing program at your company, and the precise steps to follow once you've committed to starting. Download a sample chapter to see if your company would benefit from inbound marketing.
See also: