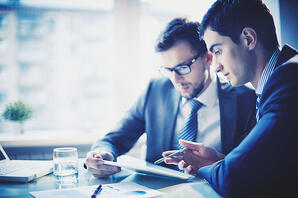 I have to admit, I am addicted. Late nights, I have to watch. Weekends, when the kids are outside playing, I am surfing home improvement sites and occasionally I am actually building something.
What does this have to do with inbound marketing?
Great question. A few months ago we surveyed our recent clients and prospects and took a look at which phases they were in and which challenges they were encountering with their inbound programs. After understanding the variety of stages and challenges that companies are facing with inbound marketing, our attention quickly turned to how we could help them overcome these challenges.
While discussing how we could help companies struggling with inbound marketing we noticed a number of parallels with the home improvement shows (Yard Crashers, Crash My Kitchen, Love It or List It, etc.) and how they help clients in various stages to create beautiful yards and homes. One interesting parallel we noticed between home improvement makeover shows and inbound marketing is that in most cases they have the client actually help with the makeover and actually swing a hammer or turn a screwdriver. With most of our inbound clients there is usually a mix of work that we do for them and work that they need to do for themselves.
So what is considered an inbound makeover? Here are four different types of scenarios that we have encountered and identified that are well-suited for an inbound marketing makeover:

1. Companies That Haven't Started ( Learning Phase)
The first thing that we agreed upon with an inbound marketing makeover is that a company doesn't necessarily have to have started an inbound marketing program to need an inbound marketing makeover. What? Yes, some companies that haven't embraced inbound marketing need inbound marketing more than companies that have been doing it for years. Companies that haven't started an inbound marketing program really need an intervention, but for the sake of this blog post we will call it an inbound makeover. If your company hasn't embraced inbound marketing, you need an inbound marketing makeover.
2. Companies Just Starting Out (Planning Phase)
If you haven't started your project yet or are planning to start one and have questions about how to get started, this is a great time to have someone provide recommendations and feedback and to assist in developing your inbound marketing strategy. It's actually at this phase, the planning phase, that a number of companies set themselves up for failure rather than success. In a recent study, 46% surveyed said that the lack of an effective strategy and the creation of content are the most challenging obstacles to reaching the next level of inbound marketing performance. If this is where your company is, register to win an inbound marketing makeover so you can get started the right way, rather than ending up as one of the 46% confounded by their lack of an effective strategy.
3. Remodeling (Refining Current Activities)
This type probably includes a number of you reading this blog right now. You started an inbound marketing program some time ago, are generating a few leads but are not necessarily seeing new customers signing up left and right and are not 100% sure that your inbound efforts are worth it. You don't need to actually start over from scratch, but you do need someone to give you some guidance on how to improve your conversion rates, create content more easily, and get more traction using social media. Yes, if that's you… well, you too need an inbound marketing makeover. Using our home makeover analogy you might just need a kitchen remodel or some new landscaping… but what you don't need is to blow it all up and start from scratch.
4. Overwhelmed (Giving Up)
If you have ever started a project without the help of a professional, like building a deck or a shed, you might have noticed that, after the enthusiasm has worn off, you're soon overwhelmed and ready to give up. You are clearly in over your head and it's starting to take its toll physically and mentally, and you wish you never started the project. Most of us have experienced this feeling with some project (at work or at home). There are a few ways to get your project finished and feel a sense of accomplishment. One way is to call in a professional contractor and explain to them what you have done and let them give you recommendations on how to finish the project, along with an estimate of how much and how long it would take to get done. Or you can just quit and leave the half-finished deck in your backyard. Yup, you need an inbound marketing makeover.
Regardless of which stage your inbound marketing efforts are in, we want to help. We're going to give one lucky winner a total inbound marketing makeover that includes an inbound marketing planning day. That's the essential first step in any project, where we spend an entire day on-site with you and your team, strategizing about how to improve your inbound marketing program or getting it going. This inbound marketing makeover also includes creating a target persona that you can use for your content marketing efforts.

Watch the prerecorded webinar about the 4 Types of Companies in Need of an Inbound Marketing Makeover and learn more about how to be successful with inbound marketing.