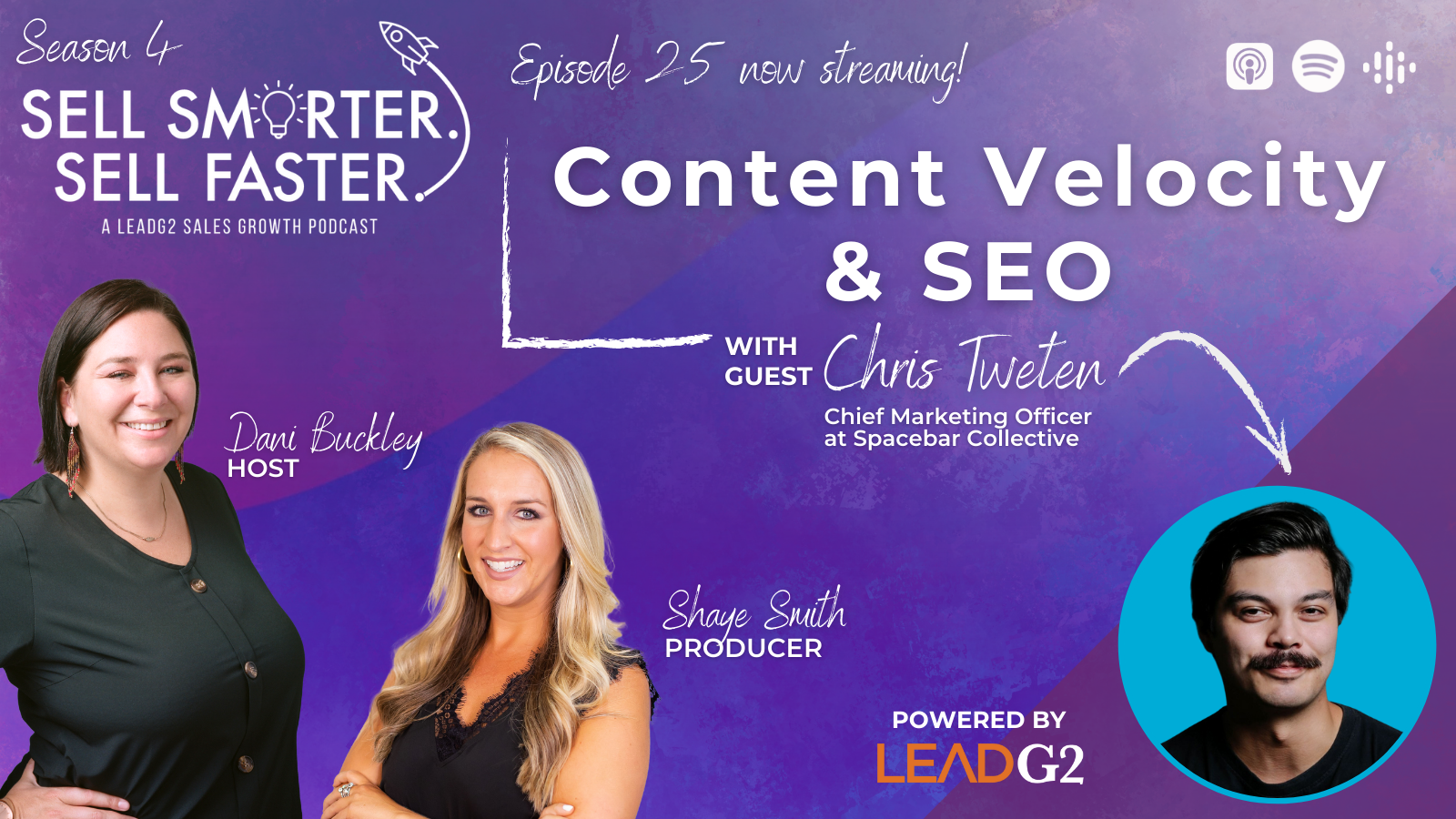 Developing a solid content strategy is one thing; implementing it is another. How can you ensure that you're producing enough content to be relevant in the eyes of your ideal customer, much less the likes of Google?
In this episode of Sell Smarter. Sell Faster., host Dani Buckley breaks down how a content velocity strategy can be a boon to your inbound marketing and sales enablement efforts.
Joining Dani is Chris Tweten. Chris is the CMO at Spacebar Collective, a white-hat SEO and content production agency based in Vancouver, Canada.
What is Content Velocity?
First and foremost, when asked what content velocity is and why it matters, Chris puts it like this, "Content velocity is basically just the measure of how fast you can publish. It's usually represented as how many pages per day or pages per month that you're publishing on your website."
"It's super important because if you don't have a good base library of content, Google's not going to see you as an authority in the SEO game. It's kind of the baseline. You either scale hard on the amount of content you're pushing out, so you have more keywords covered, or you go on the backlink side. Ideally, you do both."
And when asked if the term typically applies to blog content, web pages, or both, Chris had this to say: It could be both, but when people talk about content velocity, they're usually talking about blog content."
"You can push more and cover more keywords that way, but if you're covering more keywords in like landing pages or something like that and you're trying to rank your landing pages, [then] it's going to fall into the same category."
"It's all measured the same."
Content Velocity's Impact on SEO
"If you can rank for more keywords, you're going to bring in more leads, more business, more sales," Chris says. "In terms of the impact on SEO, it has long-lasting effects way outside of just website traffic."
"SEO helps with brand positioning, it helps word of mouth marketing, it brings in new sales. And like with positioning, it's really interesting because, say, you wrote an article, and you're all of a sudden ranking next to HubSpot or some large company, now you're in that conversation, people consider you an alternative."
"That positioning is way more powerful than people give you credit for."
Is There Such a Thing as Too Much Content?
When discussing how to determine the length of content as well as the rate at which an organization is publishing, Chris makes it clear that the main goal is to satisfy search intent.
"Some people will be like, 'you have to write 3000-word, 5,000-word blogs to compete, and they use the skyscraper technique just making things more and more thorough. But the reality here is you just want to satisfy search intent."
"So, if you can rank with 1,000 words, if other people are ranking with 1,000 words, you don't need to write 2,000 words to compete. 1,000's good enough."
And when it comes to the question of whether it's possible to publish too much content too quickly, Chris only sees two scenarios where that could be an issue.
Sacrificing Quality: "My personal motto is never sacrificed quality for velocity."

Content is No Longer Cost Efficient: "...if the traffic you're bringing in is just not bringing in the money or the brand awareness you're expecting it to, it's just not going to work out."
"I worked like a large telecom contract one time. It was a UGC (User Generated Content) platform, and we published thousands of pages per week, which resulted in like millions in monthly traffic. So, I don't see an upper limit, but if you are sacrificing quality, it's just not going to be a good day."
Consistency Isn't (Necessarily) Key
Content marketing common knowledge might have ingrained in many think that organizations have to produce X amount of content per week or month to be successful.
Chris disagrees with that notion.
"Google has said, 'it's really hard to consider a website and an authority in a niche if they have less than 30 blogs.'"
"And I think that rings true for the most part. When I start a new client, we build out a base library of content, and we aim for the 30 number. Like your base library, as long as it's all related content, it doesn't matter how consistent you are; you could produce those 30 blogs, your base library, all at once and then publish it all at once. It's going to perform about the same as if you posted them over time."
"But the kicker here is content velocity really matters. So, if you're publishing them all at once, you have less opportunity cost wasted than if you put them on a drip schedule."