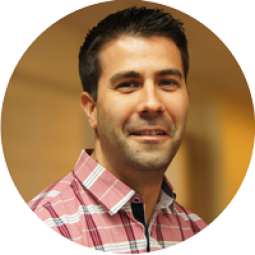 Learning from your peers is one of the best ways to see if you should get started with inbound marketing, or whether you're on the right path to building a solid lead generation strategy
That's why we started the "5 Questions With..." series. On today's edition, we hear from fellow inbound marketer, and HubSpot partner, Keith Guiterrez, VP of Inbound Marketing at Modigility.
1. When did you get started with inbound marketing and what was the biggest factor in your reasoning to get started?
My journey started with internet marketing in 2001, when I launched the "Allstar Junior Golf Tour" a junior golf tour for junior golfers ages 10-19. I had to learn search engine optimization (SEO) strategies to attract kids to our nationally ranked tournaments. During that time, I realized the power of digital marketing and the opportunities that it provided.

In 2010, I became an early adopter of the HubSpot inbound marketing certification program. Shortly after, I completed my HubSpot Partner Certification and started an inbound marketing agency in the Cleveland, OH area called "Structure Marketing."

While forming Structure Marketing, we made the decision to align with "Modern Media Software". This partnership quickly proved great synergies between the two companies. In 2013 Modern Media Software acquired Structure Marketing. Later in 2013, Modern Media Software was rebranded to form Modgility. In 2014, we became a HubSpot Gold Tier Partner.

The biggest factor for getting started was my belief in the inbound marketing methodology and how it would change the world for the better.
See also: 7 Decisions to Make Before Starting Inbound Marketing
2. What has been your biggest challenge with inbound marketing and how were you able to overcome it?
My biggest challenge as an agency is specialization in a particular vertical. I'm not sure that I've been able to completely overcome it. However, we have condensed it down to working with companies that utilize specialized technologies to drive their products and services.
See also: Is it Time for a Remodel of your Inbound Marketing Plan?
3. Where do you feel you've seen the most success with inbound marketing?
Our most successful client story is with an Ohio-based lawn care company called "Weed Pro". They were featured as a HubSpot Case Study as well.

Here's the link to their success story.

We've had a few other clients with similar success.
See also: 5 Ways to Position Yourself as a Thought Leader
4. How has inbound marketing changed the way you market your brand or the way you approach marketing in general?
The Inbound marketing methodology has helped me understand how to put the different pieces of the "digital marketing puzzle" together to generate measurable growth for ourselves and our clients.
See also: 6 Inbound Marketing Lessons We've Learned Since We Started LeadG2
5. What advice would you give to someone new to inbound marketing?
Make sure you have clearly defined business goals before getting started. I would also recommend that you work with someone with experience to help you develop a strategic plan before you jump into implementation.
Doing so will allow you to avoid major setbacks and, help you generate measurable growth results at a much faster rate.
See also: Five Characteristics of an Inbound Marketing Culture
Thanks so much for joining us! I thought that was excellent, and it's always interesting to me how other agencies got started. If you'd like to be featured in this series, fill out this form.
Catch up on the rest of the series: