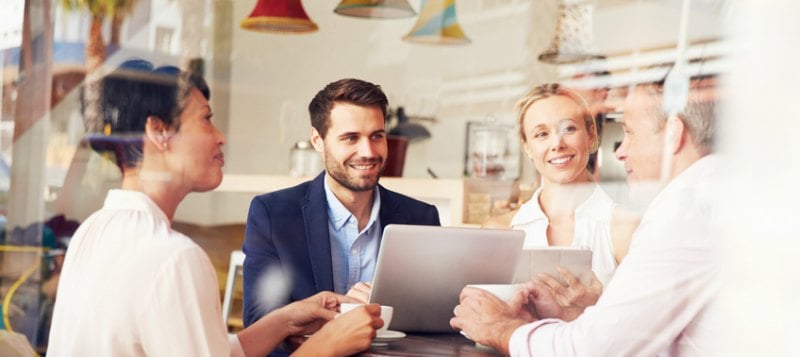 If your sales and marketing teams are meeting on a regular basis to review the quality of leads that are coming in, there is a good chance that you will already know what I am about to say. Salespeople love leads generated from inbound marketing (prospects who provide an email address when filing out a form on your website)!
Salespeople love inbound marketing leads not only because they are typically great leads, but also because the leads are given to them. They don't have to knock on doors, make cold calls, or ask for referrals. No, these leads are generated via your company website when they fill out a form, and go into the sales funnel.
3 Reasons Why Salespeople Love Inbound Leads
1) You Are Being Sought Out
2) Leaves A Digital Footprint
3) Easier Follow Up
Let's look at each of these in detail.
1) You Are Being Sought Out
One of the benefits of inbound marketing is that the prospect or lead finds you, rather than you going out to find the prospect. That's what we call thought leadership—being seen as an expert in your industry and the go-to source for information. Your prospects might do a search on Google while researching a buying decision, click on a blog post they found on LinkedIn, or enter your website URL directly. In fact, according to Pinpoint Market Research and Anderson Jones PR, 93% of B2B buying processes begin with an online search. That means that more than 9 out of every 10 prospects start their buyer's journey with a search, and if you're company is not on the first page of Google or whatever platform they're searching on, chances are you won't be considered as an option.
Either way, in each of these situations the potential buyer comes to you and you have become part of their buyer's journey. I don't want to trivialize this process by making it seem easy to get prospects to your website and generate leads. No, this is hard work, and you or your marketing team need to be creating content that your prospects would be interested in and making sure its optimized for search and shared on social media. I don't want anyone to think that inbound leads just happen and flow like a river. Quite the contrary, they only flow with hard work and consistent effort.
2) Leaves A Digital Footprint
As a former media salesperson for a print publication, the question "how can I track the results of my ad?" was one that I would often hear three or four times per day. As a salesperson that believed strongly in integrated solutions, I would always tell my clients to have a dedicated landing page that was mentioned in their ads so that they wouldn't be driving traffic directly to their home page. Sending traffic to a specific landing page gave advertisers a way to know where that ad traffic came from and a way to quantify some type of ROI from that specific ad. This isn't unique to clients I was working with. According to Marketo, strategic landing pages are used by 68% of B2B businesses to acquire leads.
Now, with inbound marketing it's so much easier to track a lead's activity and to see their digital footprint. In the scenario I laid out with the print ad and the landing page, even though someone visited the landing page, even if they filled out a form, you still wouldn't know where on your website they went after that. Without some type of tracking software, like HubSpot, you can't see where any individual lead is going on your website or where they have been. Using HubSpot, after someone fills out a form and provides their email address, you can see all of their activity on your website and it's no longer just an unnamed visitor. This leaves an easy-to-follow digital footprint that stays with the lead, so you can gauge their interest and know what triggered that interest. This type of lead intelligence makes a salesperson's job easier and gives them some additional power in a modern buying cycle controlled by the buyer.
3) Easier Follow Up
After someone fills out a form and becomes an inbound lead, you can have a marketing email series set up to send them additional information about the topic they showed interest in. Often, when salespeople are immediately introduced to this concept, they get defensive and say that the follow-up needs a human touch. However, if you were going to send a few emails anyway over the course of a week that say the exact same thing, what harm does automation do? With most marketing automation systems, you can stop the automated emails if someone replies to the email, and you can then start a one-to-one conversation. The follow up on inbound leads is easier since you can incorporate marketing automation and the lead is already in your database so no data entry is required.
Despite the benefits that inbound leads offer, change is a difficult thing, and not every sales team is ready or able to make the shift towards capturing leads on line. However, 93% of companies that make the shift to using content marketing for lead generation typically generate more leads from content marketing than traditional marketing strategies. It's companies that are currently embracing these trends that are better prepared for what the future of sales and marketing has to bring.
Those who haven't made the pivot to online and content marketing are often left wondering why tactics that worked fifteen years ago are no longer working like they used to. Learn more about the future of sales and marketing by clicking here.