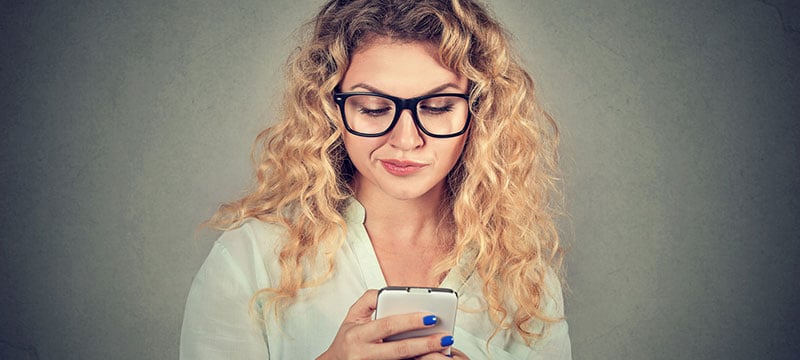 How many times have you sat in a meeting, on a call, or just in a conversation and wondered… "Why me?"
(OK, that's a little dramatic.)
How many times have you sat in a meeting, call, or conversation that seemed extremely irrelevant to what you do, know, or care about?
We've all been there—trapped in a meeting that starts with, "Now I know this doesn't apply to a lot of you, but…" You might feel annoyed, slightly disrespected, or just anxious to get back to what you actually have to do. That's part of life for a professional of any kind.
Now, what about when you receive an email that seems irrelevant? Unlike a meeting you need to attend, you can opt-out. You can delete, unsubscribe, or even report it as spam.
My Top Takeaway on Email Marketing from INBOUND 2017
In a previous post, I wrote about my top takeaways from HubSpot's Director of Product, Tom Monaghan, in his INBOUND 2017 talk, "When I Grow Up, I Want to Be an Email Marketer (Said No Kid Ever)." I shared some email marketing mistakes to avoid—like sending everything at the same time, using the same template for every email, and being robotic or creepy.
Today's post explores in greater detail perhaps the most important mistake to avoid—sending everything to everyone.
Mass email sends sometimes make sense. It saves time, and the content may truly be relevant to your entire database (like a big update to your business). But for the most part, failing to properly examine and segment your email database and tailor your content accordingly can lead to a dead list. As Tom put it, if everyone in your database gets everything you send, at least 20% aren't interested.
Maybe you've noticed your email engagement has declined over time, with fewer opens and clicks. Perhaps your list has decreased steadily as people unsubscribe. Both are bad signs, but there are some steps you can take to get back on track.
5 Steps to Re-Engage Your Email List
In his INBOUND 2017 talk, Tom shared the following process for re-engaging an email list:
Stop sending.


Let them chill for awhile—60-90 days, but not longer.


Segment into two lists:
List one includes anyone who has engaged (opened, clicked) in the last year.
List two has never engaged/comes from a source you don't know/hasn't engaged in forever.
Find something good to say (more on this below).


Send to list one. Burn list two (or at least set it aside).
"But… Those Are Good Contacts!"
That last step is the hardest part. But the truth is, if people aren't engaging with your brand, they aren't real contacts anyways. Why risk actually losing them forever with an unsubscribe when you can focus your efforts on nurturing more qualified leads, or winning them back with a refined strategy?
Segmenting your email database is difficult (and I mean beyond customers and non-customers). Nevertheless, it's also extremely important. If you spend time and resources developing marketing content, building a campaign, or planning a big event, you may want to share it with the world—but in doing so, you're doing your brand a disservice. The more you can segment your lists, the more opportunities you have to share specific, relevant content they actually care about.
Here are just a few ways you can consider segmenting your email list for more targeted email marketing:
Geography
Buyer persona
Industry
Job function
Past purchases, buying behavior, etc.
Page views, content engagement, etc.
Finding Something Good to Say
You've given your list some time to chill and carved out segments you want to re-engage. Now you're ready to email.
In his INBOUND 2017 talk, Tom urged marketers to tread lightly here. You've invested time—now make sure you send something good. Something real. Maybe it's a "We've missed you!" email to your list of customers who haven't engaged in the last quarter, with a genuine message and a strong promotion. Whatever you send, it should be determined based on a genuine understanding of your list membership.
And if you ever fall back into the trap of thinking everyone should get everything, just think about those all-hands meetings you get invited to. Not everything is for everyone!