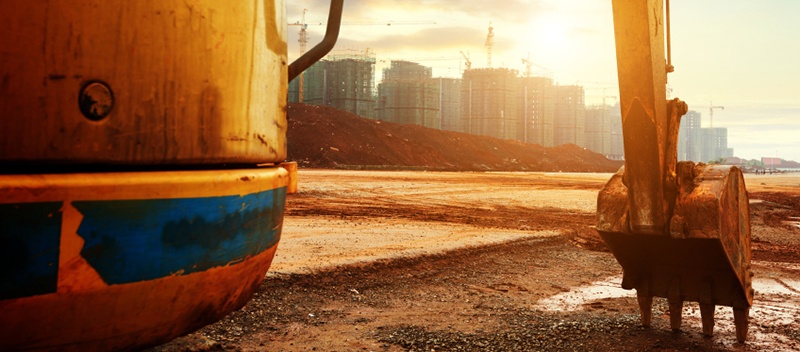 My daughter is a sophomore in high school and she loves watching Forensic Files and all of the CSI shows on TV. Her dream is to become a forensic detective who solves all of the toughest unsolved crime mysteries. Consequently, she was excited when she found out that her school was offering a Forensic Science elective next year. However, registering for next fall's classes became a very frustrating experience when she discovered that Forensic Science is not available to her. It isn't that the class is full. It's just that the class requires prerequisite courses that she hasn't yet completed. In order to take Forensic Science, she first needs to complete Biology and Chemistry. The school administration puts these rules in place because they know that students will struggle and become frustrated if they don't first have a firm grasp on the fundamentals.
Similarly, many sales and marketing professionals get frustrated as their lead generation programs struggle to produce the results they hope for. The reason they struggle is because their marketing plans aren't built on a solid foundation. They've skipped a few steps and neglected some of the fundamental prerequisite building blocks of any successful lead generation initiative. So before you jump in head first to developing your next marketing campaign or even developing your marketing plan, make sure you've addressed these prerequisite issues.
1. Define your lead criteria.
Many organizations use the following common lead definitions.
MQL (Marketing Qualified Lead) – A lead that Marketing deems is qualified and ready to be passed to Sales. Many organizations use BANT (Budget/Authority/Need/Timeframe) criteria to help determine if a lead is qualified. Does the prospect have the required budget to make the purchase? Does the prospect have the authority to make the decision? Has the prospect communicated a specific need to solve? And does the prospect have an established timeframe to make the purchase?
SQL (Sales Qualifies Lead) – A lead that has the qualification criteria validated by Sales and Sales determines there is a potential opportunity to pursue.
Assignment – The prospect and the salesperson jointly define a need and agree to work collaboratively to tailor a solution.
It's important that Sales and Marketing work together on establishing lead definitions and criteria. Marketing shouldn't impose its standards on Sales and Sales shouldn't just wing it. Collaborating and agreeing to a common language will help avoid finger pointing down the road.
2. Know the number of leads you need.
The best way to do this is to reverse engineer the process. Start with how much revenue you want to generate and then work backwards. See example below.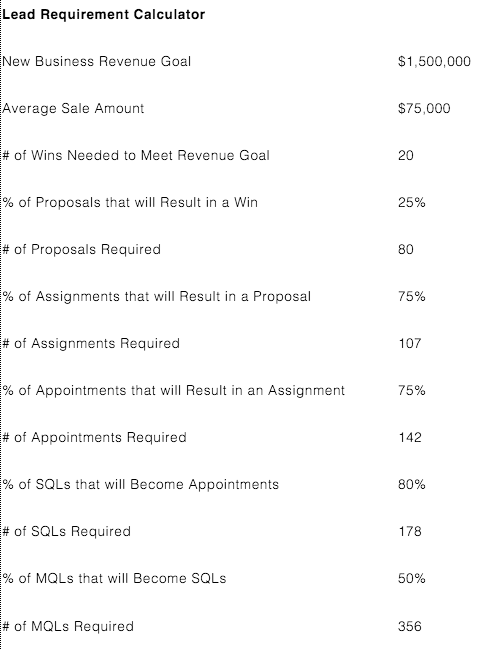 It's best to use real numbers wherever possible. Take a look at last year's performance metrics. What was your team's close rates? How many appointments did it take to produce a proposal? If real numbers aren't available, then sit down with the sales team and have them provide input on what the conversion rates are. And since salespeople tend to be an optimistic bunch, you may need to cut their estimates in half to arrive at a realistic metric.
3. Know your Options.
There are a multitude of tactics available for organizations to deploy and none of them is a magic bullet. Below are just a few that should be considered:
Outbound Tactics (selling organization initiates the communication with the prospect):
Email
Telemarketing
Direct Mail
Billboards
Tradeshow Presentation
TV Advertising
Radio Advertising
Print Advertising
Digital Advertising
Inbound Tactics (selling organization attracts the buyer to initiate communications):
Social Media
Blogging
Podcasts
Video
eBooks
Whitepapers
Website
Search Engine Optimization
Many organizations ask, "Should I deploy inbound or outbound tactics?" Often the answer is "Yes." Most successful organizations aren't deploying one or the other. They are deploying both inbound and outbound tactics—and often multiple tactics from each category. These organizations are continuously monitoring the performance of their various marketing channels; evaluating their effectiveness; and experimenting with tactics that could potentially perform better.
Once you've determined your tactics, you then must determine if you have the tools, skill sets and time to execute your plan with discipline and excellence. Using in-house resources is not always the best or cheapest option. Outsourcers can often offer access to best practices and cutting edge technology that otherwise might be out of reach.
I counseled my daughter that taking care of her prerequisite courses will set her up for success in the course she really has her eye on. I offer the same advice to marketers. Before you jump head first into planning your next marketing campaign or even building your marketing plan, take a step back and determine if there are any prerequisites that you should address first. You'll be better prepared . . . less frustrated . . . and more likely to be celebrating when you surpass your revenue growth objections.