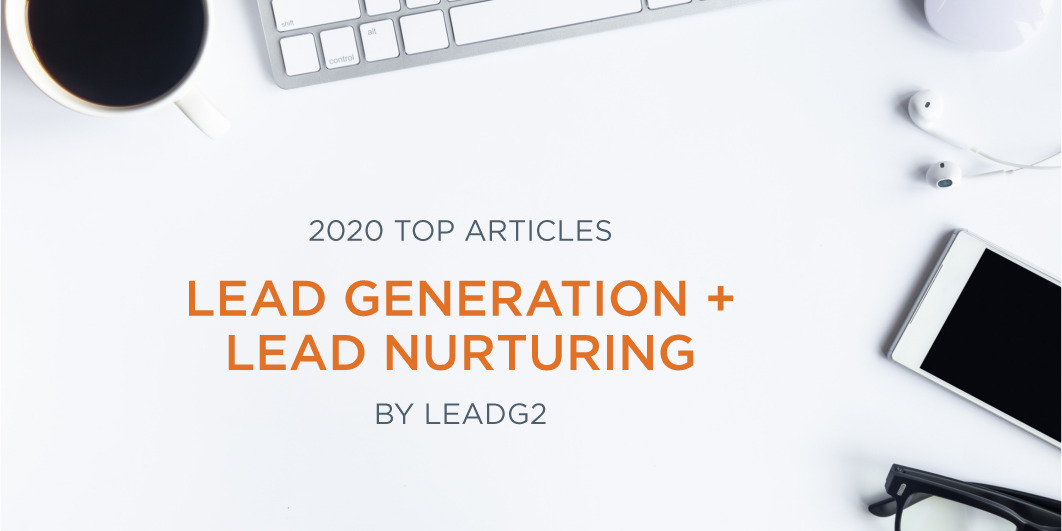 Our goal as a company is to partner with our clients to increase the quality (and of course, quantity) of their leads, and today, we are bringing you a recap of the most popular posts we've published in 2020 on lead generation and lead nurturing.
We pride ourselves in providing our clients and visitors top-notch, quality content through our blog to teach them and guide them to success. We've searched for the most popular blogs of 2020, and we've curated these lists that will publish each day this week to bring you some of the most educational and informative content from the year. Check out these top blogs on lead generation and lead nurturing from 2020.
LeadG2's 2020 Top Blogs on Lead Generation and Lead Nurturing
1. 6 Barriers to Lead Generation For Professional Employer Organizations
2. The 9 Step Lead Generation Audit For Every Business Leader and Sales Manager to Conduct

3. How to Effectively Promote Premium Content For Optimal Lead Conversions

4. Importance of Landing Pages: How to Write Landing Page Copy That Generate Leads

5. 6 Critical Questions to Ask Before Developing a Lead Generation Strategy

6. 5 Expert Tips For Creating Webinars That Generate Sales Leads

7. How to Sell Inbound Marketing to Your Boss — So You Can Get Inbound Leads

8. How to Generate Leads From Blogs
9. Profitable Lead Gen Series: Creating Irresistible Offers
10. Profitable Lead Gen Series: The Call-to-Action

These are the most-read blog posts on lead generation and lead nurturing from 2020, and we hope they provide insight to help you have a successful inbound marketing strategy in 2021. Cheers to a prosperous New Year!