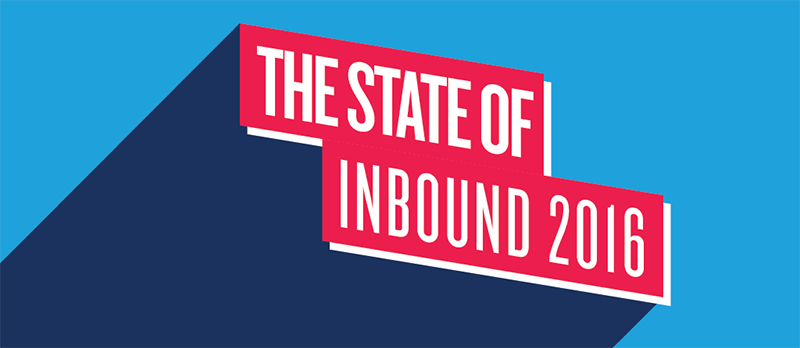 Each year, for as long as I can remember, HubSpot has been surveying business owners and marketing professionals about a wide range of topics, including marketing trends, social media, sales, and technology. After these surveys are compiled each year, HubSpot puts them together into a beautifully-laid out and informative presentation that sometimes numbers more than 80 pages.

In order to help save you some time reading the entire document (even though you should anyway) we have put together what we at LeadG2 see as the biggest takeaways from the 2016 State of Inbound.
1. Marketing Priorities Have Shifted
What are your company's top marketing priorities over the next 12 months?
Top 3 Priorities:
77% Converting contacts / lead to customers
69% Growing SEO / organic presence
66% Blog Content Creation
One of the biggest challenges that companies face when developing a lead generation program is what to do with the leads once they come in and how to convert them into customers. As evidenced by the 2016 State of Inbound, this challenge to marketers hasn't gone away and has become a greater priority in 2016.

It's not surprising that search engine optimization (SEO) and increased organic presence is next on the list of priorities with 69% of those surveyed considering organic traffic is the #1 source of traffic for most companies' websites. For most companies, an increase in search traffic by even 3% or 4% can equate to large increases in leads, product sales or revenue.

The third priority, "Blog Content Creation," cited by 66% of those surveyed as a top priority over the next 12 months came as a surprise to me, and is also an opportunity. Helping clients develop content for their blogs is one of the areas that most inbound marketers excel at. Because of this, inbound marketing agencies are perfectly positioned to help clients tackle the challenge of creating content for their blogs.
2. Diversity of Format
Consumers want to see more:
45% Social media posts
44% News Articles
43% Videos
As inbound marketing begins to mature beyond ebooks and whitepapers, consumers of content are not just looking for new and more creative content forms. They also want to find this content in places such as social media. Consumers are no longer content with just going to a company's website to read a text-based blog post or watch a video. No, they are now expecting to see a wide range of content on social media as well.
3. Need to Expand Reach Beyond Website (Social, Social, Social)
What content distribution channels do you plan to increase your marketing efforts the next 12 months:
48% YouTube
39% Facebook Video
33% Instagram
Consumers are increasingly turning to social media, and video seems to be the format that most marketers are prioritizing more in the coming year. Another factor influencing the choice of where to post and distribute content is the emphasis being placed on social media networks and the deemphasis of a company's website. More and more consumers are bypassing a company's website and going to their social media channels for information.
80% of those surveyed said they use Linkedin for professional purposes, and 73% said they use Facebook for professional purposes.
When discussing which social media networks are best suited for B2B, LinkedIn is usually the network most talked about, while Facebook is pushed to the side and said to be "more for personal stuff." While this may have been true at one time, 73% of those surveyed said they use Facebook for professional purposes, and just 7% more (80%) said they use LinkedIn for professional purposes. This tells us that while LinkedIn remains the 1,000 pound gorilla in B2B social networking, Facebook shouldn't be ignored.
4. Popups Are Hated More Than Ever
81% of website visitors have exited a website due to a Pop up online ad.
As part of the inbound marketing movement, one of the core principles is to not be obtrusive or to annoy prospects. It turns out that popup ads sometimes do both… they are obtrusive and annoy prospects. With 81% of website visitors saying they have exited a website due to popup ads, it's probably best that you steer clear of having too many popups on your site—or better yet, if you do use them, make sure they are limited and don't take up much real estate. This is especially true for mobile devices when the screen is much more limited and popups can crowd out the other elements that visitors were looking for.
5. Salespeople are a Last Resort for Modern Buyers
70% of companies say that their top sales priority for the next year is closing more deals, and 47% said improving efficiency of the sales funnel.
It's no surprise that the top priority of sales is to close more deals. Yet, 40% of salespeople say it's getting harder to get a response from their prospects. Changes in customer behavior are widening the gap between buyer's expectations and salesperson's tactics.
These are just 5 of the takeaways that we wanted to share from this year's State of Inbound. By reading the entire report, you are sure to find even more takeaways that you can use to help navigate the ever-changing world of inbound marketing.
P.S. See you at Inbound 2016! It's right around the corner.