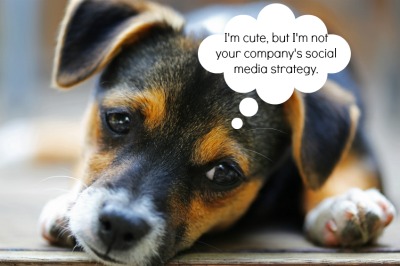 As an Inbound Marketing and Sales Consultant, I have the pleasure of reviewing dozens of social media and content marketing strategies each year. I see what has been successful for clients and prospects, as well as where the trouble spots are and where companies struggle.

One of the most common struggles or pitfalls I see is with social media. Marketers try to make social media work for them without actually creating and sharing new content and useful information. They clearly don't have a content strategy in place; I see them posting a lot of "fuzzy puppy" images or "Happy St. Patrick's Day" posts. They simply don't have anything of substance to say. Their website is not rich in content and not very dynamic, so they just post pictures and other fluffy stuff that gets a few likes and almost no engagement. These posts don't generate leads or traffic to their website or produce any other benefit of note.

Of course, there's nothing wrong with wishing your followers a happy holiday, but if that's the majority of your posts on social media, and if those posts don't include much substance or useful information to your target persona, you are missing the boat. Just being on social media will produce few if any benefits. Your activity should be designed to produce engagement, traffic to your website, and ultimately, leads.
How to Tame the Fuzzy Puppy
If you are finding yourself posting more pictures of fuzzy puppies than meaningful content or links to your website, there are a few things you can do:
Start a blog where you discuss issues that are of interest to your target persona. This will help you create blog posts that you can share via social media and drive traffic back to your site.

If you don't have a blog to post to, you can use Facebook Notes or LinkedIn Publisher to create content that can link back to your website.

Include your "Happy Easter" message in a meaty blog post and post that onto social media which will at least have a link back to your website.

Starting a blog that can provide your target persona with information about your business and generate leads has a lot of benefits. One these benefits is that it will give you a lot of content to share on your preferred social networks and will give people more than just a fuzzy puppy to look at. We all love fuzzy puppies, but fuzzy puppy images don't necessarily generate leads or help your customers learn more about your company during the buying process.