The Time May be Right to Move (Way, Way, Way) Beyond Telemarketing and Cold Calling
Traditionally, when the term "account based marketing" was being discussed as a new business tactic by staffing agencies, it referred to cold calling or telemarketing to 50 or a hundred companies that the agency wanted as customers because the prospect fit a profile that ranged from size to the types of staff that they might use.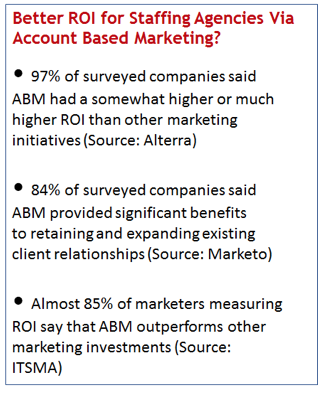 If you happen to be at the right place at the right time when that ideal prospect has a need you can fill, then this can be a pretty effective tactic.
But it's "old school."
It requires you to pound the phones or flood the prospect with emails or mailed sales collateral, and frankly, it's not a particularly customer friendly way to build a long term relationship.
Today, account based marketing is built on new approaches, thinking, and technology that are designed to build friendly, long term relationships that produce a win-win for both the staffing agency and the customer.
Fundamentals of Account Based Marketing for Staffing Agencies
Marketo tells us that account based marketing "is, in many ways, the exact opposite of the traditional demand generation approach. Rather than reaching broadly across many organizations, companies that employ an account-based marketing strategy focus their marketing and sales resources on a targeted set of accounts and look to deliver strategic, orchestrated campaigns personalized to those accounts."
The key word here is "personalized." Rather than a one-size-fits-all, broad reach approach to sales and marketing, today's account based marketing is built using tactics, tools, and technologies to deliver strategic campaigns orchestrated and personalized to accounts that have been carefully researched and vetted as being the right type of business for an agency.
In the new world of account based marketing, your staffing agency's marketing team would be tasked with serving personalized messaging to decision-makers at these desirable accounts, using means ranging from email to snail mail to engaging on social media, and more.
Flip My Funnel for Staffing Agencies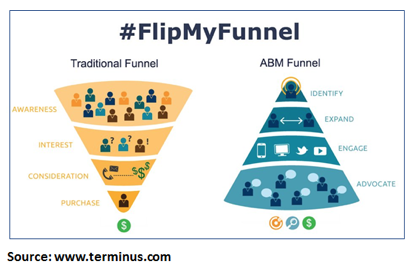 A few years ago, Sangram Vajre, CMO & Co-Founder at Terminus, coined the phrase "Flip My Funnel" to describe the new thinking about account based marketing.
The process involves 4 key steps:
Identifying target accounts that are a best fit for your agency, based on crating ideal customer profiles
Expanding your knowledge and information about those target accounts with particular emphasis on identifying the right contact and their contact information
Engaging those contacts with your content marketing and other relationship building activities, and recording/tracking interactions in your CRM
Advocating after the sale by maintaining the agency's relationship with their new clients by using 1:1 marketing, webinars, instructional content, and in general, delivering helpful guidance and insights on topics of interest
Let Lead G2 Flip Your Funnel
Doing a funnel flip and adopting the new process, approaches, and technologies of account based marketing may be an ideal way for your staffing agency to bridge the gap between old school marketing tactics that have lost their effectiveness, and the successful networking tactics that have to date been largely responsible for building your business.
If you would like to have more information on how your staffing agency can launch an account based marketing strategy, connect with us here to schedule a conversation.