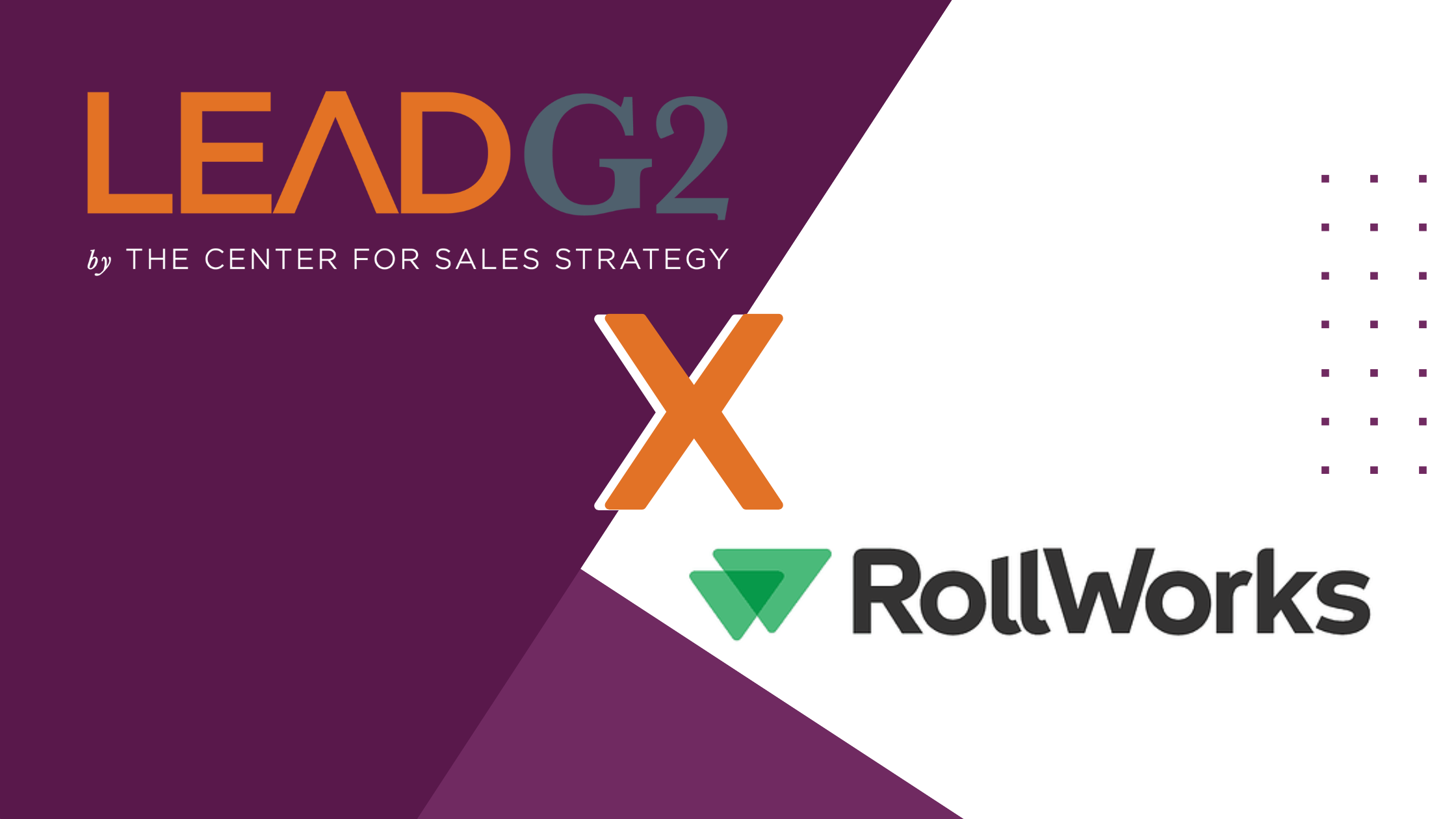 FOR IMMEDIATE RELEASE
LeadG2 Joins RollWorks Agency Partner Program to Propel New Business
(December 14, 2022) — LeadG2 by The Center for Sales Strategy joins the RollWorks Agency Partner Program to bring RollWorks' leading Account-based Marketing (ABM) capabilities to mutual customers looking to continue driving sales performance and helping sales teams sell smarter and faster.
"We're thrilled to partner with RollWorks to offer innovative marketing technology to amplify the Account-based Marketing strategies that our skilled in-house ABM experts offer the LeadG2 clients," said Dani Buckley, VP/GM at LeadG2.
RollWorks provides B2B companies with an account-focused platform to align their marketing and sales teams and confidently grow revenue. The new partnership allows RollWorks' customers to engage with LeadG2, who is knowledgeable about RollWorks and broader ABM strategies. LeadG2 gains access to an ABM expert to help drive broader market knowledge, thought leadership, and best practices. LeadG2 can augment its offerings to include recommendations for leveraging ABM in its marketing efforts and within its overall tech stack.
"Through our search for the best ABM platform on the market to support our in-house ABM strategy, we chose to use RollWorks to enhance our marketing and sales initiatives to aid in new business growth," said Buckley. "Because of the wonderful experience and results we're seeing from our efforts, we feel that RollWorks will be a vital addition to our client's revenue growth and our mission to help them sell smarter and faster."
RollWorks launched its agency partner program in late 2021 to establish a network of innovative, trusted, leading agency partners for RollWorks customers to access when they need it. The program combines the expertise of RollWorks with reputable agency partners to convert prospects into successful customers.
"We are excited to build on the growth of the RollWorks Agency Partner Program with the addition of LeadG2," said Mike Stocker, SVP, Partnerships at RollWorks. "Over the past year, we've seen tremendous agency interest in the program, and we're thrilled to bring strong services partners like LeadG2 that help drive value for our customers and prospects. The results they've seen through their internal ABM plan and the addition of RollWorks has demonstrated value that any marketing or sales professional can look to as an example of ABM success."
For more information on the LeadG2 and RollWorks partnership, visit css.buzz/leadg2rollworks.
###
About LeadG2 by The Center for Sales Strategy
LeadG2 is a sales performance agency that helps businesses drive revenue with the use of inbound marketing and sales enablement tactics since its launch in 2012. As a division of The Center for Sales Strategy (founded in 1983), which exists to help organizations improve sales performance through its approach to customer-centric selling and talent-focused management, and a proud HubSpot Platinum Partner, LeadG2 prides itself on using the best tools, tactics, and strategies to help clients find success and revenue growth by selling smarter and selling faster. To learn more about LeadG2 by The Center for Sales Strategy, visit LeadG2.com.
About RollWorks

RollWorks, a division of NextRoll, offers ambitious B2B companies an account-based platform to align their marketing and sales teams and confidently grow revenue. Powered by proprietary data and machine learning, RollWorks' solutions address the needs of organizations large and small — from those with best-in-class ABM programs to those just beginning their exploration. By empowering teams to identify their target accounts and key buyers, reach those accounts across multiple channels, and measure program effectiveness in their system-of-record, RollWorks is an indispensable platform for marketers and sellers who believe that an account-based approach is just good business. To learn more, visit www.rollworks.com or follow RollWorks on LinkedIn or Twitter.