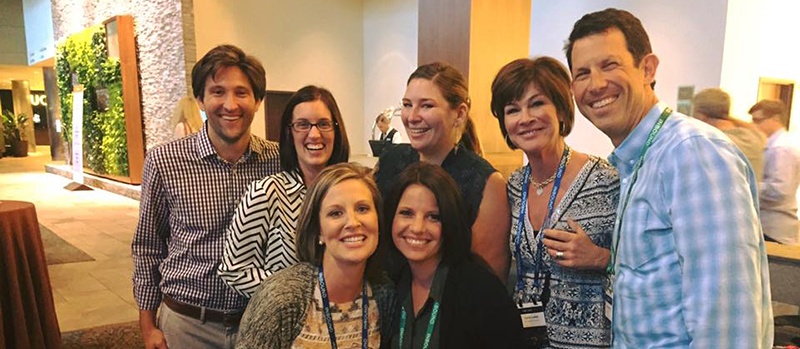 We chose to attend INBOUND because we had just partnered with LeadG2 and HubSpot and were "newbies" to inbound marketing. We had a lot to learn and decided to jump in with both feet!
We are brand new to inbound marketing. Now that we've read a book, visited with a few professionals, and have attended a conference, we can now call ourselves amateurs instead of beginners! We seriously have learned SO much! I think we have learned more and have even retained more than we give ourselves credit for. Inbound marketing has already impacted the way we do business by looking at things differently and reflecting on how we do business day-to-day. We have started analyzing our marketing practices, both outbound and inbound, to see where we can work smarter, not harder! We've learned it's not all about the content but more importantly about how you promote your content!
My Biggest Takeaways from INBOUND
Brene Brown's refreshing perspective on being vulnerable. "Are we willing to choose courage over comfort?"

Leslie Bradshaw spoke on Reputation being greater than your Resume. "Better to be known as a 'do leader' than recognized as a 'thought leader.'"

And Kipp Bodnar also shared his perspective on finding, hiring and managing exceptional marketers. Marketers care more about learning than a promotion and more about their time than more money. They care about the mission!! He helped identify some great recruitment techniques and prioritize my thoughts on hiring great marketers!
My Favorite Product Update
I'm super excited about the new Sales side of HubSpot. The prospects, research, connections, sequences, and meetings are all going to be HUGE for our sales staff!! I can't wait to start using these tools and help them work smarter with their prospective clients rather than making 100 dials and praying for a couple of appointments. It will help our overall morale and enthusiasm on the sales floor!
My absolute favorite part about INBOUND was being with likeminded people that are energetic, enthusiastic, and passionate about inbound marketing. It was by far the most exciting conference I have attended in a long time! The other exciting part was having so many great speakers and sessions to choose from. It was hard deciding which one to pick because there were so many great options! Definitely would recommend INBOUND to other fellow marketers!
Photo: LeadG2 team with the Zimmer Radio & Marketing Group team at INBOUND 2015!