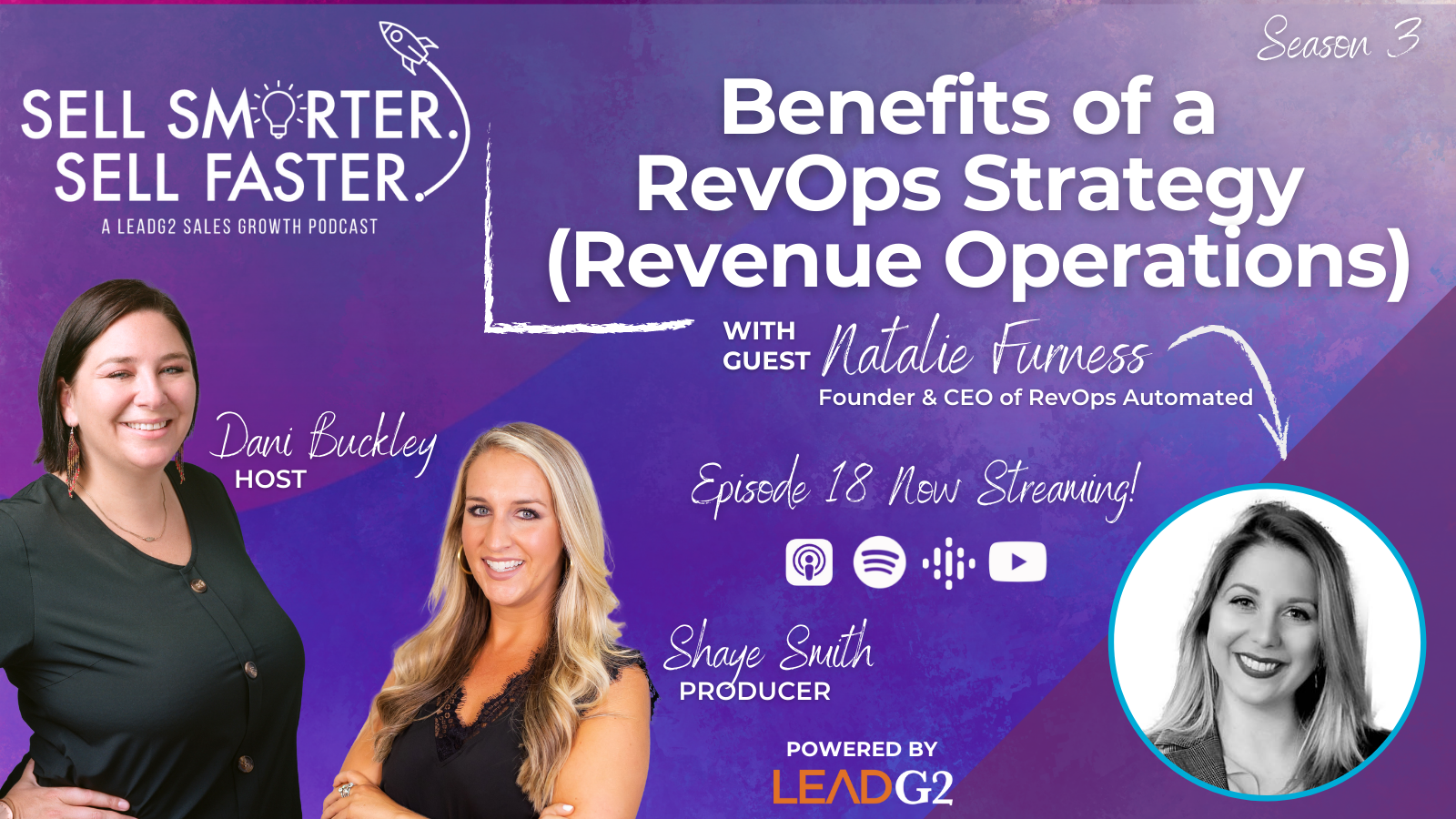 "RevOps" is quite a hot topic these days and we find that it can be defined differently from person to person. Ultimately, it's all about how you can maximize your organization's revenue potential... and who doesn't want to do that? In this episode, we're going to get into what it is, why it matters, and how to do it well.
Host Dani Buckley is joined by Natalie Furness. Natalie is the founder & CEO of RevOps Automated, an organization that builds smart solutions for Directors, Sales Leaders, and CMOs who want to improve operational efficiency across marketing, sales, and customer service.
Keep reading to see her thoughts, insight, and tips on this topic, and listen to or watch the full episode for a more in-depth explanation and conversation around this.
What is RevOps?
When asked how she would define RevOps, Natalie breaks it down like this:
"There are so many different types of revenue operation terminology that's been thrown around. To me, revenue operations is all about aligning the systems, the data, the processes, and the people together across the whole entire customer experience."
"It's all about bringing that data together in one place so you can really...make use of that data to make better business decisions."
In terms of the tangible benefits that organizations can realize from adopting a RevOps strategy, there are a few interesting trends to consider.
"The Boston Consulting Group did a really great piece of research," Natalie says. "They found that organizations that had revenue operations components...outperformed on the stock market to those that didn't by 71%."
"Sales teams are closing faster with more deals. The whole entire marketing to the sales process is more efficient and more effective. Also, customer satisfaction scores are increasing. Because, at the end of the day, if you have your marketing, sales, customer success, product team, finance, everybody aligned...and having the data about the customer flow through that whole experience, you're just automatically going to be able to help the customer have a better experience."
What a RevOps Strategy Looks Like
Natalie also has some great examples of what a working RevOps strategy can look like. Overall, successful revenue operations function differently based on the size of the company being discussed. Natalie has some great examples of what a working RevOps strategy can look like in two different contexts:
Start-Ups:

"For start-ups, the best way that you can start with revenue operations is to think about that person who sits above marketing, sales, customer success...sort overseeing how the systems are working between the three of them and how the data systems are integrated...Not 'siloing' data and reporting on each individually, but trying to bring all of that data together and reporting on revenue across attribution to marketing, sales, and customer success. So maybe bringing in that CRO is a good first step."

Larger Organizations: "For larger organizations, maybe for those of you who are VPs of marketing, VPs of sales or customer success already, the next step is to look at who is managing your systems and data insights. From my experience, it tends to be [that]...nobody is, sort of, taking charge of the systems and the integrations and the cleanliness of data...The biggest report that we get from our clients is, 'the data just doesn't make any sense,' 'the reports aren't attributing correctly.' A lot of the time it's simply because there is nobody taking ownership of managing the systems, the processes, the data, and how that actually functions between all of the departments.
"Understand where you are in your journey and decide if you need to bring in a leader to start implementing the change or if you actually need to bring people in on the ground to manage your systems, data, and processes."
And once organizations are "knee-deep" in their new revenue operations strategies, there are a handful of common challenges they might face. Natalie has a few tips for these.
"The first thing that we really come across is stakeholder buy-in... the challenge of getting the teams that have traditionally not worked together to suddenly work together. Marketing [is] used to having their goals, Sales are used to having their goals, etc."
"So how do we bring those people together to even decide, 'What is our one metric?' 'What is our north star?'"
"What we tend to do is...we try and run some facilitated workshops where we bring a representative from every team together so we can start mapping out the customer journey...the processes that currently exist versus what they wish they had...It kind of allows each other to understand what each other does...and it also helps get some great ideas from other departments."
"Another challenge is data integrity."
"How do we actually keep clean data? Too many people have permission to create too many things. Now, while it might seem like a great idea for anyone to be able to edit your properties or run a report or add an integration to a new app, it's remarkable how quickly this can 'dirty' your data."
And for anyone who might be intimidated by the concept of developing a RevOps strategy, whether it seems too foreign or too large of the undertaking, Natalie offers the following:
"If you're one of these [Sales, Marketing, Customer Success] leaders, my first suggestion would be to get to know your other leaders. To actually take responsibility for breaking down some of those boundaries."
"Have that conversation of, 'look, I'm thinking of putting together a business proposal to align our departments. Is that something you want to get in on?' That's a great first step. Just get your stakeholders on board."
Listen to the full episode and more on your preferred podcast platform