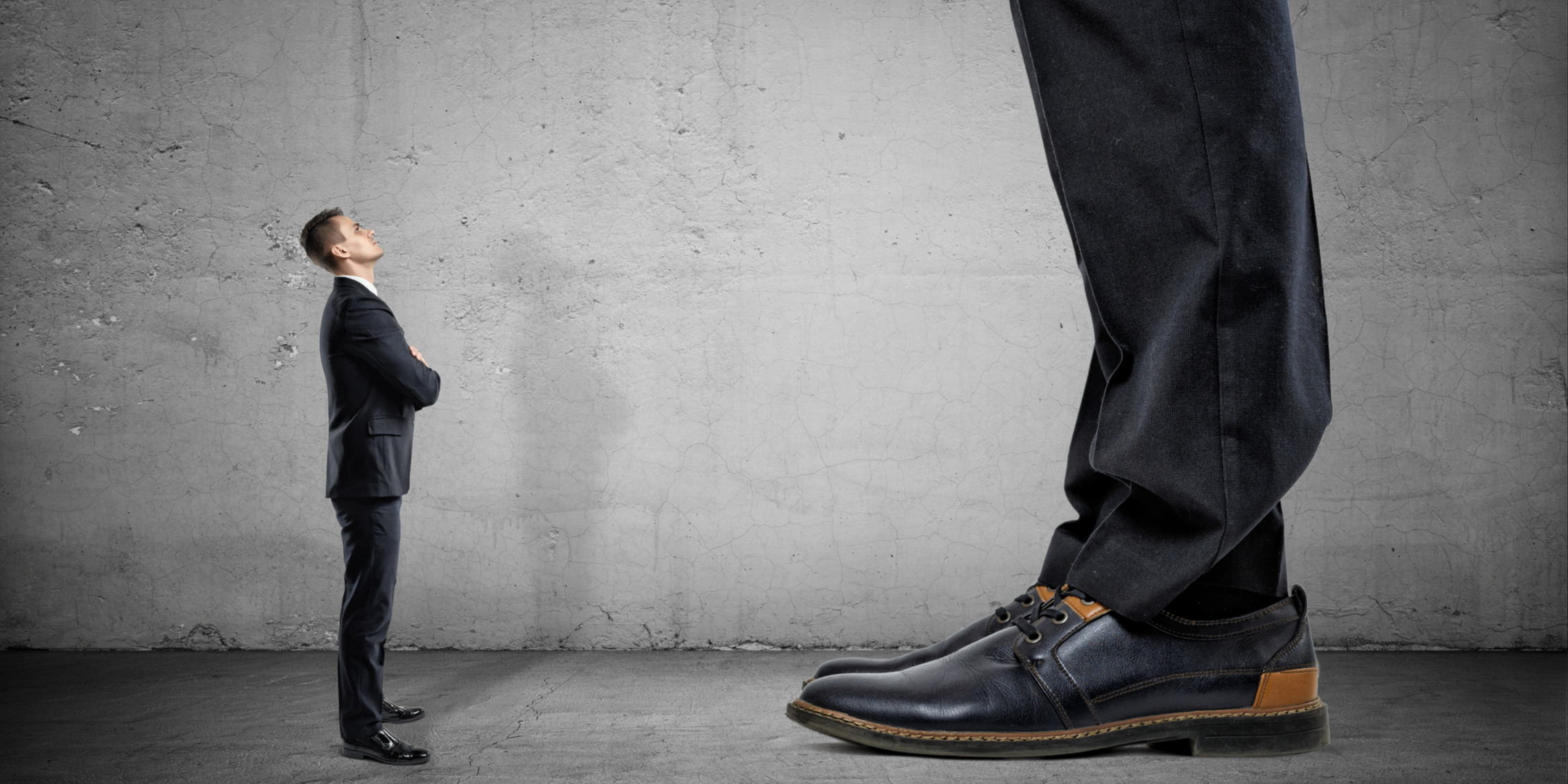 Most PEO leaders we speak with tell us they're consistently running up against the market's biggest players when presenting proposals and trying to close new business. Trying to win against large, publicly-traded PEOs is obviously a challenge.
However, an even bigger challenge is just getting to the table to present their solutions and compete for the deal. The fact is, many new business deals are going to the biggest firms in the market before the small and mid-sized PEOs even become aware that the opportunity exists.
Taking on the Gorilla

— Local Vs. National
How big is this problem? According to NAPEO, there are 907 PEOs in the U.S. It's a very fragmented and noisy market. Many companies are clamoring for the same opportunities, but few companies are dominating the competition.
According to NPG (an online publication dedicated to the PEO industry), in 2017, the PEO market was dominated by three major players — ADP Totalsource, TriNet, and Insperity. Together they accounted for over 50% of the gross revenue market share. And they're not the only three companies that are making their presence in the market known.
In 2018, the top 15 players in the market likely controlled three-fourths of the total gross revenue. That means approximately 892 companies are fighting for the remaining 25% of the potential revenue.
If you're a small to mid-sized PEO, the bad news is that the big boys will only get bigger. Acquisitions are causing gross revenue to continue to be consolidated among the top 20 firms in the industry. How can the small local or regional PEO get their share of the pie? How can a PEO with limited marketing resources and a small sales team build consistently robust sales pipelines, start "hitting above their weight class," and win more new business?
The first step is to stop thinking like a small-time player.

The next step is to stop using the same tired marketing and prospecting tactics that you used 20 years ago. Instead, take a fresh look at your go-to-market strategy and leverage these best practices.
6 Ways Smaller PEOs Can Compete in Today's Market
1. Create Your Own Opportunities
The best way to eliminate the competition for your deals is to manufacture your own opportunities. Don't just rely on the prospects who are out there shopping for a PEO. NAPEO says that approximately 175,000 companies in the U.S. are currently using a PEO. They estimate that equals just 15% of all the businesses with 10 to 99 employees. That means that there are over one million companies that size that aren't using a PEO today. Find them and engage with them before they decide to start PEO shopping and reach out to your competition. Be the first to introduce the PEO concept as a potential solution to their business challenges.
Engaging prospects who aren't actively in the shopping or buying mode may seem like a daunting task, but here are the basic steps you need to follow.
Identify the criteria of your ideal target prospect (size of company, industry, geography, etc.).

Use that criteria to build a target list of named prospect companies.

Document the names, titles, phone numbers, and email addresses of the key decision-makers and influencers.

Research valid business reasons why these companies should meet with you and key industry insights that will allow you to demonstrate credibility

Use your research findings to craft a messaging and communication strategy to engage your prospects.
2. Don't Try to Be All Things to All People
If you have a multi-million-dollar advertising and marketing budget, then feel free to blast your message for everyone to hear. However, most PEOs don't have that luxury. Instead, focus on a few niche markets. Review your current customer mix.
Who are your best customers?

Where is your business making the biggest impact?

What kind of companies are they?
Leverage your past successes to build your bona fides. This can bring instant credibility and automatically position you and your business as a subject matter expert.
3. Become a Trusted Resource
Everyone is looking for an expert that they can rely on for the right answers. When we have a legal problem, we call a lawyer. When we have a financial problem, we call an accountant. Be the one people look to when they have a human resource (HR) problem.
And don't make them be a client before they can draw on your expertise. Share your knowledge and your unique perspective on the issues your prospects are facing. Because of the success you've had with your existing customers, you have a wealth of knowledge regarding the HR challenges your target prospects are facing. Offer your thought leadership to answer the questions your prospects have.
It's ideal to be able to communicate your subject matter expertise directly to your prospects with one-on-one conversations. But that's unlikely and very inefficient. Instead, transform your website from being a static online brochure into a dynamic interactive information portal by publishing your ideas on your website.
Make your website a repository for blog articles, whitepapers, eBooks and case studies that you write.

Make your content informative and educational — not salesy or full of marketing fluff.
If you consistently share content that your prospects find relevant and helpful, they will return to your website over and over again. And when they decide they need HR assistance, you'll be the expert they turn to.
4. Extend Your Reach
How many prospects can your sales team realistically speak to each week? Now, how many can the ADP sales team reach? There's no comparison. It's impossible for you to build a sales team that can match the activity of the 800-pound gorillas in the market, but technology can be the great equalizer. It starts with your website.
How many visitors does your website get each month?

How many of those visitors are actual qualified prospects?

Do your target decision-makers even know you exist?
Having a website is important but building an audience for your website is even more critical. Below are some of the basic steps required to increase your website traffic and extend your reach.
Publishing thought leadership content

Apply SEO best practices to help your targets find your content organically

Grow your social media networks

Promote your website and content by actively sharing on social media

Include links to your content in your emails with prospects.
Technology can also help you improve the reach of your 1-to-1 prospecting outreach as well. Tools like HubSpot can help you automate everyday activities and greatly improve the productivity and efficiency of your existing sales resources.
Below are three common ways technology can help you do more with less.
Automate lead nurture workflows. You no longer must remember to reach out to a "not-ready-to-buy-yet" lead. Instead, you can build workflows that automatically send emails and notifies you of the best time for additional follow-up based on the prospect's digital behavior.

Easily build and send email sequences. Send multiple emails to a prospect over a period of days, weeks or months with one click.

Email templates allow you to stop recreating the wheel each time you compose an email for similar sales scenarios. Write the email once, store it, customize it, send it, and record it in CRM with just a few clicks.
5. Eliminate Friction From the Sales Process
Be easy to do business with and don't make your prospect jump through hoops to do business with you.
First, be easy to find online.

Second, be easy to engage with once they find you.
Offer multiple ways for a prospect to connect and engage. Sure, you want to have a call-to-action (CTA) and lead capture form for those that want to "Schedule a Consultation," but what about the prospects that don't want to talk to a salesperson right away? Create other offers and corresponding CTAs for those at the top and middle of the funnel as well.
Examples include offers like, "Subscribe to our Blog," "Download this eBook," or "Read this Case Study." Finally, don't bury your contact information deep on your website.
6. Out Serve and Out Communicate
Once you get a piece of new business, never give them a reason to leave. Go above and beyond to service their every need. If you continue to communicate your expertise and share your thought leadership after the deal is closed, you'll foster a life-long relationship and a never-ending source of referrals.
Applying these principles will allow your firm to be perceived as one of the major players in the PEO market and put you on a path to becoming one of the 800-pound gorillas.