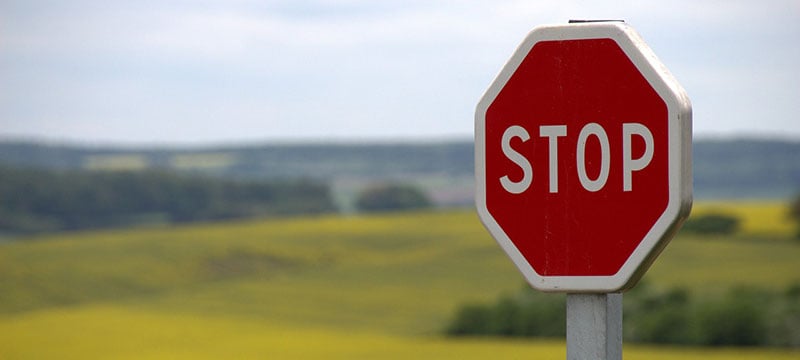 Companies that start inbound marketing programs usually do so with the goal of generating more leads, shortening the sales cycle or increasing traffic to your website. The first few months are very exciting as you are putting your team together, starting to blog and seeing some early results with increases in website traffic, new social media followers and getting great feedback from others in the company about how great everything looks.
It's what happens a few months later that causes some concern and provides some sure signs that things are going the wrong way and inbound isn't working at your company.

3 Signs Your Inbound Marketing Program Isn't Working:
You are not publishing new content

Monthly Traffic is Not Increasing in Most Months

Leads are not increasing
1. Not Publishing Enough New Content
At LeadG2 we talk a lot about "feeding the blog" and needing to "put some gasoline in the tank" as metaphors and analogies for the importance of content creating in the lead generation process. It's very cyclical and it goes like this… you stop or cut back on the number of blogs you publish, your website traffic decreases and therefore your leads decrease. Then, your writers become discouraged and the cycle continues until you either get your act together and start to "feed the blog" or you just throw in the towel and give up.

Its rather obvious, but a sure sign your inbound marketing is in trouble is when you stop or decrease publishing new content.
Tips to Get Over the Challenge of Not Publishing Enough New Content:
During inbound planning day, which is the kick off to each inbound marketing program, we come up with a publishing schedule and discuss various forms of content that can be used to generate leads. It's at this point that we remind clients that not everything on your blog needs to be an originally authored, text-based blog post from someone on your team. Blog posts can consist of video blogs (even with other people's videos), infographics, curated content (where you comment on someone elses blog post or article but do so on your blog), slideshares, PowerPoint presentations, etc. Don't feel like you have to be constrained to writing a text based blog post that's 400 - 600 words…focus more on publishing content that would be of interest to your persona and provides information on how you view the world.
See also: Skills Required for Inbound Marketers
Another recommendation that we provide to companies not able to produce enough content internally is to either hire a freelance writer to write content or to use a third-party content creator like Zerys.com or Writer Access. You don't have to give credit to these writers and can attribute the posts to your team so no one even knows you are using ghostwriters. One pitfall to avoid if you are using third party writers is to let your content creation grind to a halt in the approval process as you try to get ghost writers to create Pulitzer-prize winning blog posts.
2. Monthly Traffic Not Increasing in Most Months
When mentioning the impact of not publishing frequently enough, the first thing that comes to mind is that monthly traffic will start to decrease. The easy answer to how to fix this is to publish more frequently but that's not the best answer. It's true that if you decrease your publishing rate you will risk decreases in traffic but until you really dig into your sources of traffic can you really see what the problem is and know how to address it.
If things are working the way they should, your older blog posts will start to gain views each month as Google starts to index them and you should see an increase in organic traffic each month because of this. What you need to be looking for in terms of monthly traffic is areas where traffic sources are not growing or decreasing.
Tips to Get Over the Challenge of Monthly Traffic Not Increasing:
Review your source traffic on a monthly basis and have a plan in place for any areas where you are seeing decreases. If you see the social traffic has dropped off in the past few months, you can put a plan in place to share more and create a few social media specific campaigns to reverse the trend. If you see that you don't have much email traffic you can create an email newsletter to send out to prospects that includes your latest blog posts, premium content and maybe a special offer.
3. Leads are Not Increasing
By now you know that the best way to wreck an inbound program is to decrease the frequency of publishing new content. But again, this isn't always the reasons for everything negative that's happening with your inbound marketing program. It's not unheard of that you can be publishing several times per week, optimizing blog posts and sharing content via social media but are still not seeing increases in leads each month. How could this be? Doesn't an increase in traffic automatically lead to an increase in leads? Not necessarily. Yes, if you are seeing increases in traffic and your conversion rates (the rate at which visitors fill out forms and become leads) stay the same, you should see an increase in leads. However, you can see increases in traffic but a decrease or plateau in leads coming in if your conversion rates decrease or you stop publishing new offers.
Tips to Get Over the Challenge of Leads Not Increasing:
Reviewing your landing pages, offers and conversion rates on a monthly or quarterly basis is a great way to determine if you need to either, make changes to your current creative or to create new offers. A few tweaks to your low performing landing pages like changing the questions asked in your contact form or changing the color and font size of call to actions can have a big impact on conversion rates. The other issue that can contribute to a decrease in leads while traffic increases is not having enough offers on your website. If you have a rather steady flow of traffic each month and are getting a high percentage of return visits you won't generate any new leads unless you have some new offers for these visitors.
If you exhibit any of the signs above, your company is probably in need of an inbound marketing makeover.

Editor's Note: This post was originally published January 2, 2015 and has been updated.