Seeing the Right Metrics is the Foundation for Making the Right Marketing Investments
When your boss (or if you're the boss) has both eyes open when it comes to marketing metrics, he or she will be better prepared to understand what works and doesn't work in your firm's marketing program, what investments in marketing are needed, and where to make them.
But maybe even more important, if the boss can see, understand and act upon marketing data for purposes of growing the company—and your competitors can't/don't/won't—you'll have a significant competitive advantage.
In today's digital environment, progress toward growth needs to be measured and tracked. Then, it's possible to identify problem areas and to craft strategies and tactics for addressing those issues. In fact, in today's digital environment, there's hardly anything in the arena of marketing and sales that can't be tracked, but the challenge is to select just a handful of the right key performance indices (KPIs) rather than have so much data that you end up suffering analysis paralysis.
If revenue growth is a priority, then getting more visibility—particularly in terms of eyeballs reaching your website—needs to be the building block of your marketing program. Getting more visibility is one of four central components of an inbound marketing program (the other three: leads, conversions, delight), and it's the focus of our blog this week.
More Visitors to Your Website = More Opportunity to Generate Leads and New Customers
When it comes to KPIs for assessing visibility, identifying areas of concern and solving those concerns, there are four metrics that we recommend.
1. Website Traffic, Sources and Changes Over Time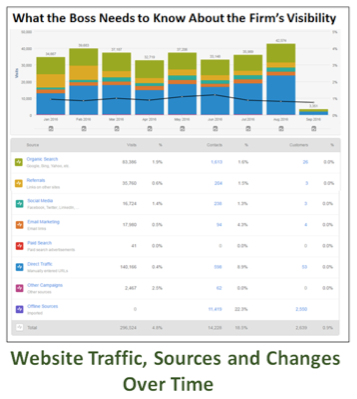 You want to continually grow traffic to your website, and there's no marketing metric more fundamental than measuring the number of visits to your website and seeing if there's a change over time. But perhaps as important, understanding where that site traffic originated (i.e. organic, social, referral, etc.) is critical, particularly in terms of being able to direct or redirect marketing resources for purposes of getting more visitors to your website.
Try seeing what happens to site traffic when you experiment and track the results of your experimentation—for example, building and managing a backlink strategy or tripling the number of Tweets you publish in a month. Of course, whatever you publish in whatever media channel you choose needs to have a link back to a page on your website!
From the perspective of organic growth, the data might indicate that an investment in SEO and a key word strategy is prudent, particularly as high organic search engine rankings tend to be perceived as a measure of firm credibility.
There's a fundamental lesson here: always be experimenting with your website, and over time, you'll be able to identify where to put more time, money, and other resources into channel strategies and tactics.
2. Contributions of Social Media to Increasing Visibility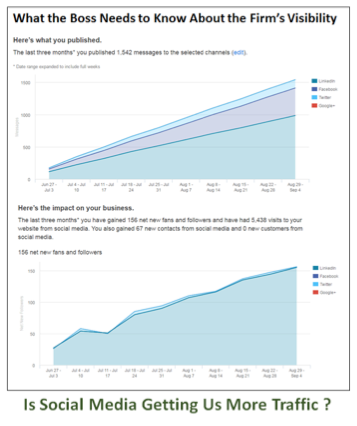 Another marketing KPI and associated data deals with the impacts of the time, resources, and investments your firm has made in social media. One of the questions that the boss will have (especially older bosses) will be, "Is it worth it?"
We can start to answer this question by making sure everyone is playing in the same sandbox—visibility. The question here shouldn't be, "Is social media creating more sales?" Rather, it needs to be, "Is social media giving us more sustainable reach?"
The answer lies in two metrics: increases in fans and followers month over month, and increases in site visitors attributable to social media. Both of these can be measured and tracked.
Let's talk about investments and ROI for a moment. If the data shows a relatively low level of social media engagement, then it may be prudent to invest more time and resources—after a careful study of best industry practices and other research that will allow you to understand how your activities benchmark against competitors.
On the other hand, if social media is making a significant contribution to firm visibility, then consider investing more with one caveat: continue to measure and analyze results, as there will come a time when you will witness diminishing returns from your investment.
3. Contributions of Email to Increasing Visibility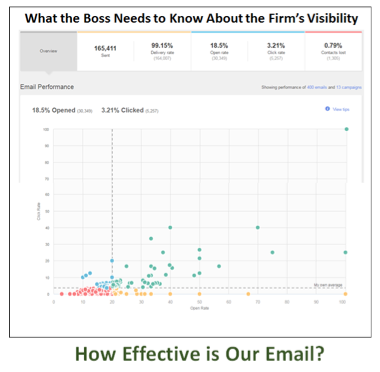 Other marketing strategists might disagree, but I believe that email is critical to firm visibility.
Email is one of the most measured and tracked of all marketing tools, and any time there's an increase in open rates or click through rates, you're growing your firm's visibility.
The difficulty: you can only send email to individuals who have agreed to receive your emails!
What this means is that when it comes to visibility, an email strategy needs to have two components: (1) growing the base of individuals who opt in, and (2) getting more opens and clicks from those who have opted in.
In both cases, the metrics you see will drive how you allocate budget and resources to using email as part of your visibility activities. Low numbers of email opt-ins mean that you need to make an investment in reaching and motiving people to (for example) subscribe to your blog or newsletters. Low open and click rates means that you may need to make an investment in creative resources to reframe your messages and calls-to-action with better copywriting.
4. Contributions of Content to Increasing Visibility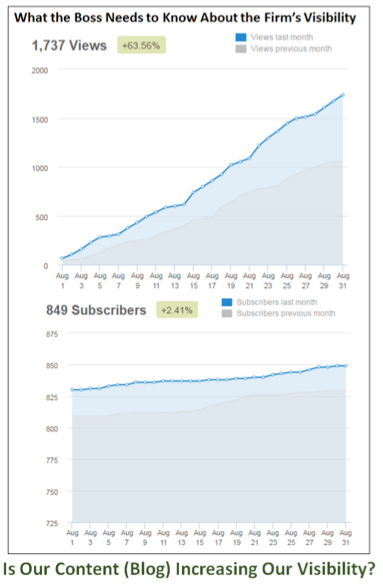 Content rules the roost in this era of growth via digital strategies and tactics. In a blog post a bit further down the road, we'll talk about content marketing in relation to lead generation, but now, let's talk about it from the perspective of visibility.
Content works hand-in-hand with SEO and organic search results. In fact, search engines will give good, credible, helpful content a higher priority in search engine rankings than advertorial website pages. That means that for purposes of visibility, content organized around a key word will tend to work well. If you are using ungated content (i.e. content that doesn't require a form), your efforts can be tracked and measured on a page by page visit in terms of numbers of visitors.
That data can be important, as content that you've identified with a high number of views can be promoted in emails, too.
However, my favorite type of content for purposes of visibility is blogging. From its role in SEO to personal branding to being a catalyst for lead generation, blogging as a tactic just can't be beat. Your blog can be measured from the perspective of number of subscribers overall, as well as from the perspective of views to an individual post.
If you're a boss, then seeing metrics about blog performance should give you insights as to whether to invest more time and resources into your blogging program, and where to make those investments. For example, with one of our clients, we saw that blogs written by subject matter experts in a separate niche were so popular, that the firm did a blog spinoff organized to promote that particular niche practice.
In the Land of the Blind …
You probably know the quote—the one about the one-eyed man being king in the land of the blind?
If you're a boss, being blind about your marketing initiatives means that you're probably misallocating budget to strategies and tactics that may not be getting results. Instead, you should be looking to those that can get you more visibility, and ultimately, more new business and more new customers.
It's important for you to see marketing data on a regular basis—not only for purposes of understanding achievements (or lack thereof) when it comes to firm having ever greater levels of visibility and awareness, but also, for purposes of understanding lead generation, lead nurturing, and sales closes, wins, and losses.
Then, you'll be able to play a leadership role with both eyes open!