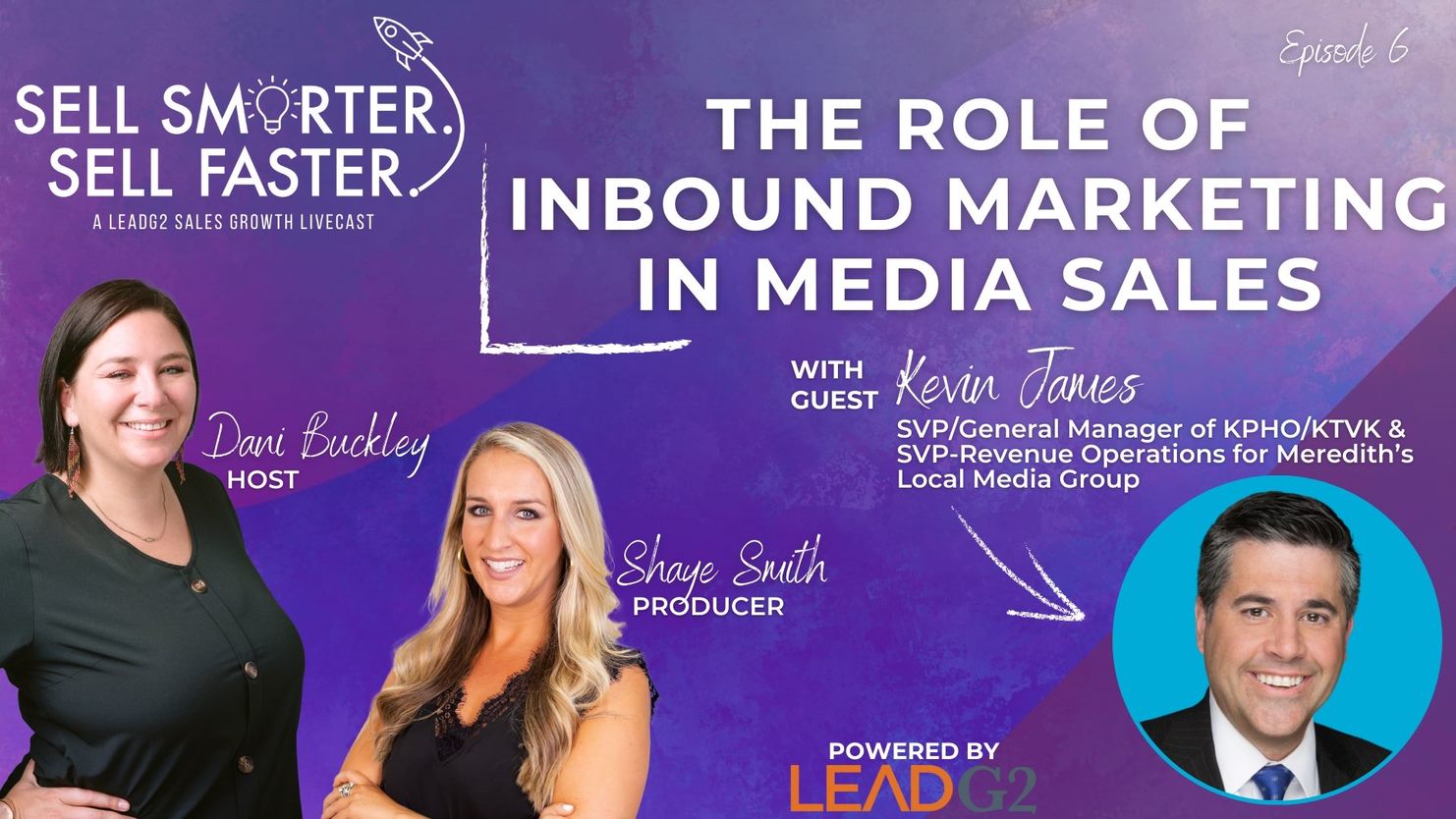 How do you transform a sales organization that relies almost entirely on outbound prospecting into one that has a more integrated and balanced approach? Where talented salespeople are finding and connecting with new prospects – while new prospects are also finding and connecting with your brand.
The best sales strategies have BOTH!
There's been a huge paradigm shift over the years – and it's no secret that media is one industry that has been slow in catching up to that shift. The shift is who has the power in the buying process.
In this episode, Kevin James, SVP/General Manager of KPHO/KTVK & SVP-Revenue Operations for Meredith's Local Media Group, joins host Dani Buckley to discuss this shift in power and the role that inbound marketing plays in Media Sales.
Tune in now or keep reading for a brief overview!
The Case for Inbound Marketing
Inbound marketing is a business methodology that attracts the attention of prospects and new customers via strategic content creation and experiences that are tailored to their unique needs and buying journey. Inbound marketing is about forming connections, answering questions, and solving problems.
Every smart sales organization has initiatives in place for both inbound and outbound, and in this livecast, we specifically looked at the inbound initiatives.
Inbound marketing focuses on creating quality content that pulls people in to your business and brand. They're already searching for answers online, researching your industry, checking out your competitors, and trying to decide if they really need your service or product.
So, the goal is to have content that speaks to all these scenarios and stages of the buying process in order to capture these interested prospects where they naturally are online.
By aligning the content; you publish with your customer's interests, you naturally attract inbound traffic that you can convert, close, and delight over time.
Inbound Marketing Statistics for B2B Industries
80% of business decision makers prefer to get company information in a series of articles.

68% of B2B customers prefer to research independently online — meaning the battleground for reaching B2B clients is clearly online.

Only 29% of people want to talk to a salesperson to learn more about a product, while 62% will consult a search engine.

47% of buyers view at least 3 to 5 pieces of content before deciding to speak with a sales rep.

Persona-driven content generated by inbound increases the volume of sales qualified leads (SQLs) by 45%.
We also have inbound marketing case studies on the LeadG2 website, which share some of our results and successes with inbound marketing.
We've personally seen successes with our clients using inbound marketing, and specifically with our guest Kevin and Meredith Corporation. Through the partnership with LeadG2, focusing on strategies to overcome their challenges identified, Meredith Corporation in the first year alone had:
Over $1.6Million in new business revenue generated through inbound marketing.

778 sales qualified leads in 1 Year, 60% of leads SQLs.

Meredith Arizona, one of the local markets, had over $215K in new business revenue in the first 6 months alone.

Over 200 New Leads, 75% were SQLs.
The Shift in Buying Power
Before interviewing Kevin, Dani gives some background information to help set the scene.
"Over the years, there's been a shift in who has the power in the buying process," she states. " It used to be salespeople. You had to talk to your rep to get ratings, rates, information on events and shows, etc. You could barely research your options for advertising without talking to a salesperson. The salesperson had all the power."
"Over the last 10 to 15 years, this has really changed drastically," she continues. "Buyers not only have the power – they can find more information about advertising options online than ever before. But they also expect it. They expect to get their questions answered, to find what they need when they need it, and to be educated in the process on their own time. They don't want to talk to a salesperson right away. And just like most sales processes – the buyer really has the power now."
The problem in the media industry is that we haven't been meeting buyers where they're at. We don't have B2B websites where they can learn about local stations, what advertising solutions are offered, or the different levels of expertise in marketing tactics and strategies.
And that's why inbound marketing works so well for media companies… you're able to get found earlier in the buyer's journey, build trust and credibility, educate buyers, and attract more and different prospects to your brands. It's really about meeting buyers where they're at in a helpful, educational, and relevant way.
About Kevin James
Kevin carries a dual role with Meredith's Local Media Group and resides in Phoenix where he has led Meredith's duopoly of KPHO/KTVK as SVP/General Manager since October 2018. In October 2020, he assumed to role of SVP of Revenue Operations overseeing the sales and revenue operations for Meredith's Local Media Group, which includes eighteen broadcast televisions stations in twelve markets.
Joining Meredith in May of 2005, Kevin has held various sales leadership roles in both Phoenix with KPHO/KTVK, and in Las Vegas at KVVU/FOX 5. Before joining Meredith, Kevin worked for Sinclair Broadcast Group as a National Sales Manager for their duopoly WLFL/WRDC in Raleigh, NC.
He currently serves on the Board of Directors for the Walter Cronkite School of Journalism & Mass Communication at Arizona State University. He also serves on the Board of Directors for both the Arizona Broadcasters Association and the Greater Phoenix Chamber of Commerce.
Kevin holds a Bachelor of Arts degree in Communication and Media Studies from the University of North Carolina at Greensboro. He is also a graduate of the NAB's Education Foundation's Executive Development Program as well as Leadership Advance, a 10-month leadership training program facilitated by the Leadership Foundation of Greater Las Vegas.
impact of inbound marketing
What led Meredith to the inbound marketing initiative were big problems that salespeople were facing.
"It's getting hard to sell," Kevin states. "Salespeople have less power these days and endless competition. You have to find a way to differentiate yourself.
He explains how adopting the inbound marketing initiative has helped sellers know how to qualify prospects, identify businesses they can help, and how to maximize their time.
When asked why – as a company – did leadership feel that growing a local B2B online presence was a smart direction to move in, he replied, "In our business specially, you can see where media is going. Therefore, many providers are providing their content around us. Additionally, costs associated with being a network affiliate go up every year."
"When we looked at our revenue models, that traditional model was becoming less profitable," he explains. "We knew if we were going to stay profitable and relevant, we were going to have to provide solid content. The way to remain profitable would be to depend less on traditional, large transactional types of business and focus more on the local sponsorship-driven, marketing-driven, campaign-driven types of advertisers and types of opportunities."
Kevin also tells how the company knew these types of opportunities would be harder – take more time, effort, and expertise to manage properly– but if they didn't do it, they would be out of business in just a few short years.
How B2B Blogs Impact Sales
Blogging and content are a huge part of the inbound strategy. This includes creating relevant, helpful content that answers the questions your prospects have. Sometimes that's market-specific, sometimes it's industry-specific, and we have a unique strategy for every single market.
With that in mind, Dani asks Kevin, "What are some of the different ways your local B2B blogs have positively impacted sales?"
"There are both external and internal benefits," he explains. "Externally, we're providing advertisers, in all markets, with valuable information. We're establishing ourselves, and the local brand, as the go-to for valuable marketing information. Additionally, our sales team is more engaged."
To further paint the picture of this initiative, Kevin gives an example of one a win the Phoenix market has witnessed. "A local business in Phoenix was looking for marketing help and needed good marketing information. They found us through content we provided to our team, and we got to know them and understood their needs, and now, we've earned their trust and receive 100% of their marketing dollars."
However, it's not just the ongoing revenue they have with this company; it's the continuous engagement and relationship. "This business continues to engage with our content, and they trust us because we make sure they get relevant information and quality service."
Obstacles in the Inbound Marketing initiative
With no hesitation, Kevin says that buy-in is one of the main challenges faced when you make the inbound marketing initiative. "You have to establish buy-in and it starts at the top," he states.
Other obstacles he mentions throughout the interview are ensuring that content is always fresh and relevant and analyzing the flow. "It's vital to have good communication between all partners and the sales team. It all states with buy-in and good communication."
For leaders at media companies thinking about or just getting started with inbound marketing, Kevin advises them to just do it!
"Why wouldn't you do it," he states. "Unless you think you have it all figured out, what's the downside? You can grow leads and get set up for better success – why turn it down?"
Don't miss another episode of the Sell Smarter. Sell Faster. where Dani Buckley, VP/GM of LeadG2 speaks with experts and thought leaders across a variety of industries and learn how they implementer of some of the most proven sales enablement and inbound marketing tactics and strategies. Visit SellSmarterSellFaster.com to learn more.
Subscribe to our YouTube channel and have your notifications on so you're notified of our next episode!