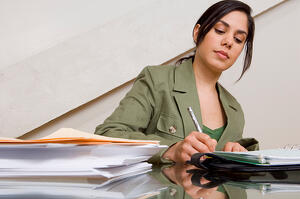 When we are discussing inbound marketing strategy with new clients, one of the most often said things at Lead G2 is, "write for humans, not for computers." That doesn't mean we necessarily ignore the rules of SEO but we certainly don't make ourselves slaves to them. Here are a few ways to write for humans vs. writing for computers. PS. you can use "search engines" interchangeably with "computers" in this case.
How to Write for Humans
When we discuss "writing for humans," we could be more specific and say "writing to your target persona" since the point of inbound marketing is to connect your message with your target persona. We start our relationship with new companies with an inbound planning day, which covers persona creation. Inbound marketing is like courting: you want to attract the right people whether you're headed out on a Friday night or sitting down to write a blog post.
Step 1: Write Stuff Your Persona Cares About
That's the first part of writing for humans: write stuff your persona cares about. If you don't know who your persona is, you're not ready to write yet. If you try to attract everyone, you end up attracting no one.
Step 2: Don't Write Boring Stuff
The next step in writing for humans is to not write boring stuff. If you and your team come up with boring content that no one, not even your friends, is interested in your results won't be what you expected or desire.
Step 3: Write Awesome Stuff
The third step in writing for humans is to write awesome stuff! Wait, we just said don't write boring stuff in step two and now we are saying write awesome stuff??? Yes, that's true. They are opposites and it makes sense that if you shouldn't write boring stuff you should write awesome stuff…BUT… don't waste your time with step two and writing the boring stuff in the first place. Waste of time…
Step 4: Promote Your Stuff
Last step in writing for humans, and another often used phrase by me and my colleagues, "If you write a blog and no one reads your blog, did you truly write a blog?" Yes, it's that age old question of the tree falling in the woods… but in this case, yes, even if you wrote a blog (and spent a ton of time working on it) even if no one reads it you did write a blog. Is it a total waste? No, writing blogs, even if no one is reading it today, is a great way to build your content library and to start to be seen by others as an expert in your field. It takes awhile for that to happen but if you keep writing good content it will start to get picked up by search engines and you will get some traffic from it.

That being said… after you cut the tree down (write your blog post) you need to shout at the top of your lungs that you just cut a tree down. I guess that's not cool if you are a conservationist but you get the point. When you start to blog, no one really cares that you wrote a new blog post unless you tell him or her they should care. How do you do that? Well, for starters, post that to every social network that your persona is active on (Facebook, Twitter, LinkedIn and Google + are the biggies) and make sure that when posting you tell your network why they should care about your post. Make it personal… remember, these are humans we are talking about. They have feelings and all that… so make it personal.
Writing for Computers
We took a look at what writing for humans means and it all comes down to writing good content, knowing your persona and sharing the content where your persona lives. So what does "writing for computers," mean exactly?

Writing for computers or writing for Google could be any of the following:
Writing boring stuff that just has a bunch of keywords
Including tons of links to other sites even though the links aren't really relevant to the reader
Opting for a boring, keyword stuffed title versus something people would want to read (busted… I tend to do that a lot).
Worrying more about the length of your meta description than the quality of your writing.
Hopefully you have been writing for humans all along and are just nodding your head as you read through this post. One article worth looking at more, and that explains why good content (aka writing for humans is important), is this recent Mashable article "Are We Coming to the End of SEO?" This was the article that inspired this blog post and I hope it wrote it for you, the human.

If you want to talk inbound marketing or defining your persona (or trying to figure out what a persona is), we have a great team here that can help you with that. Brittany is an expert in developing personas and can help you reach more humans!