Try These 8 Steps for Making Your 2017 Top Line the Best Ever!
I hope you'll bookmark this blog post and revisit it a year from now, because I predict that 2017 is going to be a banner year for your firm's new business. In fact, a year from now, let's look back at how your marketing and sales activities performed, and pinpoint why (or why not) you're going to do a year end happy dance.
Here's what I hope to see:
You spent smart money doing clever and compelling branding, like the Event Sponsorship Revenue Accelerator, that increased your visibility and brought new leads to the top of your sales funnel.
You realized a big bump in ROI when you stopped allocating marketing budget and resources to internal teams and team leaders that have no interest, literacy, or desire to engage with marketing activities.
You got reluctant rainmakers—subject matter experts that hate sales—engaged in new business by having them contribute content (like blog posts) to leverage their thought leadership.
You turned your website into a lead generation dynamo with onsite offers and lead capture via marketing technology like HubSpot.
You ran 3 to 6 lead generation campaigns that resulted in securing marketing-qualified and sales-qualified leads.
You took calculated marketing risks, opened up the purse strings, and made sound investments in the growth of your firm.
Number 7: You Implemented an Inbound Sales Strategy
One of the most important steps to make your 2017-year end happy dance a real showstopper will be getting your marketing team and your sales/business development team sitting around the table to develop a plan, processes and tools to align their efforts.
Looking back a year from now, I hope you were inspired to do this after attending (or following up) HubSpot's Inbound 2016 conference, where "inbound sales" will take a front and center stage position.
Not familiar with "inbound sales"?
In a nutshell: it's the methodology, processes, tools and technologies, that according to HubSpot, "support the prospect through the buyer's journey. Along the bottom are stages that buyers move through (Awareness, Consideration and Decision) during their purchasing process. Along the top are four actions (Identify, Connect, Explore, and Advise) inbound sales teams must implement in order to support qualified leads to become opportunities and eventually customers."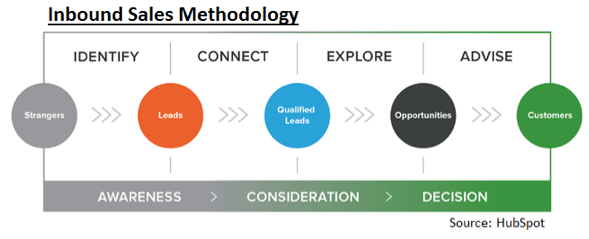 Here's just a handful of the more than 50 sessions on inbound sales being presented:
23½ Tips to Master Lead Scoring: The Hows, The Whos and The Whatchamacallits
Bridging The Sales & Marketing Divide: Using Sales Enablement Strategies to Create Predictable & Scalable Revenue Growth
Closing the Skills Gap: How to Cultivate Your Inbound Marketing & Sales Workforce
How to Build a Sales Team Onboarding Program from Scratch
LeadG2 Inbound Sales Services
If you're considering developing an inbound sales strategy, or just want more information and insight on how it might work within your company, contact us here or call Dean Moothart at (407) 913-7091.