Same ol' Same ol' New Business Strategies and Tactics or New Plays for a New Year?
I'm excited about the new strategies, technologies, tools and tactics that CPA firms have at their command for producing more visibility, leads and sales results in 2018 than ever before.
(Talk about a marketing geek!)
In the past few years, we've seen more CPA firms than ever before build an aggressive content program, explore social media channels, implement inbound marketing programs, and even venture deeper into the world of CRM.
For some firms, digital marketing and sales technology have opened the eyes of firm leaders who have discovered that there are better ways to get a bigger return on the firm's investment in marketing. For those firms that are ahead of their competitors on the marketing and new business curve, here are five "power plays" for 2018 that will further separate you from your competitors.
Other firms being left behind? Let's just say that it's never too late to get curious about how and why your competitors are generating more leads and new business than you are.
It's never too late to start!
1. Stop writing blog posts for SEO and start building content pillar strategies.
The rationale behind publishing and promoting as many blog posts as possible in the least amount of time possible is evolving into obscurity. Today, the talk in the marketing community is all about content pillars and how a content pillar strategy is going to change the way we think about SEO, lead generation, and how content writing resources are used.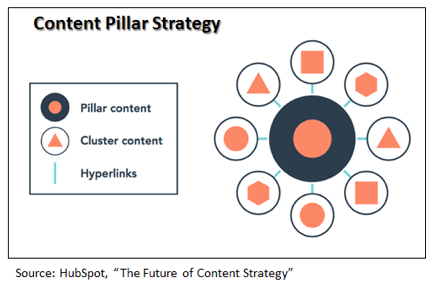 This is a serious topic that deserves serious time and consideration because of the changing state of search. CPA firm marketers must keep up.
In a nutshell, a content pillar is built around a core topic that is presented on a webpage, and then broken into many different subtopics that can be published in forms ranging from videos to blog posts to articles. Each subtopic is linked to the core page, and each core page includes many opportunities to get the visitor to that page to complete a form and in the process, become a lead.
This is a serious, heavy lift, but for firms that have been implementing a content strategy, it's a terrific way to leverage the work that you have already published. For firms that do not have a content strategy, it's a way to organize and execute a meaningful content program that will result in high search engine rankings and more leads.
If you want to learn more about how well this will work for your CPA firm, contact Alan Vitberg at (585) 750-8258.
2. Trash your Account Based Marketing (ABM) tactics for a 2018 state of the art version of "personalized" ABM.
Accounting firms typically think of target marketing as selecting some number of target companies from a list and then blasting them with emails, snail mails, and cold calling in the hopes that you've reached the right decision maker at the right time when they are considering making a move to fire their current CPA firm.
Today, CPA firms should be talking about account based marketing, not target marketing, as ABM is significantly different in terms of strategies, tactics and technologies for building relationships and closing new business.
I like Drift's explanation of what ABM is:
"Rather than marketing to an industry, ABM targets individual companies with personalized content and campaigns. It's a strategy that puts a strong emphasis on quality and relationship-building. So instead of publishing blog post after blog post and blasting email lists with content created for a mass audience, with ABM you're creating content and crafting experiences for particular people from particular accounts."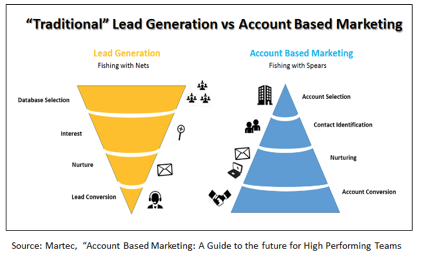 Effectively, an ABM strategy customizes messaging and sales programs to meet the needs of key decision makers and influencers within companies. ABM turns the traditional funnel upside down, identifying a list of best-fit customers from the right from the start.
While the ABM concept has been in play for a while, its rapid adoption by companies outside the CPA universe has come about because of recent advancements in technology that help marketers and business developers get deeper and more meaningful insights on best fit customers, as well as helping them build relationships using tactics ranging from social media engagement to automated marketing messaging.
3. Focus your website for lead acquisition.
There are still far too many CPA firms that aren't using their websites for lead acquisition by gating their content and requiring information from a visitor. There are technologies and tools like HubSpot that can accommodate facets of online lead generation from creating CTA buttons and landing pages to crafting sophisticated workflows to obtaining insightful metrics.
Perhaps 2018 will be the year that CPA firms catch up with other B2B industries and use their sites for more than just branding or advertorial messages.
Looking for more insight on lead generation? Check out our whitepaper, The Partners Guide to Lead Generation.
4. Select a limited number of niche practices that truly merit an investment of marketing time, resources and budgets.
I firmly believe that not every niche practice in a CPA firm deserves the same level of marketing resources and support, and it takes a strong management team to deliver this message to a niche practice partner.
In the past on this blog, I've presented quite a few posts on this topic, along with insights and guidance on how to make a niche practice marketing plan that will deliver superior results. You can find those posts here.
Looking for more insight on niche marketing? Check out our whitepaper, The Partner's Guide to Niche Marketing.
5. Devote more marketing strategies, technologies, tools, and tactics to sales enablement to help your business developers and rainmakers close more sales, faster.
Here's my definition of "sales enablement" taken from a post I wrote called "Sales Enablement: The Next New Business Development for Professional Services Firms?":
"Sales enablement is a combination of processes, technologies, and strategies and tactics for aligning sales and marketing resources towards a single-minded goal of top line growth. At its core, sales enablement provides business developers or salespeople with what they need to successfully engage a prospect throughout the buying process, from problem research to inquiry to contract."
Are you giving your partners and business development team the resources they need to close more sales, faster? For many CPA firms that I've talked to, the answer is "no." In 2018, you need to consider whether investing in sales related tools and technologies is the right investment to make for your firm.
Looking for more guidance on sales enablement? Check out our inventory of sales enablement blog posts that cover topics ranging from infrastructure to roles and responsibilities.
Connect with Us and Let's Do Some Brainstorming
We welcome an opportunity to talk marketing and business development with your management team and senior marketing staff on any of these issues.
We're building content pillars, inbound marketing, and lead generation strategies for firms across the country. If you recognize and understand that competitive advantage means complementing referral marketing with traditional and digital marketing, then LeadG2 is the firm that will help you grow your top line by bringing integrated sales, strategies, tools, and technologies to life.
Call Dean Moothart, Director of Client Services at (407) 913-7091 to schedule a conversation, or click below.