How is your content ranking against the competition?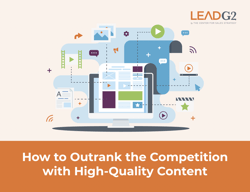 So, your content isn't attracting as much organic traffic as you hoped. Maybe you are stuck on the second or third page of Google. Maybe you aren't ranking at all.
Since at least 2016, high-quality content has been one of the three most important ranking factors.
But how does Google rank blogs?
This eBook is going to tell you how Google detects high-quality content, then explain six ways in which you can start outranking your competition with high-quality content today.
Complete the form to access it now!