CPA, Consulting and Staffing/Recruiting Firms Need to Hop on the Sales Enablement Bandwagon
A lot of accounting, consulting and staffing firms learn the hard way that: (1) the art and science of new business is always changing and evolving, and (2) if you don't adapt to change and end up getting left behind, it's awfully hard to catch up.
Things like inbound marketing, content marketing, SEO, SEM, social media marketing automation, and CRM technologies just aren't cutting edge like they once were. Some firms that hopped on these bandwagons tried and failed for a wide variety of reasons. Others found great success and are now moving into next generation refinements with new strategies, tactics, tools and technologies.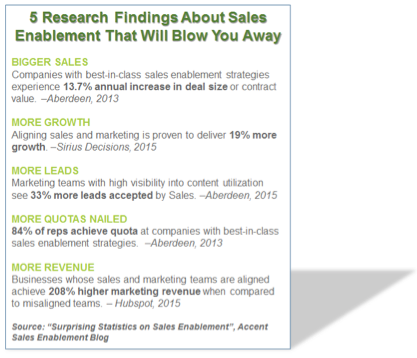 Still others, albeit a small but growing number, are moving more toward the sales side of the marketing-sales equation by taking steps toward sales enablement.
In a nutshell, sales enablement is a combination of processes, technologies, and strategies and tactics for aligning sales and marketing resources towards a single minded goal of top line growth. At its core, sales enablement provides business developers or salespeople with what they need to successfully engage a prospect throughout the buying process, from problem research to inquiry to contract.
When it comes to sales enablement, are there lessons a CPA, consulting, staffing agency or other professional service firm can learn from B2B firms committed to its deployment?
I sure hope so. Just look at some recent research and think about whether it's time to get curious about how it can work for your firm.
8 Critical Pieces of Sales Enablement Infrastructure Needed for Growing Your Firm's Top Line
Sales enablement needs to be built on a solid foundation of infrastructure, including strategies, agreements between marketers and sales professionals (including partners, owners and niche practice leaders), processes, and technologies.
Here's my list of critical infrastructure requirements:
Identification of target market(s) and their key issues and pain points
New business goals for those target markets, including revenue, new clients, retained clients, qualified leads, reach
Identification of the psychodemographic characteristics of target personas in your target markets: who they are, what they think, how they act, what keeps them up at night
Defining the characteristics and differences between a marketing qualified lead and a sales qualified lead
The process, situation, and timing for the handoff of a lead to a salesperson or business developer
Defining accountabilities and responsibilities for developing and maintaining a CRM
Content, sales collateral, and sequenced emails that will be used to move a prospect through their buyers' journey
Marketing automation technology that works in concert with your CRM
Firms Need a Managing Partner, Niche Practice Leader or Owner with Their Eye on the Ball
Every single successful and engaged marketing or sales program that I've worked with has this common denominator: a motivated and marketing/sales literate managing partner, practice leader or owner who is focused on top line growth and willing to make investments for reaching that growth.
The "dark and dirty secret" of top line growth is that it takes hard work – a lot of hard work – and the right amount of budget to chalk up sales. There's no doubt that partners' reputations, the network they've built, and the firm's brand are key to generating over-the-transom inquiries, but I believe that firms that rely on these alone don't achieve the top line growth they're capable of.
When you add an owner or partner with vision and commitment to marketing and sales enablement into the mix, the synergy of the 1:1 business development achievements of partners with the 1:many strategies, tactics, tools, and technologies employed by an aligned marketing and business development team can create unprecedented top line growth.
LeadG2 is an Expert in Sales Enablement
Interested in finding out more about the features, costs and benefits of sales enablement for your CPA, consulting or staffing agency marketing efforts?
It's time to call LeadG2.
Unlike other marketing agencies, we bring a "just right" combination of 30 years of professional services marketing and 30 years of sales consulting/enablement experience and expertise to the table. Combined with our hands-on experience with powerful marketing technology like HubSpot, we can deliver a laser-like focus on helping our clients get more visibility, leads and new business.
Connect with us, and let's do some brainstorming today.