Do they have a viable and active online lead generation program?
In my last blog post, I made the point that the inbound marketing methodology (attract-connect-engage-delight) can be used as part of the merger or acquisition diligence process for assessing what a buyer or seller brings to the table in the way of marketing.
A quick review: (1) this idea is not designed to replace "traditional" due diligence investigations regarding marketing, but to complement those investigations in a deeper and more meaningful way; and (2) the value of using this methodology lies in the fact that it can be used as a harbinger of what can be rather than what is now.
Today, I'd like to talk about "connect"—the part of the inbound marketing methodology that deals with a buyer or seller's ability to generate leads online.
Doing Your Due Diligence About Lead Generation
Here's the premise of this blog post: if the seller (or buyer) has an inventory of quality offers on site, processes and infrastructure for lead acquisition and capture, best-in-class strategies and tactics for promoting offers, and analytic capabilities to assess factors ranging from ROI to conversion rates, then they will contribute to the merged company's top line growth quicker, faster, and easier than other candidates that cannot bring these capabilities to the table.
There are four broad categories about online lead generation that you might want to make part of your due diligence efforts: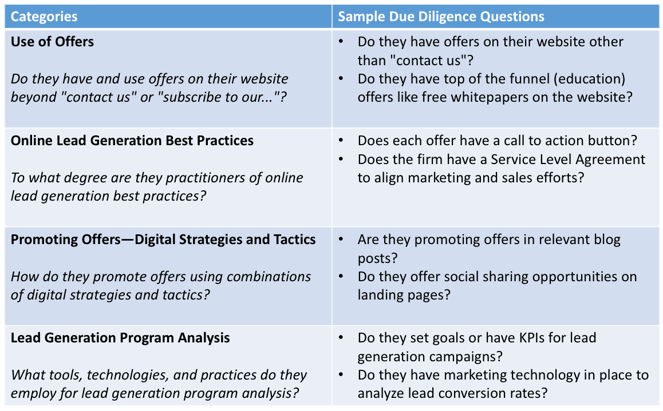 Get the Lead Generation Due Diligence (Part 2) Checklist
We've put together a quick and simple checklist for due diligence relative to lead generation.